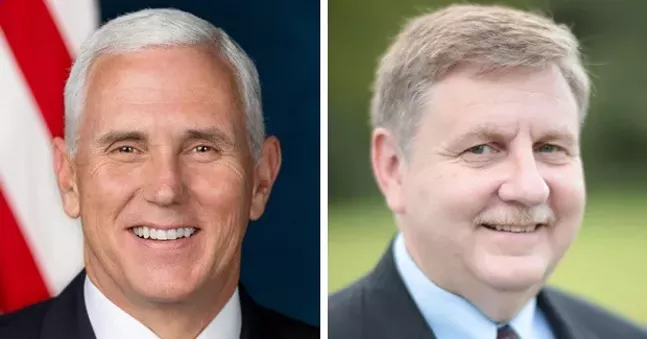 Pennsylvania state Rep.
Rick Saccone
(R-Elizabeth) is running in the March 13 special election for the open seat in Pennsylvania's U.S. 18th Congressional District. And campaign fundraising reports show that he is being out-fundraised by his opponent,
Conor Lamb
(D-Mount Lebanon), by a 2-1 margin. Lamb's $557,000 easily outpaces Saccone's $214,000 in campaign contributions.
In an attempt to even the balance, Vice President
Mike Pence
is visiting on Feb. 2 and is giving a boost to Saccone at an invitation-only fundraiser at the Bethel Park Community Center. It's unclear whether fundraiser invitees must pay to attend, but a flier for the event posted on Facebook says that people who contribute $5,400 will get a photo op with Pence, and that those who give $10,000 get a meet-and-greet and a photo op.
And thanks to this event, Bethel Park officials have decided to close down the community center for six hours on Feb. 2, resulting in the cancelation of a daily lunch for senior citizens and other community events, like bingo.
Bethel Park borough manager Shawn Arbaugh says the borough was contacted about holding the event at the community center by the National Republican Congressional Committee. He says when he was informed about the additional security measures required to due Pence's presence, the borough decided to shut down the center from 9 a.m. to 3 p.m. "Due to the security reasons, we decided to close down," says Arbaugh.
This didn't sit well with some regulars of the community center's events and senior lunch, which is provided daily for a suggested donation of $1.50, according to LifeSpan, a nonprofit that provides services for seniors.
"Some of the community is upset that we are closing, but we don't think it is that big of a deal," says Arbaugh, adding that the center sometimes closes for maintenance.
Arbaugh also says that Bethel Park officials offered to hold the senior lunch at other locations in the borough, but LifeSpan decided to just cancel the lunch for that day. Requests for comment from LifeSpan went unanswered by press time.
But one Bethel Park resident, who asked to remain anonymous because she works with local Democratic and Republican politicians, criticizes Saccone and the NRCC for holding a disruptive event.
"If you are going to provide an event that is going to displace a senior program, maybe you should pay extra, and maybe reimburse the borough for the closure you caused," says the Bethel Park woman. "My aunt Sally goes there and gets her hot lunch and plays bingo, and some people feel it's unfair to monopolize a community resource."
Saccone's campaign manager Patrick Geho defends the event in an email to
City Paper.
He wrote that "other accommodations were offered by the Bethel Park Community Center, which is standard practice as the center is routinely rented out for events."
The woman says a reimbursement would show that the event is just like any other event, and negate any assumptions that access to the community center was a political favor to Republicans. She points out that an event that Lamb, a Democrat, held at the community center in January didn't disrupt any community events.
But Arbaugh reiterates that the additional security required by Pence's visit is the reason for the partial shut-down. Requests for comment from the NRCC went unanswered by press time.