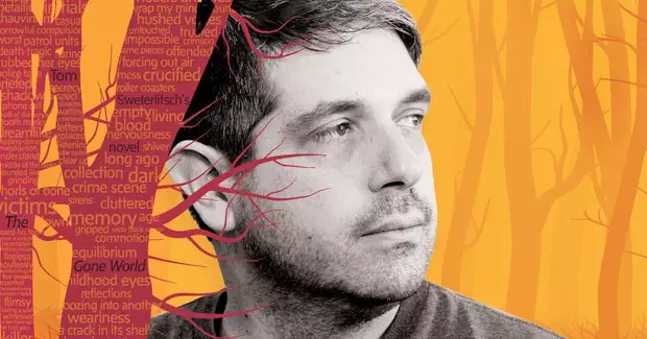 Until just over four years ago, Tom Sweterlitsch wrote as an avocation. He was married, with a young daughter, a house in Greenfield, and a day job he loved as a customer-service rep at the Carnegie Library for the Blind and Physically Handicapped. He wrote fiction in his off hours.
These days, writing is his full-time job. While Sweterlitsch remains a Greenfield family man, he's got two science-fiction novels to his credit, including the brand-new The Gone World, out Feb. 6 on G.P. Putnam's Sons. Both books have been optioned by Hollywood movie studios, with name directors attached. And last year, one of those filmmakers, Neill Blomkamp, known for District 9 and Elysium, invited Sweterlitsch to co-write some short films he was making for the web.
Such life changes are heady, but to meet Sweterlitsch you wouldn't guess it. In early January, City Paper found him arrived early for an interview, sitting at a rear table in an East Liberty coffeehouse, wearing a Steelers sweatshirt and shaggy beard.
You might even have spied this twice-published novelist out writing: When not at his East Liberty co-working space, he often hits shopping-mall food courts — Century III and Ross Park malls are favorites — and the Carnegie Library's main branch, in Oakland. Such spots are nice and anonymous, he says. Apparently, they are also good places to summon dark visions of futuristic murder investigations like the one in Gone World, which he pitched to Putnam as "Battlestar Galactica plus NCIS plus time travel."
The novel's protagonist is a young woman from Canonsburg named Shannon Moss. She's a Naval Criminal Investigative Service special agent assigned to both the grisly murder (in her old hometown) of a Navy SEAL and his family, and the disappearance of his teenage daughter. That murder occurs in 1997, but to track leads, Moss travels forward in time, to our present day. And woven into the plot are her terrifying prior journeys far into the future, to the Terminus, or the end of humanity.
The novel, with its many twists on the vagaries of time travel, has received strong pre-publication notices from the likes of Kirkus Reviews, which called it "a mind-blowing fusion of science fiction, thriller, existential horror and apocalyptic fiction."
Filmmaker Blomkamp, reached by email, writes that Gone World "is my favourite book I have ever come across." He calls it "an amazing narrative journey with an incredible protagonist" that deals with concepts, from quantum mechanics to Plato's allegory of the cave, that Blomkamp finds fascinating.
Sweterlitsch, 40, is a native of Canton, Ohio, with a master's degree in literary and cultural theory from Carnegie Mellon University. In 2011, he approached acclaimed, locally based novelist Stewart O'Nan (Last Night at the Lobster), who provided guidance and contacts that led to the publication of his first novel, Tomorrow and Tomorrow (2014). Sweterlitsch drew on influences including Philip K. Dick and Raymond Chandler to unspool a dark thriller set in a technology-infused 2058 Pittsburgh. Critics praised it, and Sony TriStar optioned the film rights, with a payout that let Sweterlitsch quit his job and write full-time.
The Gone World was inspired by Sweterlitsch's conversations with two in-laws: His late father-in-law, a U.S. Department of Defense physicist with whom he discussed time travel, and his brother-in-law, a real-life NCIS agent whom he once asked how time travel would affect criminal investigations. "If you could go to the future, and talk to someone when the passions had cooled down, and learn information and come back to the present, that would be this amazing thing," his brother-in-law told him. Sweterlitsch recalls thinking, "This is a fantastic fictional way to explore characters and how characters change over time."
The novel's time-travel scenarios are based in real science, Sweterlitsch says, but what's more engaging is how he plays with the possibilities — for instance, the idea that time-travelers can visit only possible futures, which exist only because the traveler has arrived. (This causes conflicts with the humans inhabiting those futures, who quite understandably wish to continue exisitng.) Other inspirations for The Gone World include such cultural touchstones as Dante, Edward Albee's absurdist 1960 play The Sandbox, and one of Dali's crucifixion paintings. But the book's structure reflects Sweterlitsch's desire to make what he calls a "fractal-shaped narrative." "There's like five sections and it's shaped angularly," he says. "Within those sections there's a lot of repetition and reflection of each other."
Yet at heart, The Gone World is about people. The title references not actual time travel, but Moss' vanished youth, which she can't truly revisit. "Science fiction is just kind of the doorway I walk through to get to a human story," says Sweterlitsch.
Sweterlitsch's own story grows more intriguing. Sony has the option on Tomorrow and Tomorrow, with director Matt Ross (Captain Fantastic) attached. The option on Gone World is held by Fox, with District 9 director Blomkamp attached to write and direct. And last year, after Blomkamp flew Sweterlitsch out to his Oats Studios, in Vancouver, to discuss Gone World, the novelist ended up co-writing four short films that Blomkamp released online. One of them, "Rakka," is a dystopic alien-invasion thriller starring Sigourney Weaver.
Sweterlitsch enjoyed the collaboration, and Blomkamp praises Sweterlitsch's efforts: "I thought it would be amazing for him to come on board and write on the short films we wanted to create at Oats. Elevating them. Which is exactly what he did," writes Blomkamp. "He's amazing to work with."
Through it all, Sweterlitsch remains aware that Hollywood moves slowly; films of either of his books might get made, or they might not. Publishing too is a struggle nowadays. Starting with the Feb. 6 book-launch at Alphabet City, on the North Side, Sweterlitsch will enjoy a five-city, cross-country book tour. But his original two-book contract with Putnam is up. "Now that the second book's done, I might be looking for a job again!" he quips. "What happens next is, I write another book."