After 28 years on the air,
Prosody
, WESA radio's show for poets and writers, is preparing its last word.
WESA
90.5 FM has canceled the half-hour show in its broadcast form. On this past Saturday morning's program, longtime host and producer Jan Beatty announced that Prosody will no longer air on WESA, but will continue as a podcast on its website and iTunes. An on-air farewell program is scheduled for Dec. 30.
The cancellation is a loss for the local literary community. Prosody features readings by and conversations with local, national and international writers. Guests have included National Book Award winners, MacArthur "genius grant" recipients and U.S Poet Laureates.
"I'm going to miss the effect it had on the larger community," says Michael Simms, a local poet, founder of Autumn House Press, and occasional guest on Prosody. "Jan was able to bring in an assortment of different poets to interview, from beginners who showed a lot of promise, to mid-level poets who had a book or two but were not well-known nationally, to national poets who are National Book Award winners and poet laureates."
WESA general manager John Sutton had told the all-volunteer Prosody staff in late August that the public-radio station was canceling the program to focus on short-form programming. Beatty and other Prosody volunteers argued unsuccessfully for keeping Prosody on air.
The cancellation was not announced publicly. However, Prosody's final month was marked by a misunderstanding about the date of its final show that exacerbated some hard feelings.
Prosody had been slated to run until the end of December. On Dec. 7, Michelle Stoner, a sound engineer and editor for Prosody, was mistakenly told that the last show would be Dec. 9. (That error was the result of a miscommunication, Sutton tells
CP
.)
Stoner then contacted long-time Prosody host Beatty, and Lisa Alexander, another sound engineer and editor.
"To me, that felt like the biggest dismissal, that we had been denied the opportunity to thank our listeners and have a moment to recognize and say goodbye," Stoner says. "Nobody was going to have an idea that it was going to go away."
The team met with Sutton about Prosody's future. Sutton offered them a chance to record a farewell show to air on Dec. 30, and allowed Prosody to use WESA's studios to record its podcast. Sutton also said Prosody could continue to air short poetry readings on the station.
Although the Prosody team accepted Sutton's offer, dissatisfaction lingers about losing the wide-reaching on-air platform that WESA provided.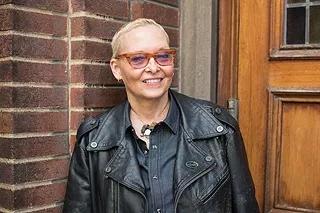 "Pittsburgh is a writer's city. Prosody has always been a bridge between those communities, and to not have it air on the station is disappointing," Alexander says.
Prosody debuted on WYEP 28 years ago, with hosts Mary Radford and John Schulman. Beatty has hosted since 1991. For years, the show aired at 7 p.m. on Tuesdays. After moving to WESA, in 2012, it began airing at 6:30 a.m. on Saturdays — a far-from-ideal time slot that likely affected its listenership.
In addition to local poets and writers, prominent guests on Prosody have included, in 2017, presidential-inaugural poet Richard Blanco. Guests in years past have included Pulitzer-winning novelist Richard Russo, author Terry Tempest Williams, U.S. Poet Laureate Robert Pinsky, and acclaimed poet Nikki Giovanni.
Although Prosody will continue as a podcast, the show in its current form will be missed by former guests and other Pittsburgh writers and literature fans.
Bob Walicki, a local poet who has appeared on Prosody, says the show's importance can't be underestimated for the poetry scene.
"We're trying to spread awareness outside of our community, and this radio show has done a great job of reaching out and doing that," he says.
"We want to be on the radio because we do have a loyal listenership, and we think it's an important thing that we're doing," Beatty says.
"We are engaged with the larger community of writers in a very real way," writes Beatty via email. "This engagement brings writers to Pittsburgh and brings Prosody and WESA out into the world."
[Editor's note: For years, Beatty also curated
CP'
s poetry feature Chapter & Verse, some of whose contributors still appear on Prosody.]
Prosody's Dec. 30 farewell show, which airs at 4 p.m., will feature iconic local poet Ed Ochester, who taught at the University of Pittsburgh and is longtime editor of the Pitt Poetry Series. He will be joined by original host John Schulman, who's also co-owner of Oakland's Caliban Book Shop.