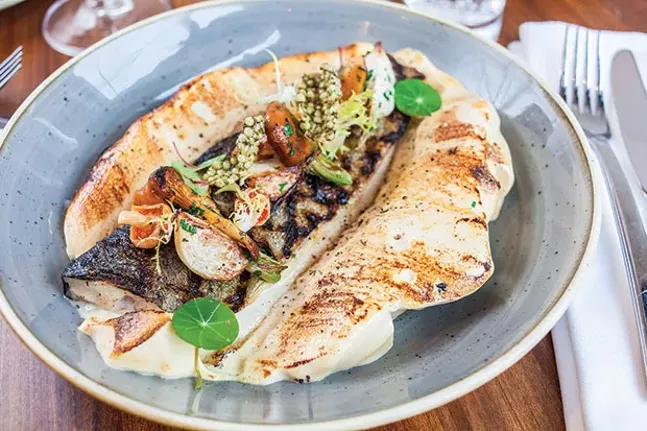 Shadyside was once home to much of the city's finest and most interesting dining, but now it almost feels like a statement for Chicago chef Scott Walton to choose it as the location for his unabashedly ambitious new restaurant, Acorn. At a time when Pittsburgh restaurant concepts are growing ever more elaborate as menus become simpler and more streamlined, Walton has taken the opposite tack.
Acorn's restrained ambience serves as a serene backdrop to Walton's elaborate culinary creations. The color scheme is a warm gray with cool teal upholstery and ash-brown wood; it feels more like a tasteful living room than a formal, fine-dining spot. Even the dishware is thoughtfully understated. All is designed to defer the focus to the lush aesthetics of Walton's food, dishes that elaborate upon their central elements — a cut of meat, a whole chicken, lasagna — with international flavors, diverse textures and a sometimes-dizzying array of distinct ingredients that are, in themselves, complex.
According to our server, Walton aims to encourage sharing via a couple different strategies. Half the menu consists of small, modestly priced sharing plates, while the other side includes a pair of pricey dishes — fish cassoulet and ribeye — served family-style for two or more. In addition, some traditional entrees are, we discovered, ample for sharing bites, if not for splitting into full portions. It adds up to a lot of ways to put together a meal.
And there's a lot to explore. While each menu description lists three to five components, that's often a summary rather than a comprehensive description. For example, the roasted root-vegetable appetizer was listed as including sesame seeds and za'atar, the Middle Eastern spice blend. But the bed of hummus was a surprise, a pleasant one that successfully pulled together the bold, contrasting flavors of turnip, parsnip and beet.
Charred octopus was also heavily influenced by something not named on the menu: two kinds of tapioca crackers (chorizo and olive), each light, crunchy, and packed with flavor. The combination served to push the dish firmly into Spanish-tapas territory, impressively presented with curlicue tentacles holding the crackers aloft above a bed of smoky charred-tomato romesco sauce studded with fermented red-pepper puree. While some of our party liked this complex construction, others felt they would have enjoyed this dish's best components — the tentacles and the crackers — with fewer adornments.
Salt cod, a thick, rich spread offered with toasted housemade sourdough, was more straightforward and successful. Enriched with stravecchio cheese, it was rich yet mild. Our favorite appetizer was a single chestnut ravioli, its filling enriched with ricotta and egg, served atop wilted spinach, smothered in a charred tomato-smoked clam sauce, and sprinkled with flash-fried baby spinach leaves. This dish was packed with flavors that might overwhelm an entire entrée, but delighted the palate for just a few bites.
With one vegetarian exception, Acorn's entrees center on a large portion of meat surrounded by sides, sauces and complementary ingredients. For instance, whole rainbow trout floated atop a cloud of aquafaba — the cooking liquid of chickpeas — whipped with maple. It was also stuffed with dollhouse-size enoki mushrooms, topped with pine-tapioca crackers, and accompanied by roasted turnips. For so many components, the dish came together well, although we found the sweetness of the maple a bit unbalanced. But the preparation of each component was otherwise impeccable, and the presentation was stunning.
Other dishes were no less intricate. Eye of lamb — a length of roasted loin — came with both a tiny merguez sausage and tender sweetbreads, while an entire chicken was broken down and cooked three ways (grilled, poached and fried). The meats were juicy, flavorful, and distinctive. For the most part, the forays into international cuisines worked as well. Nuoc cham, served with the chicken, was a soy-flavored exception. But pork loin coated with achiote, served with a little squash tamale, resting atop two moles, and sprinkled with cotija cheese was excellent. It wasn't assertively Mexican, but the diverse ingredients shared a coherent backstory.
From this grade of restaurant, at these kinds of prices, we typically demand perfection, or something close to it. Acorn was not perfect, sometimes overthinking dishes or simply not getting an element right. But even its imperfections were unique and fascinating, and nowhere in Pittsburgh is plating taken to a higher art. It's time to get back to Walnut Street, where some of the most exciting food in Pittsburgh is being made.