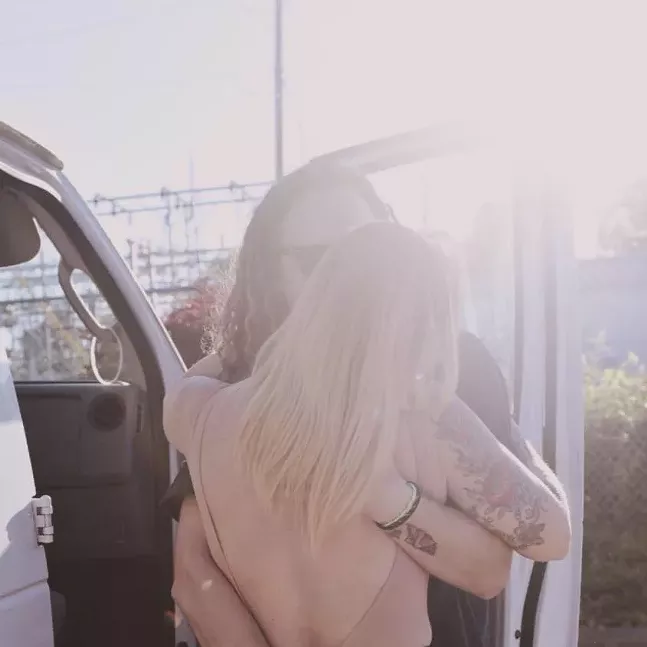 Slingshot Dakota is a powerful pop duo consisting of vocalist and keyboardist Carly Comando and vocalist and drummer Tom Patterson. The married couple makes exciting music that bursts with far more energy and sonic power than most would expect possible from a two-piece.
Prior to Slingshot Dakota's show at the Mr. Smalls Funhouse with Prawn, People Like You, Us and Us Only and Queen Moo on Tues. Dec. 19, the
CP
caught up with Comando via email to talk manifestation, cute dogs and how to genuinely support diversity in your own music community.
—
FUCK YOUR BOYS CLUB is a super handy communal document you helped organize and share. How do you feel that document has helped the community, and what still needs to improve in terms of diversity/inclusivity?

I still can't believe how overwhelmingly positive the support has been for that list. To be clear, I just helped move that list that was already circulating via Facebook to a public Google Doc. I wanted to give it a platform that would allow folks to add/edit/remove bands, as the list kept growing and growing in a thread that kept getting passed around. The list itself was created by a whole community of annoyed people :) As I have said before, I feel like this list is inherently problematic in that 1.) WE NEED IT IN 2017. 2.) Having to reduce bands to their identity just to prove to promoters that they exist is, in fact, awful. But, most folks tended to agree that having this list give[s] us something to HAND over to promoters/people who kept saying "diversity doesn't exist in the scene." I feel like it's given power to folks who feel marginalized and it gives us a solution.
You've mentioned before that it's tough to hold your own friends accountable. Does it ever get easier to call in/out your friends when they do something shitty like book all-male tours? What tips do you have for young DIY-ers who are trying to make a difference in their own communities?

Holding my own friends accountable is not fun by any means, and I always have to reiterate that this dialogue is out of respect and love. But everyone involved in the music business needs to realize their power in making things amazing for everyone. And bands need to realize that if they are lucky enough to have teams, that those teams work for them. If a tour becomes entirely about business, how is this bubble any different from mainstream culture? Why are we even calling ourselves "punk" or "indie"? I think change will come from folks who GENUINELY want to make a difference. Saying you agree that everyone should have equal rights is much different than actively curating a scene that DOES that.
My advice is to be mindful and to listen. When this issue is raised and you are, per se, a white straight male, don't make it about you. Listen to folks who feel upset and make room for them. Expose yourself to all kinds of new bands on your own so that you already know that all of these amazing diverse bands (in genre/identity) exist, so that you don't have to purposely go out and "fill the quota" for your show. Genuinely support all kinds of bands. I'm not saying you can't support male bands, but realize that the norm of male-only shows/tours needs to shift because it's not a young man's game anymore. It never was.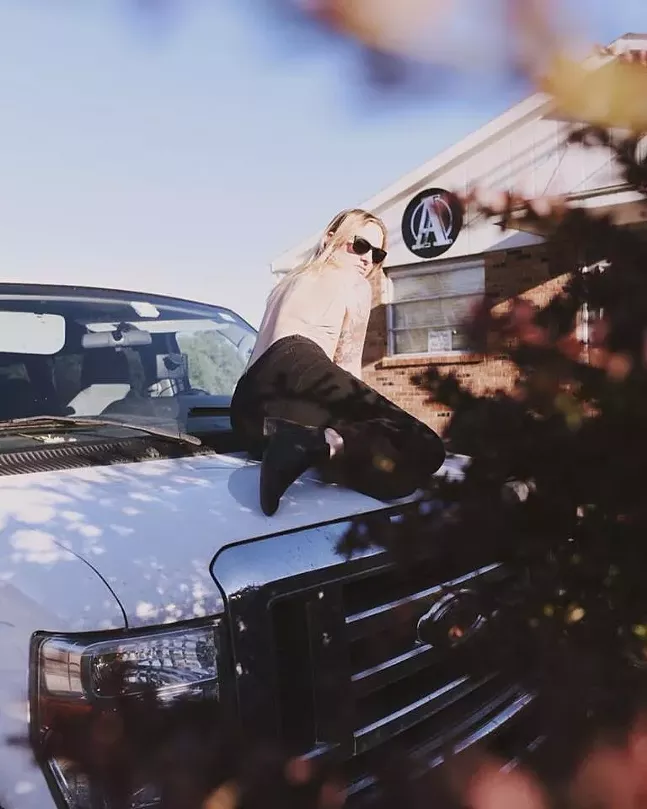 Last time you performed in Pittsburgh, you told a very funny story about manifesting something that didn't happen, but I really love the practice of manifestation and I'm curious what got you started on thinking and doing positive things into existence in that practice?

Last year, I was so fed up with the lack of diversity on a string of announced tours. Additionally, I was frustrated with the political upset in our country and how divisive everyone was becoming. I was fighting with my family and consequently, inappropriately blowing up at them in a way that didn't foster any kind of good communication. The world felt really sad and angry, and I was personally sad and angry. I was bummed that no one could see the parallel between racism/sexism/xenophobia in our country and the lack of diversity in our own scene's announced tours. I decided I needed to change my own perception and approach to things, and spend less time being angry and more time being productive. I started meditating every morning and started a gratitude journal. I needed to switch my brain to happy, grateful thoughts, and spend more time loving and supporting the amazing people and things around me. I read
The Secret
by Rhonda Byrne because I heard Phoebe Robinson talk about it on [the] Sooo Many White Guys podcast. It tends to focus on material wealth; however, the whole point is this: Use the rule of attraction to attract the life you want. I took it with a grain of salt, but it really helped me to spend more time being positive than negative. I stopped surrounding myself the negative situations and focussed on being grateful and productive. I'm trying to live with every action in alignment with what I want for myself and others, and I feel so much better.
Your Twitter presence is an absolute ray of sunshine in a crappy world. I feel like it's very much an honest representation of both of your energy and humor and personalities. That being said, is it ever tricky or taxing to share so much of yourself with the world? How do you balance the public image of being a touring artist with the whole being two normal people with private lives?

First off, thank you! Somehow we have completely lucked out with being able to live very normal lives. To be fair, we aren't a famous huge band of celebrity status, so that makes things much easier. I have even been fortunate enough to stay below the radar with my solo instrumental career (I have an Emmy award and had music on
The Simpsons
). I think the secret is sharing what we authentically want to share and keeping certain things private. We love interacting with folks on tour, but we also make sure to prioritize our mental health and honor our private time. We spend so much energy both performing and interacting with people that we need quiet time pretty often. We have taken to splurging on hotels just so we could actually go to bed at night instead of staying up until 4am talking to our friends. It's hard because we WANT to see everyone, but we are also genuinely tired at the end of a day of driving and performing. Since we are a married band comprised of two people, it's pretty easy to manage our online presence and be on the same page with what we want to share. Although, my parents asked me if it was necessary to post the butt shot of my sequin jumpsuit for all the internet to see ;) I said yes.
👯‍♀️Y'all thought I was joking 👯‍♀️ pic.twitter.com/00HaTLMPoF

— slingshot dakota (@slingshotdakota) November 28, 2017

What's your favorite piece of gear right now? Why?

My Yamaha CP33 is my favorite piece of gear because they don't make it anymore! I have to order them online, so I have a few backups in case I break keys/have any issues. It has the most amazing natural bass EQ which helps fill out our sound and seems to be incredibly sturdy. I have a cheaper Yamaha model in Europe and it is nowhere near as amazing as the one I use here. I'm probably going to sell it and ship my keyboard next time. After our recent tour to the UK with Petal, I realized how much I rely on this specific model and I will never take it for granted!
What have you been listening to in the van lately?

Honestly, we listen to a TON of podcasts. Nerdist, Two Dope Queens, Sooo Many White Guys, Joe Rogan, Nerdist, Going Off Track, Song Exploder. We were obsessed with Back 2 Da Island (a
LOST-
themed podcast curated by Jeff Rosenstock and Chris Farren) a few tours ago and I highly recommend it if you want to laugh. A lot.
That Shrek Ice inspired jumpsuit is incredible. Where did you find it? Were you purposefully seeking out a matching ensemble? Either way, it's great.

I literally saw that meme of the Shrek Ice and was like "THAT LOOKS LIKE MY NEW JUMPSUIT!" I had no idea it looked THAT much like it. Imitation is the sincerest form of flattery, I guess! I ordered that jumpsuit on our long drive home from Gainesville Fest. I saw it online and there was one left in my size, and I just went with it. I just wanted an outfit to feel like a boss in.
Kevin seems like a perfect dog. Who takes care of Kevin when yinz are on the road?

Haha! I work for Rover, a dog walking/sitting service. Kevin is my adorable client, although his parents joke that I'm his "aunt" since I've been watching him ever since he was a brand new puppy. Kevin is a MOSTLY a perfect dog, although he did just gift his parents a brand new hole in the carpet. He will be in the care of his real family when I'm on tour but I've already asked them to send me updates about him because I miss his little face! I just bought him a jean jacket to model his new Slingy D enamel pin.
Who are the people in the music community (be they artists, TMs, photographers, etc.) that are inspiring you the most right now?

I am inspired by so many people. On the business/show side we have Jessi Frick (Father/Daughter Records), Em Dubin (Lost & Found management, photographer), Mel Grinberg & Alex Northrup (Home Outgrown Presents), Jamie Coletta (S1D), Tape Swap Radio in Bethlehem, Sheridan Allen (Punk Talks). Musicians and bands inspiring me are Expert Timing, Pushflowers, Cheem, Iron Chic, Weakened Friends, Petal, Ratboys, Kississippi, Cloakroom, Small Mess. The list goes on and on. There is currently no shortage of incredible people doing incredible things right now. It's quite the time to be alive!