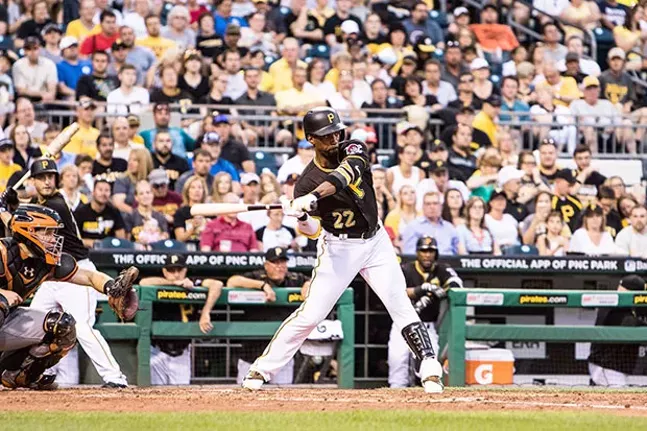 To call the Pittsburgh Pirates' 2017 season a disappointment would be a gross understatement. It was the team's second straight losing season after having turned things around in 2013, and fans wanted no part of it.
The masses want big changes now because they think two losing seasons can turn into 20 and, granted, there's historical data to prove that's possible. But let's not be too quick to be so hard on the Buccos. The 2017 season was doomed before it ever really got started.
On Dec. 1, 2016, for example, Pirates third baseman Jung Ho Kang wrecked his car while driving under the influence. Had Kang simply waited for the police to show up, perhaps the South Korean courts would have taken it easier on him. Instead, Kang fled the scene on foot, and that decision alone resulted in a conviction, a suspended sentence and an inability to get a work visa from the U.S. government.
Then there was Starling Marte. Poised to replace Andrew McCutchen in centerfield, Marte was hit with an 80-game suspension for using performance-enhancing drugs.
The mainstream Pittsburgh media has been ruthless with the club, even though that meant they were all writing the same narrative. Sports-talk hosts, especially WXDX's Mark Madden, were extremely critical of the ball club, and others quickly followed suit. I do find it especially funny, though, that Madden — who's usually busy talking hockey all summer — is quick to tell us what's wrong with the Pirates when I don't recall ever seeing him in the team's clubhouse, going to the source to fairly assess what was going on. In short, it seemed like the cool thing to do was bash the Pirates, especially if you wrote for a blog or had 30 seconds of airtime on the FM dial.
Make no mistake, last season was one of the roughest in Pirates history, despite a not-so-awful record of 75-87. It was tough because many expected that the Pirates would challenge the Cubs for the division title. And, for a while, they did. But ultimately, the roster just wasn't good enough. While there will continue to be plenty of opportunities to dissect what exactly went wrong with the 2017 ball club, the problems of 2017 are likely an anomaly, not a backslide. In fact, 2018 could be the year they finally win the division.
Think about this: Oct. 1, 2013, wasn't that long ago. On a warm October night, Pirates fans showed their greatness. No one will ever forget the atmosphere at the ballpark that night for the National League wild-card game. Thinking about the "Cueeeetooooo, Cueeetooooo" chants still give me chills. The Pirates front office that season showed its ability to acquire talent when it really mattered. Marlon Byrd was a key ingredient for that victory. The team was one game shy of the NLCS. It could have won the World Series that year. Nobody should forget that.
However, after years of losing, this might also be the team's final chance to strike gold in the Andrew McCutchen era. He's a free agent after next season although, so far, the Pirates seem committed to keeping him around for at least one more year after threatening to trade him every 20 minutes during 2016's offseason.
The Pirates have a lot to be excited about in 2018. McCutchen returns, Starling Marte should get an entire season under his belt, and a healthy Jameson Taillon should be a monster on the mound. Also, fans need to watch out for infielder Max Moroff. There is something special about that kid. He won't be confused for Jose Altuve in 2018, but he has a demeanor and ability that screams future star. He has the power and level head to be in the running for Rookie of the Year next season.
The bottom line: The Pirates are fine. Last season was a minor detour on the long journey back to the World Series for the first time since 1979.
Josh King is the station manager for TribLIVE Radio.