From being the backdrop for films like
The Dark Knight Rises
and
The Perks of Being a Wallflower
, Pittsburgh is known for its small but mighty role in the film industry. But it all started in 1905, with a small storefront theater begun on Smithfield Street by Harry Davis and John P. Harris.
The Theatre Historical Society of America (THS) is honoring that history in time for Light-Up Night beginning tonight with a pop-up nickelodeon at 811 Liberty Ave., transforming the former Arcade Comedy Theater space into a 20th-century theater with donated banquet chairs from the David Lawrence Convention Center and a fresh coat of paint.
"There isn't a whole lot of exposure in Pittsburgh about the nickel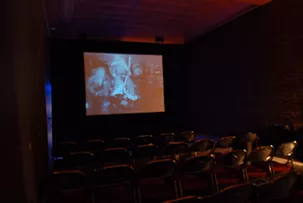 odeon and Pittsburgh's role as the birthplace of the commercial movie-theater industry," says THS executive director Richard Fosbrink. "We thought, 'What can we do to make the public aware of this?' so we decided to do a recreated nickelodeon."
The Nickelodeon will screen classic silent short films, including Edwin S. Porter's "The Great Train Robbery," from 1903, Georges Méliès' groundbreaking 1902 short "A Trip to the Moon" and a 1910 silent version of Charles Dickens' "A Christmas Carol," plus short films introducing the Theatre Historical Society of America — all for just a nickel.
The Nickelodeon also features an exhibit on Pittsburgh's role in the film industry, beginning with Harris and Davis' Nickelodeon.
The pop-up Nickelodeon runs through First Night festivities — Sunday, Dec. 31 — and is open from noon to 7 p.m. every day except Monday, when it is closed.
THS, which recently relocated to Pittsburgh, is a non-profit organization dedicated to celebrating the history of America's theaters, and showcasing their role in American architectural, cultural and social history.
For more information about the pop-up, visit
www.historictheatres.org
.