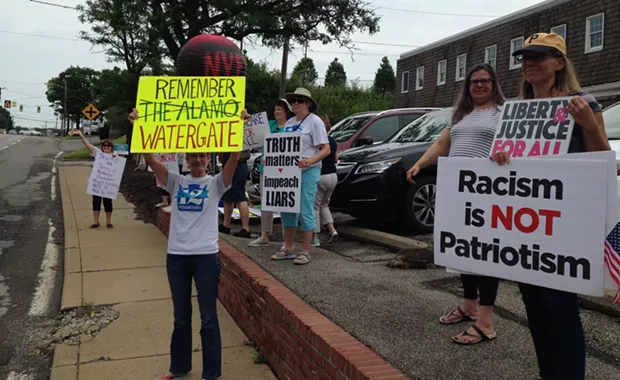 The 2017 general elections saw some remarkable wins for local Democrats and progressives. In Allegheny County, the Pittsburgh chapter of
Democratic Socialists of America
saw both of its endorsed candidates,
Anita Prizio
for county council and
Mik Pappas
for magisterial judge, pull off victories. In Philadelphia, a Black Lives Matter ally, Larry Krasner, won the race for the city's district attorney. And
Tyler Titus
was elected to the Erie school board, making him Pennsylvania's first openly trans person to be elected to public office.
In statewide races, Republicans won some victories, too. For one, surprisingly, given upstart progressive wins elsewhere, Republican Sallie Mundy won a full term as state Supreme Court justice, and did so by winning in some unexpected places. For example, both Erie and Lackawanna counties sided with Mundy, despite historically leaning Democratic. And in Commonwealth Court, Republicans split the four open seats with Democrats.
In a
conversation
with
City Paper
on Twitter,
Brandon McGinley
, a Pittsburgh-based political writer published in many conservative publications, wrote, "It does seem notable, though, that reliably Dem Erie would vote GOP in a type of race that is usually more about party ID than actual issues."
However, Mundy lost in many wealthy suburbs where Republicans typically win, especially in off-year races that are more about party affiliation and turnout. For example, Mundy lost Delaware and Chester counties, longtime Republican strongholds.
Mark Davin Harris, of Pittsburgh-based conservative political consultancy Cold Spark Media, tweeted that Mundy lost Bradford Woods, a bastion of Republicanism in northern Allegheny County and home to Republican House Speaker
Mike Turzai
.
And the Democratic shift in Allegheny County's wealthy Republican suburbs didn't stop there.
In McCandless Township, Democrat Carolyn Schweiger flipped a Republican-held council seat. Two Democrats won commissioner seats in South Fayette, a township
that backed U.S. Sen. Pat Toomey (R-Lehigh) with 56 percent of the vote in 2016. Democrats won two open
supervisors seats in Moon
, including defeating the
incumbent president of the board of supervisors, a Republican.
Additionally, a
CP
analysis of voting numbers shows some pretty drastic shifts toward Democrats in towns that typically back Republicans.
CP
compared margins of victory in Allegheny County towns in the statewide races for Commonwealth Court to the 2016 U.S. Senate race, since all candidates in those races have minimal connections to the Pittsburgh area and didn't include party outsiders like President Donald Trump.
Ross Township, in the North Hills, voted for Toomey by a three-point margin in 2016, but backed Democrats in 2017 Commonwealth Court races by a five-point margin. In South Fayette, voters backed Toomey by almost a 13-point margin in 2016, but this year flipped to support Democrats in Commonwealth Court by about a two-point margin. That's a 15-point swing to Democrats in a traditionally Republican town in the South Hills.
Moon Township, in Western Allegheny County, saw a nine-point Democratic swing by these metrics, while Upper St. Clair and Collier Township saw an 11-point change, though these towns still backed Republican statewide candidates overall in both 2016 and 2017.
In a Nov. 8 Facebook post, Upper St. Clair's newly elected Democratic Commissioner
C. Elise Logan
wrote that the Democratic gains happened only because of grassroots work. "Dozens of you have spent the last several months volunteering for this campaign," wrote Logan. "Door-knocking, phone banking, fundraising; you did it all. I am so happy to say that all of our hard work and persistence paid off. We won a decisive victory tonight and flipped a seat in a Republican stronghold from red to blue!"
And that Democratic energy may not have long to wait to strike again. On March 13, voters in Collier, Moon, Upper St. Clair and other parts of Pennsylvania's 18th Congressional District, will choose a new U.S. Representative to replace Tim Murphy (R-Upper St. Clair), who recently
resigned amidst scandal
.