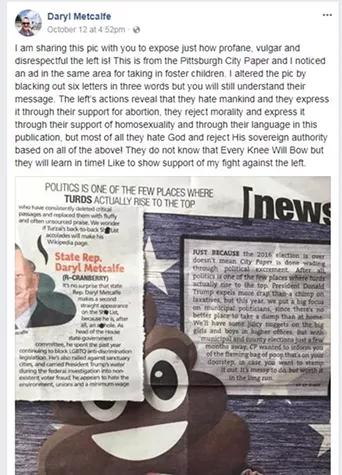 On Oct. 12, state Rep. Daryl Metcalfe (R-Cranberry) discovered
City Paper
's 2017
Shit List
issue, which was first published on Aug. 2. Metcalfe wrote on his
personal Facebook page
, "I am sharing this pic with you to expose just how profane, vulgar and disrespectful the left is!" and included a picture of a cut-out paper version of his entry on the 2017 Shit List next to the poop-emoji used to illustrate the list.
Metcalfe claimed
CP
's article was in the "same area" as an ad for a foster-care service provider in
CP
's print issue. He then went on to claim
CP
and "the left" hate mankind, support abortion, reject morality, support homosexuality, and "hate God and reject His sovereign authority based on all of the above."
Of course, most of Metcalfe's claims are nonsense. One, the foster-care ad is actually several pages from the Shit List article. Second, there is no quantifiable way to judge if
CP
hates or loves mankind, but considering that we have written stories shining a light on issues facing
Latino immigrants
,
African-Americans
,
LGBTQ
Pennsylvanians,
rural white people
,
Asian
and
African refugees
,
low-and-middle income
Pittsburghers, the
wrongfully imprisoned
, people suffering from
health issues
,
high-school students
in Metcalfe's district, etc., it's easy to believe that
CP
falls on the love-mankind side of the spectrum.
CP
supports the rights of women to choose to manage their healthcare and
CP
suports the LGBTQ community; also our support aligns with the law. In 1973, the U.S. Supreme court granted women the right to abortions in the court's Roe v. Wade decision. In 2015, the U.S. Supreme Court granted same-sex couples the right to marry and in Allegheny County, where
CP
is located, LGBTQ people have all the same civil-rights protections as any other group. Finally, it should be noted that no one at
CP
hates God, and
CP'
s editor Charlie Deitch was raised by a pastor of The Disciples of Christ Church in Northern West Virginia.
"The notion that just because you disagree with the far-right on social issues means that you aren't religious or hate religion is an obscene mischaracterization," Deitch says. "A person's religious beliefs has nothing to do with the issues that we write about, except when people use religion to beat down and bully people and beliefs that you don't like.
"Rep. Metcalfe has done that for the entirety of his legislative career. He actively prevents the LGBTQ community from receiving protections under state discrimination statutes. He has incessantly assailed vital healthcare organizations like Planned Parenthood because of his personal and religious beliefs. Metcalfe is an irresponsible lawmaker and as long as he's in office, we will continue to alert the public to that fact."
While Metcalfe's claims are easily proven false, that's besides the point, as he appears to be less concerned with facts and more concerned with spreading a far-right message. In fact, Metcalfe appears to be following a blueprint followed by many associated with the far-right. A New York-based think tank called the Data & Society Research Institute published a study in March called
"Media Manipulation and Disinformation Online."
The report details strategies often used by the far-right to drive media narratives towards goals that are beneficial to ultra-conservative ideologies. For example, the report reads, "Manipulators also recognize the value of defining and framing a news story from the beginning. Studies have shown that when people are presented with information that contradicts their pre-existing beliefs, they will double down on their original opinions rather than amending them."
Metcalfe appears to be doing this when he writes that he's exposing our Shit List to everyone. Of course, the Shit List was published online and in-print months before Metcalfe's Facebook post, and more than 5,500 print copies were distributed to Metcalfe's district on Aug. 2.
He also failed to provide a link to the online Shit List article to his followers. This would have shown the article is critical of many other Republican and Democratic politicians.
CP
even wrote a Shit List entry about Lt. Gov Mike Stack (D-Philadelphia), a well-known adversary and target of Metcalfe's.
Furthermore, Metcalfe's post follows a common far-right trope of attacking journalists. The Data and Society report reads, "Far-right groups have developed techniques of 'attention hacking' to increase the visibility of their ideas through the strategic use of social media, memes, and bots — as well as by targeting journalists, bloggers, and influencers to help spread content."
And Metcalfe's strategy appears to be working in gaining the attention of those sympathetic to far-right causes. One man who sent support to Metcalfe in a comment is a self-described "oath keeper." The Oath Keepers are a far-right, anti-government group, known to the spread conspiracy theories, many of which relate to race, according to the
Southern Poverty Law Center
.
And many other commenters' Facebook pages are filled with articles from websites with names like "rightwingpost.com" and "officialnewstoday.com." One headline from rightwingpost.com reads "Muslims Are Offended At National Anthem: They Say It's Forcing Them To…" and the post goes on to detail a story from Australia about Islamic group Hizb ut-Tahrir, who is refusing to participate in Australia's national anthem. (Hizb ut-Tahrir is a far-right Islamic activist group which has been condemned by mainstream Islamic groups. But this information is not included in the rightwingpost.com post.)
Other commenters to Metcalfe's post have memes on their Facebook pages claiming things like former President Barack Obama is a communist and that public hangings should be used as a law enforcement tool to scare other criminals.
There are about 50 comments responding to Metcalfe's post and all of them are in support of Metcalfe's "fight against the left." Curiously though, the vast majority of the support appears to be from people that live outside of Metcalfe's district. Of the 37 commenters who's place of residence could be verified on Facebook, only eight actually live within Metcalfe's district.
Regardless, the end of Metcalfes' post indicates he wants a battle. "They do not know that Every Knee Will Bow but they will learn in time! Like to show support of my fight against the left," wrote Metcalfe.
ISD, an international anti-extremism organization, published a
study
in October offering solutions to far-right messaging campaigns. The study reads, "Counter-communications also need to take the grievances that extreme-right groups tap into seriously, encourage an open debate and offer alternative narratives to the ones provided by extremists."
On Nov. 3,
CP
called Metcalfe's office requesting an interview with the state representative to discuss some of the views he expressed in his Facebook post. By press time, Metcalfe didn't call
CP
back or issue a comment for this story.
In fact for the several stories that
CP
has written about Metcalfe over the years, he has only given on-the-record comments to the paper once. He did so in 2007, in a story about Metcalfe's treatment of
undocumented immigrants
and his bills targeting them as an "illegal alien invasion." In 2007, when Metcalfe was asked if he has ever interacted with any undocumented immigrants while patrolling the Mexico-U.S. border with the Army, he said he had not because he doesn't "speak Mexican."