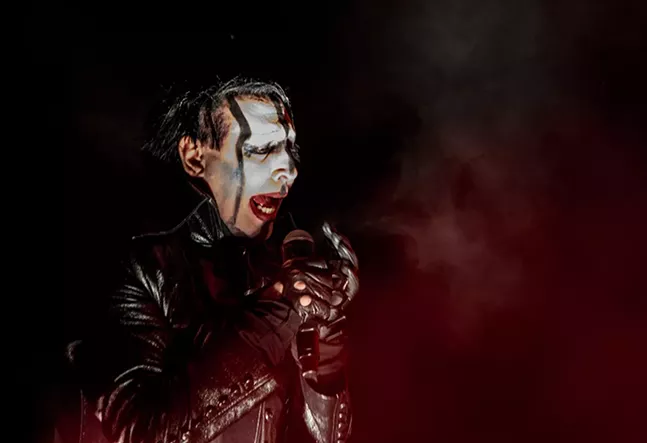 After taking a fall in Pittsburgh on Friday night and telling the audience that he "broke his ankle," alt-metal legend Marilyn Manson was more seriously injured the next night in New York when a large stage prop fell on top of him. The Pittsburgh show was just the second stop of his
Heaven Upside Down Tour,
and it will be the last full show he plays for awhile; the next nine shows have been cancelled.
Manson was performing Sept. 30 at New York's Hammerstein Ballroom when a structure holding a pair of prop pistols fell on top of Manson as the singer started to climb them.
Manson was taken to the hospital and later cancelled his shows between Oct. 2-14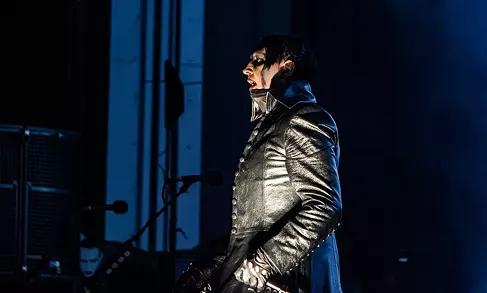 ,
according to Rolling Stone magazine
.
According to a statement from Manson's rep: "Marilyn Manson is being forced to cancel several of his October dates on his forthcoming U.S. tour. On Saturday night, the legendary performer suffered an injury on stage toward the end of his set at NYC's Hammerstein Ballroom causing him to cut the show short. He was treated for the injury at a local hospital and will be recuperating at home in Los Angeles."
Earlier on Friday night, Manson's Pittsburgh show had been going along well and getting great reaction from the Pittsburgh audience.
My thirteen year old self feels like such a badass for seeing Marilyn Manson tonight 🖤🖕🏻☠️ #sweetdreams #pittsburgh #MarilynManson pic.twitter.com/TvEOi6UzPk

— Elizabeth Ashley (@elizabethhouy) September 30, 2017
The Marilyn Manson concert was the best concert I've ever been too. #Pittsburgh

— Ashley Beaumariage (@ashley_beau) September 30, 2017
After falling (video below), Manson told the crowd that he broke his ankle, but he was able to perform the next evening, until the second accident of the three-day-old tour.