Pittsburgh runs with the big kids when it comes to the economic impact of the arts, according to a new report from the
Greater Pittsburgh Arts Council
.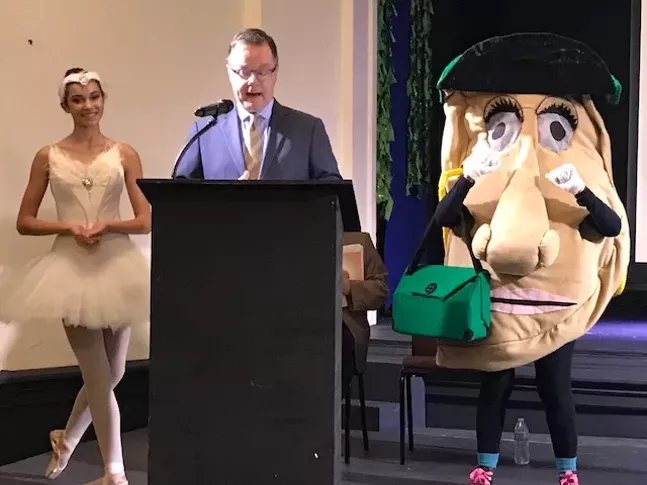 The
report
, released Tuesday, placed Allegheny County first among a group of 10 comparable regions in several categories, including direct spending by arts groups and full-time-equivalent jobs supported. Comparable regions included St. Louis, Minneapolis, Baltimore, and Columbus, Ohio.
Perhaps more surprisingly, Pittsburgh ranked highly in such categories even alongside much larger cities and counties: for instance, 10th nationally overall in total arts spending (just behind San Diego) and ninth in arts jobs (ditto).
The findings were announced in a press event at the West End headquarters of Pittsburgh Musical Theater. The report is titled "From Pointe Shoes to Pierogies: Impacts of the Arts." Taking the PMT stage to tout the results were GPAC Executive Director Mitch Swain (flanked by a ballerina and a pantomiming costumed pierogi) and local officials including Allegheny County Executive Rich Fitzgerald.
The report was prepared by GPAC in partnership with national advocacy group
Americans for the Arts
' quadrennial Arts & Economic Prosperity
study
. GPAC used data from 2015 and 2016 gathered from 194 area arts-and-culture organizations of all sizes, working in all disciplines, including museums and galleries, theater and dance companies, and community-based arts groups. (According to GPAC, the region has about 670 arts-and-culture groups, but those not surveyed were smaller, all-volunteer groups whose economic impact would be minimal.)
Groups spotlighted in the report included Contemporary Craft, New Horizon Theater, Pittsburgh Opera, Mon River Arts and City Theatre.
In a year in which the Trump administration proposed
zeroing out federal arts funding
, officials were quick to emphasize that arts and culture are not just idle amusements. Fitzgerald, for instance, referenced culture as a quality-of-life selling point as Pittsburgh courts the new Amazon headquarters. "The arts are going to be front and center of why they want to locate 50,000 people here," he said.
Jason Fulvi, executive vice president of VisitPITTSBURGH, said that travel and tourism is a $5.9 billion business in Allegheny County, and noted that last year alone, the tourism-marketing group's website saw a 52 percent uptick in visitors looking for performing- and visual-arts attractions. He said Pittsburgh has lots of arts attractions, and they're cheaper than comparable draws in New York City. Fitzgerald added that Pittsburgh's top draw for out-of-towners is not baseball or football, but Warhol, as in The Andy Warhol Museum.
Some of the numbers in the report: Arts groups here spent some $550 million a year annually, much more than in the nearest "comparable" city, Baltimore, at $326 million. Full-time-equivalent jobs (FTEs) supported here were 32,211, versus 19,129 for No. 2 comparable St. Louis. (FTEs count jobs supported outside the arts by arts spending, like set-building carpenters, for instance, with the latter group actually accounting for most of the total.) And those jobs generated $641 million in household income and $115 million in state and local tax revenue.
Indeed, while Pittsburgh ranked just 70th in population among the 341 areas Americans for the Arts studied, it placed 28th in jobs (comparable to the entire state of Minnesota, or the city of Dallas) and 30th in estimated total industry spending (which includes spending by both arts groups and arts audiences, on things like parking and restaurants).
The report also estimated indirect spending — a version of the "multiplier effect" economists use to determine the overall impact of a dollar spent — for a grand total of $2.38 billion economic impact of the arts here.
So why does Pittsburgh do so well? Swain says it's largely about financial support for the arts. For one, there's the Allegheny Regional Asset District, the group which administers proceeds of the county's 1 percent sales tax, spending it on everything from property-tax relief and parks and libraries to dance troupes. "The Regional Asset District is the envy of many of these kinds of communities," says Swain.
RAD spending accounts for 15 percent of arts funding locally (and 71 percent of local public funding for arts and culture), according to GPAC figures.
Second, Swain cited Pittsburgh's traditionally high level of foundation support for the arts. Among comparable cities, Pittsburgh is No. 2 in per capita foundation funding, accounting for 16 percent of arts funding. (In case you're wondering, earned income — from ticket sales, memberships and the like — accounts for 53 percent of local arts groups' revenue.)
GPAC also reports that Pittsburgh was one of only two benchmark areas that saw corporate donations rise over the past five years (by 17 percent in our case). Swain attributes that rise to an increasing number of special projects and festivals, and an arts community that's gotten better at selling its ideas to potential sponsors, as well as to the continued economic recovery.
Randy Cohen, lead researcher for the Arts & Economic Prosperity study, confirmed Pittsburgh's unusual status. Via email, an Americans for the Arts spokeperson for Cohen writes: "Pittsburgh has the number and size of arts organizations of a much more populated city — it competes above its weight class. The numbers are indeed impressive. ... The public and private sector makes significant investments in their orgs and they are well attended by people not just [from] the city and county, but the region more broadly."
Pankratz acknowledged that Pittsburgh's arts community still has more work to do on issues of racial equity and unequal access to the arts. He said that it must also address a 20 percent decline over the past five years in individual giving, which currently accounts for about 10 percent of arts funding here.