Four performances remain for this singular
show
, a post-apocalyptic take on
The Simpsons
that's about the power – and mutability – of story.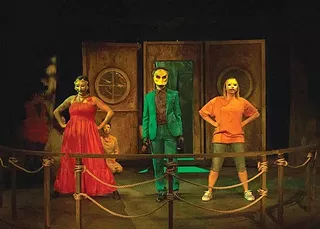 Anne Washburn's 2012 drama (or maybe it's a dark comedy) tells what happens after the electric grid goes down in a vaguely defined nuclear disaster, and survivors, for comfort, attempt to retell recollected
Simpsons
episodes. The three acts are set, respectively, just after the disaster, seven years later and 75 years after that.
As
CP
's Ted Hoover notes in his
review
, the play's premise has some big credibility gaps. But for me, Washburn's vision, and 12 Peers Theater's realization of it, more than makes up for such flaws (and justifies the production's two-hour, 20-minute run time).
For instance, act two's notion that stage productions that follow the fall of civilization will fetishize a now-impossible consumerism – to the point of making each play's "commercial breaks" longer and more elaborate than the play itself – is as poignant as it is bracingly satiric.
But the real knockout is act three, when it's revealed that, 82 years post-civilization, time and trouble have turned the "Cape Feare" episode of
The Simpsons
into a masked religious pageant that's equal parts slapstick and dread.
The play-within-a-play features gorgeous original music (composed by Michael Friedman, of
Bloody Bloody Andrew Jackson
fame) that abets the act's medieval feel. (Throughout this show, 12 Peers cast members have a lot of singing to do, and they do it well.) Act three is funny in spots, but also wonderfully eerie, and Washburn's idea of how this imagined society's psychological needs would transform the story, and iconic
Simpsons
characters, is kind of brilliant.
Final recommendation: A familiarity with
The Simpsons
, and '90s/'00s pop culture in general, while not necessary, is helpful for fully appreciating
Mr. Burns
. At a minimum — assuming you don't already know "Cape Feare" by heart — you can refresh
here
for free.
The remaining performances are 8 p.m. nightly tonight through Saturday, and a Sunday matinee.
The production is staged in the Studio Theatre in Pitt's Cathedral of Learning – another bonus, as this basement venue always puts me in a somewhat down-in-the-bunker mindframe. The Cathedral's at 4200 Fifth Ave., in Oakland.
Tickets are $20 and are available
here
.