Pops and Botches will be a weekly roundup of the WWE happenings on
Monday Night RAW
,
Smackdown Live
,
205 Live
and
NXT
as told by me, Meg. I'll break it down by pops (good things) and botches (clear misses) for each show. These are obviously my opinions, most of which I log live while watching these shows.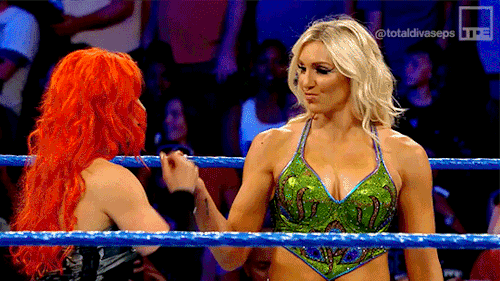 POPS
RAW
best-friends Bayley and Sasha Banks hashed it out for a championship opportunity at SummerSlam in two weeks. There's no denying that Bayley and Sasha have ring chemistry, and that chemistry was clear. Besides being fun to watch, these women show so much emotion and actually tell a story through the match, something that WWE seems to struggle with these days. It was Bayley who picked up the W, setting up a potential heel turn from Banks which would lead to the Bayley v. Banks feud we want and deserve.
Seeing Dean Ambrose and Seth Rollins team up to rash the Miz and his Miztourage was so fun, and this storyline is amazing. There was so much emotion in this fight: Rollins' guilt of betraying the Shield, his desire to reconcile with Ambrose, Ambrose's clear distrust and snubbing of Rollins. It's storylines like these that keep me hooked. My hope is this leads to an eventual Ambrose heel turn.
We're getting a Lesnar v. Reigns v. Joe vs. Strowman match at SummerSlam, which is something I can get behind. Hopefully Lesnar loses and then we never have to hear from him ever again. (:
SMACKDOWN
Start the "Holy shit!" chants. Chris Jericho returned to
Smackdown Live
and I did not see it coming. When his music hit, I literally jumped off the couch, and I couldn't wipe the smile off my face. It's rare something or someone showing up genuinely surprises me, so good on the company for this one.
Shinsuke Nakamura beating Baron "nightmare mall punk" Corbin is a clear pop from me. That
kinshasa
to Corbin was absolutely beautiful, and it was about time they used a W to elevate Shinsuke. Corbin has the Money In The Bank briefcase, he doesn't even need the push. Besides, we all know that our boy Shin is just better in the ring and way more charismatic.
Carmella is a grade A heel. Her mic work is absolutely wonderful, and I love how she and Naomi play off of each other.
Sami Zayn and Tye Dillinger put the beat down on Mike Kanellis and Aiden English, which was a real treat. Being a Zayn fan can be pretty disheartening, seeing as he's one of the most amazing in terms of wrestling skill, and the company constantly shows him getting his ass beat.
Minor botch on this one: Mike and Marie Kanellis are both good, but this gimmick is a lot. The crowd really does not care about them, so WWE's got to figure out how to make them care. Although
rumor has it that not even the WWE cares
.
Shane McMahon announced that next week we'd get to see John Cena v. Shinsuke Nakamura for a title shot against current WWE champ Jinder Mahal. That is certainly going to be a brilliantly technical and entertaining match, so that's exciting!
Hooooo boy! The main event was a three way for the U.S. Championship strap between Chris Jericho, A.J. Styles and current U.S. champ, Kevin Owens. This was absolutely BEAUTIFUL, perfectly paced, thrilling and unpredictable. When Styles knocked off K.O. to take advantage of the damage done to Jericho to steal the W, I was definitely surprised. I'm quite excited to see where this goes, especially seeing how irate losing the belt made K.O.
205 Live
Neville should be Cruiserweight champion forever. His promos are great, and he's so damn good in the ring. (Bonus Pop: his entrance doesn't have fireworks anymore! Now the crowd won't be startled shitless every time he appears!)
The tag team match of Rich Swann and Cedric Alexander v. Tony Nese and TJ Perkins (TJP at the moment) was impeccable. All four are so talented, and Alexander and Swann have amazing chemistry. I would love to see those two ascend from 205 Live prison and become bonafide members of the Smackdown tag team division. I also thought that smarmy Nese using an ab workout to attack Alexander was kind of brilliant. The heels won this won in a slimy way, and I'm excited to see where this match takes the feud with Swann and TJP.
When the crowd started chanting "Please stop dabbing" at TJ Perkins, I literally clapped in my room by myself. Thank you, audience.
NXT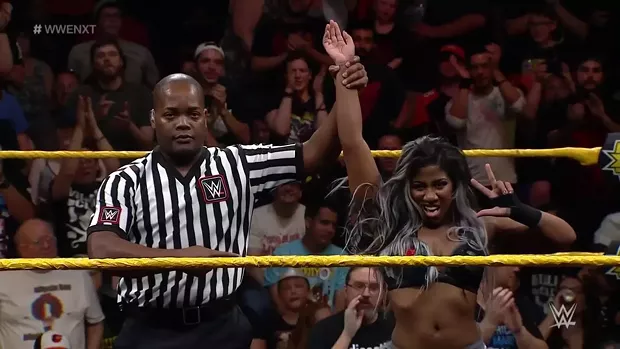 Ember Moon is a powerhouse for her size, and I love to see her take on opponents who challenge her style. This week she took on former MMA competitor Lei'D Tapa (at least a foot taller) and managed to come back in a big way from a rough start to beat Tapa. It ended with a fierce promo too, and with Moon getting her shot at the NXT Women's belt at Takeover Brooklyn, we're sure to get a show stealer of a performance from these ladies. Seriously, just make it the goddamn main event.
Ringside commentator Mauro Ranallo is really out here referencing Remy Ma and Nicki Minaj's beef as it pertains to a move in a match. We're blessed to have him back.
NXT Champion #1 contender Drew McIntyre cut a delightfully fiery "Power to the people" promo on current NXT Champion, and entitled butt lord, Bobby Roode, which was awesome, because it's nice to see the entire crowd on their feet.
Side note: Not sure how much of this is thanks to McIntyre alone. I feel like a lot of people are tired of their champ being not much more than a fancy entrance song.
The Guillotine Leg Drop delivered by Hideo Itami to Kassius Ohno in the main event was so beautiful that I teared up a little.
Hideo Itami going full heel and beating the snot out of Ohno after getting disqualified for a low blow to Ohno was brilliant, and it turned a split crowd into a singular chorus of boos for Itami. Hideo Itami is the real deal in the ring and is the talented men's heel that NXT deserves.
BOTCHES
RAW
Emma is one of the most badass superstars on the roster, and folks may remember that it was her and Paige in WWE who led the way for the women's revolution in
NXT
. When she approached Kurt Angle for a match, since she'd been largely left out of the picture, he put her in a match with Nia Jaxx. Emma got in very little offense, and Jaxx came out on top. This is frustrating because Jaxx has potential, but she is definitely not at the same level of ability as Emma, and Emma deserves feuds where we can see her chops. #GiveEmmaAChance, damnit! Also, where are Mickey James and Dana? I want more women's wrestling!!
Jason Jordan being Kurt Angle's son (revealed last week, obviously kayfabe), is just not working. WWE better find a way to make people care about Jordan and fast, because right now nobody is into this...angle.
Stop with this dumbass Bray Wyatt v. Finn Balor nonsense. I'm tired of watching Balor lose on account of Wyatt's meddling when there is just no believability in Wyatt being able to beat Balor on his own. Also, Balor deserves a better feud than with Wyatt's Grinch-finger hair, nasty-crust-punk-lookin' ass.
Cass putting the beat down on Enzo yet again is getting so tired. Now that he's got enough heel heat on his own, let Cass move on to other feuds, and let Enzo take on some opponents his own size so we can see him thrive in the ring instead of looking pitiful.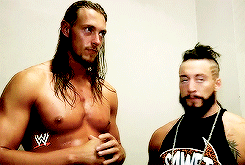 SMACKDOWN
Sweet Jesus. Get that poor woman Lana out of the ring. Shame on WWE for booking her in matches with top talent when she is clearly not comfortable or ready to be in the ring. When the crowd starts chanting, "You can't wrestle!" I felt genuinely bad, even if it's unfortunately true. Not a good look.
Cena is usually a monster on the mic, but this bit with Jinder Mahal was just ... not great. Besides the clear falsehood of Cena never meeting Mahal before (they've been coworkers for seven damn years), there was some clunkiness on the mic.
This botch is two-pronged. In addition to it not being the best promo, I hate that the only way WWE found to give Cena a storyline where folks won't boo him is to put him against Mahal, who currently is earning heel heat as the Indian bad guy who speaks Punjabi. Nationalism is trash, and I can't get behind this whole shebang. I highly doubt Cena will lose to Nakamura next week, so we're probably going to see Cena beat Ric Flair's record of holding 16 world titles at SummerSlam. Sigh.
205 Live
Holy shit, the promo that Brian Kendrick tried to cut on Jack Gallagher in which he photoshopped clown accessories onto a photo of Gallagher was beyond atrocious. It wasn't funny, nor was it particularly effective. The crowd wasn't very responsive, and it made Kendrick look like an idiot. Bad writing kills heat, folks.
This isn't super important, but I really hate that weird vest thing Tony Neese comes out in. Doesn't suit his jock persona.
The crowd watching
205 Live
just sucks. They need to put this before
Smackdown Live
because the crowd is tired and not invested, which is a shame, because there are some brilliant athletes in the Cruiserweight division.
NXT
I kind of love this weird Prince-knock-off character Velveteen Dream that WWE is developing, but his matches are so quiet. I don't know if it's the material or his ring gear, but all of his hits are nearly silent, and it makes everything seem way less impactful.
While I loved the concept of the unpredictable, stuff-of-nightmares stable, Sanity, attacking current
NXT
Tag Team Champs The Authors of Pain, I'm not really sure what kind of message it sends if that ambush leads to a beatdown from AoP. It made Sanity look weak, and I don't think that's a wise angle if WWE is setting them up for a feud with two absolute behemoths like Akam and Rezar.