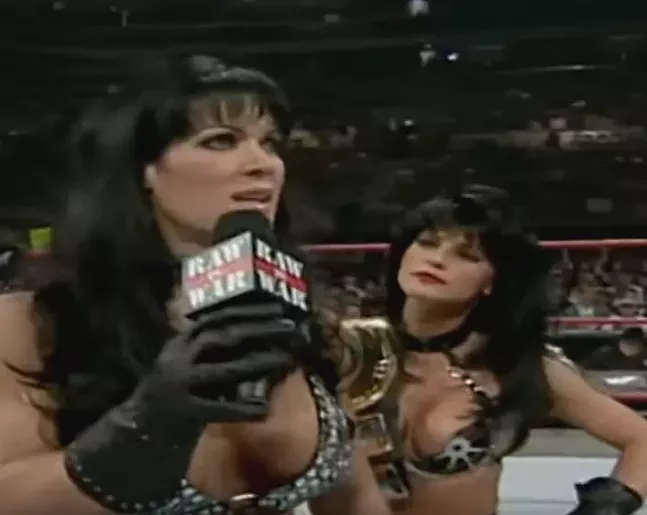 Throughout the history of professional wrestling, what a performer can do on the mic is often just as important as what they do in the ring. Each afternoon, Smark Attack will highlight a wrestling promo that shows off the best, and sometimes the worst, in pro wrestling microphone work.
And we're not just looking for classic promos. If you're a local wrestler or if you've always wanted to be a pro wrestler and want to show off your mic skills send your best promo: 45 seconds or less to info@pghcitypaper.com. If we end up running it on the blog, we'll give you a City Paper t-shirt.
The saddest thing about the current state of women's professional wrestling is that Chyna, aka Joanie Laurer, isn't alive to see it. When Chyna joined the business in 1995, women's roles in wrestling usually took on one of to forms: a valet/manager for a male wrestler or as a performer in the women's division, which, despite seeing main-event status in the mid-1980s, had returned to low- to-mid-card fodder.
Then came Chyna.
She was brought in as a bodyguard for Triple H's and Shawn Michaels' Degeneration X in 1997. Soon after she began not only wrestling men, but competing with them. She had feuds with legends like Jeff Jarrett, Chris Jericho, Eddie Guerrero and Crash Holly (just kidding about that last one). She captured the Intercontinental title from Jarrett in 1999 and went on to work a really great program with Jericho and others. Chyna changed the face of women's wrestling. We see high-quality inter-gender matches today because of Chyna. An Indy superstar like Candice LeRae is able to get a chance main-eventing classic matches against male competition because Chyna blazed the trail. Because of her female performers realized they didn't have to be managers or Divas. They could just be wrestlers based on their talent and ability to get over.
No woman could work as well or get over as well as Chyna up to that point. It's sad that after leaving the WWE that her demons (drugs, alcohol and bad relationships) took her down. Chyna died in 2016 at the age of 45 from an overdose of alcohol, anxiety medication and pain killers. This clip from October 1999 shows Chyna in all her glory. A great promo by her and Jericho followed by pop-inducing attack on Jericho, a huge bump and a walk off into the sunset. It's the way Chyna should have went out.