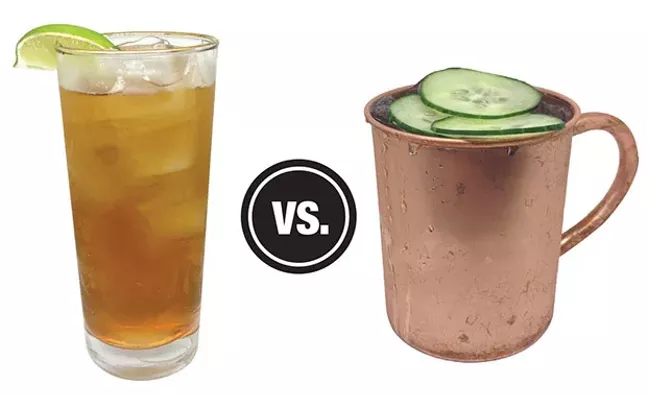 Each week, we order the same cocktail at two different bars for a friendly head-to-head battle. Go to the bars, taste both drinks and tell us what you like about each by tagging @pghcitypaper on Twitter or Instagram and using #CPBoozeBattles. If you want to be a part of Booze Battles, send an email to food-and-beverage writer Celine Roberts, at celine@pghcitypaper.com.
Wigle Tasting Room and Bottle Shop
530 William Penn Place, Downtown
Drink: Pittsburgh Pêche

Ingredients: Wigle Monongahela Rye, peach ginger beer, lime, aromatic bitters
Our take: Flavors of lime and peach elegantly intertwine to make this drink floral, creamy and refreshing. The ginger beer contributes a significant kick that complements the warm notes of peach on the nose.
Vs.
Eleven
1150 Smallman St., Strip District
Drink: Eleven Mules
Ingredients: Effen Cucumber vodka, Fever Tree ginger beer, lime, cucumber
Our take: This more classic mule is perfectly balanced with verdant cucumber notes and cooling lime. Ginger beer adds the impression of heat without being overwhelming.