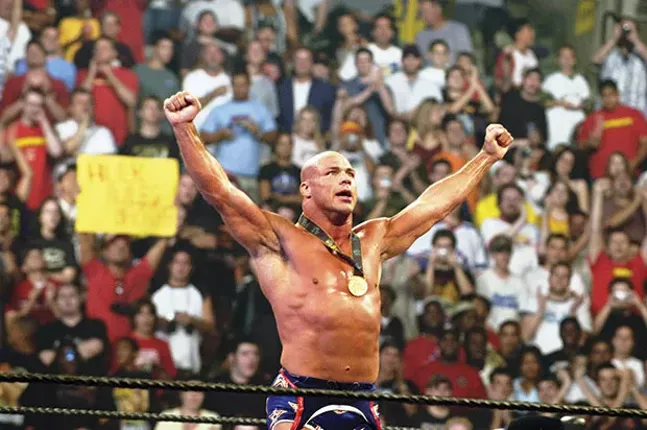 Chicago Cubs rookie Ian Happ got his call to the major leagues in May. Since then, the rookie has clobbered 12 home runs, including a grand slam. Sure, he also struck out four times in that game, but Happ is off to a hot start at the age of 22.
Now, wind the clock all the way back to 2011. Happ was just finishing up his high school career in Mount Lebanon where, incidentally, he also hit 12 dingers. Perhaps Happ will find some stability at Wrigley Field, unlike fellow Mount Lebanon Blue Devil grad Josh Wilson. Wilson, currently an infielder in the Cleveland organization, has put on a different pro uniform 14 times in his career. Then there's Don Kelly, who just wrapped up a 10-year pro career and is now a scout with the Detroit Tigers. Kelly knocked in 98 runs in the big leagues and is from, you guessed it, Mount Lebo.
But it's not just a baseball school. The trophy case is littered with WPIAL and state titles from almost every sport, boys' and girls' both. The most, in fact, are for cross country and wrestling. All that hardware would make almost every school in the area envious. One school that's not impressed is Mount Lebanon's hated rival, Upper St. Clair. This is a rivalry not only of proximity, but of class warfare.
On one side, you have students who have 60-inch high-definition televisions in their living rooms, housekeepers who check in twice a week, and families who vacation in South Carolina. The other side has students who have 60-inch high-def televisions in their bedrooms, live-in housekeepers, and families who vacation in foreign countries like Italy and Hawaii. There's a lot of trash-talking going on outside the Au Bon Pain in the Galleria Mall. In this case, the Mount Lebanese are closer to the common man.
One Mount Lebanon graduate who has more money than anyone in Upper St. Clair is Mark Cuban. Cuban is rich even by Shark Tank standards. In fact, he's the wealthiest shark in the tank, with a net worth north of $3 billion, according to Forbes magazine. The owner of the Dallas Mavericks brought an NBA title to Dallas in 2011. Formerly a forlorn, forgettable franchise, the Mavericks won their first anything thanks to Cuban. Cuban is also mentioned frequently as a prospective buyer of the Pirates; please let that happen. Imagine the Pirates in a bidding war with the Cubs or Yankees. The only other graduate who may be as famous is Gold Medal Olympian Kurt Angle. Angle went on to become one of the most successful professional wrestlers of all time. He recently was inducted into the WWE Hall of Fame, joining such grappling luminaries as Bruno Sammartino, Hulk Hogan, Rowdy Roddy Piper and Donald Trump.
The Blue Devils also put a player in the NHL. Matt Bartkowski is a pretty good defenseman for the Calgary Flames. Bartkowski has played in Boston and Vancouver and has accumulated 44 points in the pros. John Frank, a tight end for the San Francisco 49ers in the 1980s, won two Super Bowls, and had a catch in the big game from Joe Montana. Ave Daniel is in the college football Hall of Fame; the Pitt Panther played briefly in the NFL, but is best known for helping Pitt win two national titles in the 1930s. Rich Lackner, the winningest coach in Carnegie Mellon University football history, played football at the school. Girls rock too, including Leah Smith, who won bronze and gold medals for swimming in the 2016 Olympics.
Mount Lebo not only put a man in the NHL, it put a man in space. Astronaut Terry Hart went to the school, and so did some notable actors. Ming Na Wen, whose family owns Downtown's Chinatown Inn, has appeared in movies like The Joy Luck Club and television shows like ER and the current Marvel hit Agents of S.H.I.E.L.D. There's also Judith O'Dea, of Night of the Living Dead fame, and Gillian Jacobs, of Hot Tub Time Machine 2. And don't forget about Emmy-winning actor Carl Betz, who is best known on television as Mr. Donna Reed, and for a starring role in one of the best-titled movies of all time, Killdozer. Plus, there's Joe Manganiello, who is best known as Mr. Sofia Vergara. He did not star in Killdozer, but we all hope Joe will one day catch a lucky break. Yes, there are more alumni who have not been mentioned, but it's still a pretty admirable list. It's your move, Upper St. Clair.