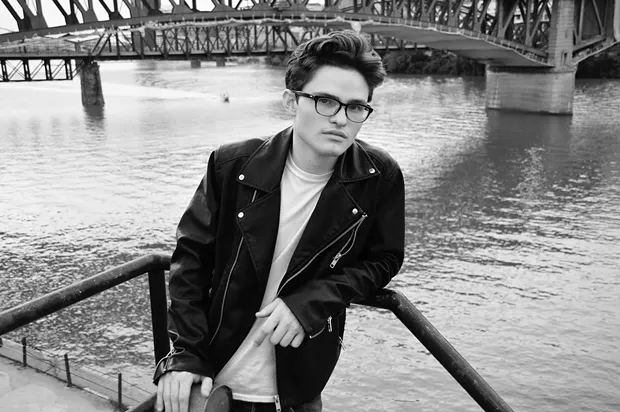 Zack Keim can typically be heard in the company of his garage-band mates, the Nox Boys. But two weeks ago, in the performance space at Get Hip Recordings (the label where Keim also works), he was armed with nothing more than an acoustic guitar. The occasion celebrated the release of his solo album, First Step, which revisits the music he played prior to starting Nox Boys. With a black-and-white cover and font similar to that used on Bob Dylan's The Times They Are A-Changin', along with credits that mention Get Hip's Folk Series, the 10 songs welcome the descriptor "folk."
The album came to life after Keim rediscovered a 4-year-old demo of "Alice," a song of unrequited love in which he leans into his vowels, phrasing much like young Dylan. Get Hip's Gregg Kostelich and Barbara Garcia-Bernardo liked what they heard and encouraged him to get into the studio. The finished product displays a wide range of moods, from the direct "Alice" to more vulnerable, honest moments like "Open Your Doorway." He even contributes a stirring version of the spiritual "Gonna Lay Down My Sword and Shield," with harmony vocals coming from Kostelich.
For a 20-year-old, Keim has a musical scope that is literally beyond his years. While he likes current artists such as Fleet Foxes and Tallest Man on Earth, he mentions '50s pop star Ricky Nelson, English troubadour Nick Drake and CSNY's Graham Nash as influences.
"It's always been a deep passion to play this stuff. It means something special to me to play folk music," Keim says, explaining that he's "not like [typical] folk artists. I'm a songwriter who likes writing songs that are folky." A few songs, in fact, have some rock 'n'roll swagger. At least one, "If I Could Only Believe Her," was an unused Nox Boys song.
"Some of them are just pop songs," Keim says. "I think the next record is going to be a little poppier, but it'll still be folk, just me on guitar."
This week, Keim heads to New York for an in-store set at Rough Trade Records, and a show later in the month at Mercury Lounge, with reunited Youngstown, Ohio, band Blue Ash.