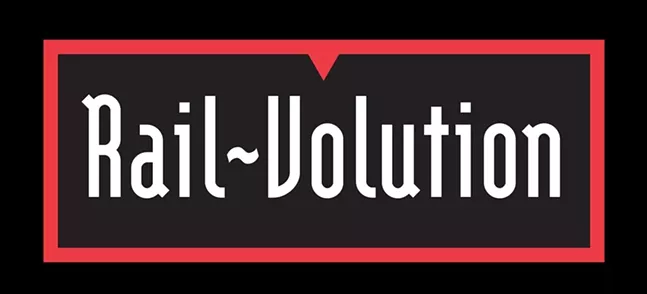 The Rail~Volution conference has been a national leader on engaging communities to improve public transportation and development centered on transit, and to create walkable and bikeable neighborhoods. For more than 20 years, it has set up shop in booming cities that have experienced decades of growth in their respective regions.
But come 2018, Rail~Volution is coming to Pittsburgh, which is experiencing signs of a rebound, but the city and its region are still shrinking city. Dan Bartholomay, CEO of Rail~Volution, said at a June 20 press conference in the Steel Plaza T station that Pittsburgh was picked for its commitment to public transit and its upswing.
"We have chosen Pittsburgh for its significant investment in public transportation," said Bartholomay. "But also because it has opportunity. We can learn what is possible in an area experiencing a rebirth."
Chris Sandvig, of the Pittsburgh Community Redevelopment Group, said at the conference that Allegheny County has more than 45 miles of light-rail and busway lines, including 53 stations along those lines. Sandvig says myriad improvements to transit assets like these can have a powerful positive effect on the region. He says better homes next to reliable transit can help alleviate poverty by providing better access to good paying jobs.
At the press conference, Allegheny County Executive Rich Fitzgerald echoed this sentiment and is hoping the Rail~Volution conference can help make it easier for everyone in the region to access the areas in the county experiencing job growth, like the airport corridor around Robinson and Moon townships. "How do we get people without jobs to the airport corridor where there are jobs?" said Fitzgerald.
Fitzgerald added that he is confident the conference will increase the possibilities the Pittsburgh region can improve its public-transportation system, even as President Donald Trump's administration is
threatening to end funding
to big projects, like the
Bus Rapid Transit line
from Downtown to Oakland and beyond.
"I am confident in our support. Several years ago, we had some issue at the state level in trying to get funding," said Fitzgerald, referencing the battle to pass Pennsylvania's major transit-funding bill, Act 89, through the legislature. "But cooler heads prevailed. I am confident we can do the same."
Fitzgerald said it is hard to find people who are opposed to improving public transportation in the region. "One thing we can all agree on — workers, labor and CEOs — it's having good mass transit is important," says Fitzgerald.
And Karina Ricks, Pittsburgh's new Mobility and Infrastructure director, said the Rail~Volution conference can be an opportunity to explore boosting some of Pittsburgh's underutilized transit assets, like the West Busway.
"In an era of Uber, Lyft and autonomous vehicles, some could be tempted to think public transit is obsolete," said Ricks. "It's not. It is the backbone. We have tremendous transit assets and, if anything, they are underdeveloped and underutilized."
Ricks also noted that Pittsburgh and its partners will lobby the federal government and area congressional representatives on public transportation's role in increasing employment. A 2011 study by national development research firm
Smart Growth America
notes that "putting or keeping public transportation in communities with high unemployment produces up to 2.5 times more jobs than putting public transportation in communities with low unemployment."
"Transit is also about jobs," says Ricks. "And that is something the [Trump] administration needs to be reminded of."
The Rail~Volution conference will be held in Pittsburgh on Oct. 21-24 in 2018.