I have a confession to make. Music festivals are kind of a nightmare to me. Major festivals like Coachella and Bonnaroo and Firefly are expensive, require immense amounts of preparation, and are often populated by a crowd of thousands of cliques. Obviously special connections can be forged with camp neighbors and strangers, but in my experience at the last Firefly I attended, very few people were interested in any type of community building.
Nelsonville Music Festival is not that kind of festival.

NMF is operated by Stuart's Opera House, a nonprofit historic opera house in Nelsonville that brings art and culture to Southeastern Ohio. The proceeds from the festival help fund programs like Stuart's free after-school music classes and the many community events it hosts year-round. The festival is big enough to feel like a lot of fanfare, but it's also small enough that it isn't overwhelming.
Instead of giving your money to a corporation run by a conservative dingus who supports anti-LGBTQ causes or a group who threatened its performers with deportation if they made money outside of the festival itself, your reasonably-priced ticket and camping pass puts money in the hands of an art advocacy group in beautiful Appalachia. (Disclosure: I went to college 20 minutes down the road from Nelsonville, so this lush part of Ohio is very special to me.)


With accessibility in mind, there's free entertainment at NMF for folks who can't attend the full festival. The Boxcar Stage sits poised along the Hockhocking Adena Bikeway, the bike path that stretches alongside festival grounds. Folks could swing by the stage for free performances from artists such as Sallie Ford, Mirah, Margaret Glaspy, Jay Som and Michael Hurley. At the top of the small hill from the stage is a marketplace of local food vendors.

Once you enter the festival grounds, you're met by a statue of the NMF letters. They are painted by Passion Works Studio, a collaborative space in Athens, Ohio that showcases the work of disabled artists in the area. On the left is a large beer tent with fare from local breweries Jackie O's and Little Fish, and to the visible right are food trucks and tents from local restaurants and cafes.


Down a pathway to the right is the Porch Stage, as well as the No-Fi Cabin and Gladden House.
On the way to the last two spots, the path is lined with colorful paper mache statues, colorful pieces hang from the trees, and at night the small grove is lit with multicolored lights. You also pass the Kids Area, from which a goofy and raucous vibe emanates. It's here that kids can participate in arts and crafts sessions or run around and play when they get bored of the music.


The No-Fi Cabin, nestled in the shade, provides an insanely intimate set up, as only 20 people can comfortably fit inside the cabin. There are no outlets, so everything is unplugged. At the Gladden House, a team of Ohio University students and WOUB (public TV and radio) film interviews and live stripped-down performances throughout the day.


If you were to forge straight ahead at the entrance, to your left would be the main stage. To the right and bleeding back into the Porch Stage are a sea of vendors selling clothing and art. Many are local. Throughout these grounds, a team of folks from Zero Waste Event Productions actively make sure people are composting and recycling (this year they diverted 92% of the waste created from the festival from going to a landfill!)


Because the festival planners' philosophy is to center a festival of local and national touring acts around an established, cozy community, Nelsonville Music Festival is a musical gathering where people ask you your name. Strangers compliment each other, engage in conversation while waiting in line for food or waiting for a band to begin playing. A whole host of volunteers cheerfully rush around answering questions. Campers talk to their camp neighbors, exchange goods with each other and forge lasting friendships.


Friday
On early Friday afternoon, the crowd trickled onto the grounds. The first band I caught was on the Porch Stage, and it was Wished Bone. Wished Bone is the tweefolk project from Ashley Rhodus who once lived just 20 minutes up the road in Athens, Ohio. It was a homecoming from her current residence in Los Angeles. Throughout the crowd were people who had seen Wished Bone perform in bars, basements and living rooms. It was like a sun-soaked family reunion.


Later in the afternoon, I returned to the Porch Stage to see Leggy from Cincinnati bring their surfy, silky rock to life. Despite the beating of the sun, folks crowded in to dance along while families on blankets lined the shady hillside.


Across the bike path (and after a veggie dog fix from the O'Betty's Red Hot! tent), I posted up in the shade of the Boxcar Stage to see Margaret Glaspy, a NY-based musician whose voice is unlike any other. Her bluesy guitar prowess and manipulative timbre had a large crowd entranced, hanging on each syllable she sang.


For a dinnertime treat, Cloud Nothings took the main stage. The Cleveland-bred rock band absolutely shredded, and the crowd bounced along gleefully. At one point, during a tuning break, vocalist and guitarist Dylan Baldi pointed out the band's not-so-distant hometown. "We even brought our parents to this one," laughed Baldi. "If you want to feel like the best band in the world, bring your parents to a festival."


The next main stage performance was delivered by Rodriguez, a man whose record sales outnumbered Elvis Presley's in South Africa but whose music was under-appreciated in the States, living in relative obscurity until a documentary about him, Searching for Sugar Man, was released in 2012. Now he enjoys a sort of cult following, his brilliant guitar playing and still clear, warm voice eliciting cheers of "I love yous!" from the crowd. Coyly, he responded after a few songs, "I know it's just the drinks talking, but I love you too." Rodriguez' commentary was limited, but each word he spoke was powerful.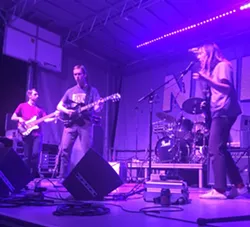 "You wanna know what I'm about?" the politically active musician started, "Peace to the world. Power to the people." The crowd roared in approval as Rodriguez chuckled.


As dusk fell, the shady nook of the Porch Stage was taken over by Mothers, an experimental indie rock band that cleverly marries folk with unconventional time signatures. Bodies swayed, twitched, heads bobbed as each beat and riff moved through them in different ways. The trees nearby were illuminated with red and blue spotlights, giving a glow to the jellyfish mobiles hanging from the branches. The night air became cool, and with Mothers' final crescendo, the world was still and quiet, save for the distant sound of the crowd on its way to see They Might Be Giants.


Long out of festival practice, I wandered to my sleeping quarters and crashed hard, hearing the distant cheers along to "Doctor Worm" as I left.


Saturday
Saturday morning started off with a cool breeze and clear skies. Campers walked back from the watering hole to hang up soaked bathing suits and make an early lunch before the music started around noon.


Most festivals early performers have sparse crowds as hungover and sleepy campers shake off the rust from the headliner the night before, but the main stage had a strong showing for its first performer of the day, Adam Remnant. Based out of Athens, the folky rock musician makes songs that sound like falling in love and reminiscing about childhood memories.


Folks assembled in the shade near the Porch stage to lay out blankets and curl up for solo artist Twain. The best way I can describe him is as a gentle, groovy gentlemen with a wandering mind and psychic connection to his electric guitar.


Sitting in the sun for Twain, I caved and tried some strawberry dairy-free ice cream from the food truck that makes ice cream on the spot with liquid nitrogen (for real). After eating it way too fast, I lumbered over to the Box Car Stage for a performance from Jay Som.

This set was by far one of my favorites of the weekend. The members of Jay Som radiate goofiness and joy in between songs, and each performer looks so happy to be there. The music is beautiful and sweet, with songs like "The Bus Song" earning loud and emotive singalongs from the crowd. Guitarist and vocalist Melina Duterte absolutely shreds, each solo bending my sleepy afternoon brain.
Jenny Lewis was a major highlight of this weekend for me. Her presence is big, warm and welcoming. Her rainbow weed-leaf covered clothing ensemble with dripping fringe was beautiful and silly, and she knows exactly how to make a crowd feel special. She performed "One of the Guys" and "You Are What You Love," and she had a little girl wearing bunny ears and sitting on her father's shoulders help her pick what song she'd perform next.


During the performance she paused to thank the devoted fans of Rilo Kiley who had shown up with passion in Ohio when they were still a band. A bunch of balloons filled with glittery confetti were thrown to the crowd as she and her band performed "Silver Lining." It was a sublime moment as the cool breeze moved through the crowd and Lewis' beautiful voice filled the air.


Ween was the next act on the main stage, but I literally tried to get as far away as humanly possible. If I wasn't interested in seeing Ween before, the members of the crowd that had gathered during Jenny Lewis to jockey for a good position for the headliner certainly sealed the deal. It turns out dudes in Ween shirts who look like frat bros are very comfortable yelling sexually threatening things at a revered musician as she does her job.


At the end of the night, after Ween's final terrible moments ended, Twin Peaks ripped into a raucous set. The pit of jumping, thrashing bodies moved like a sentient being as the wild boys of rock shredded, trading off vocals and wiggling around. At one point a security guard who had been anxiously watching the crowd push against the stage caught the attention of the guitarist in between songs to whisper something in his ear.


"Hey, I hate to be the bearer of bad news, but like, apparently if you push too hard on the stage it'll collapse," he said. "Or keep moshing, do whatever the fuck you want."


Riding high after the set, campers rushed to catch a dance party in the campground tent featuring revered local DJ and public figure DJ Barticus, who is never seen in anything other than a jumpsuit and a YOLO hat. The tent was crowded with sweaty bodies, blissfully dancing the night away as they made new friends and shared beers on the dance floor.

Sunday
The final day of the festival ends earlier to allow for people to get home on Sunday evening, but it's also the biggest day for sales on single day passes. Hordes of families with strollers and big blankets descend upon the field to make memories and dance together, joining the already large population of families who attend NMF.


My day started off with The Crooked Spines, a remarkably catchy indie rock band from the area. I was enamored with oddball performer Aldous Harding, whose music is strange and ethereal and features choruses that question, "What if birds aren't singing, they're screaming?" Shannon and the Clams was a lot of fun and pulled a generous crowd of young adults intent upon grooving down, even if the sun was absolutely beating the Porch Stage at this point.


My day ended with legendary folk and country artist Emmylou Harris. Her set was stripped down, featuring just her and her guitar, an auxiliary percussionist, and two other guitarists to add a little oomph, as it's hard to make stripped down work on main stage festival sound boards. It was a beautiful set full of her own work and covers of performers she admires.


It sealed off the festival on a very satisfied note, a sea of people strolling back to cars and campsites at a leisurely pace, not eager to leave behind such a perfect weekend.