I've never been much of a fan of professional hockey, although I do watch playoff hockey a bit. This year, for some reason, I find myself more interested than usual.
I think the turning point was finding myself in really good seats at PPG Paints Arena the night the Penguins clinched the first-round series over Columbus. I was told that hockey was best experienced live, and I definitely think that's true. I didn't believe it at first because while I had been to a Pens game before, I spent the first period and part of the second in the Mellon Arena bathroom after some questionable Italian food.
The problem is, I hate bandwagon fans. As a long-suffering Pirates fan, it bugged me in 2013 when everyone became a fan of the Buccos. While I've always been a baseball fan, from birth to about age 20, I followed the Los Angeles Dodgers. But I always liked the Pirates and went to games all the time and slowly became a fan. I actually jumped on the Pirates bandwagon in 1992. I've been loyal since then and certainly paid the price of fandom over the past 25 years.
I root for all Pittsburgh teams, even when I'm not the biggest fan of the sport. So every year around playoff time, I become one of those annoying bandwagon-jumpers whom I despise so much. But by this point, I've become a pretty solid bandwagon fan and, I think, I'm at the top of my game. So, to my fellow hitchhikers, here are a few tips to get through the remainder of the postseason with some degree of authenticity and dignity.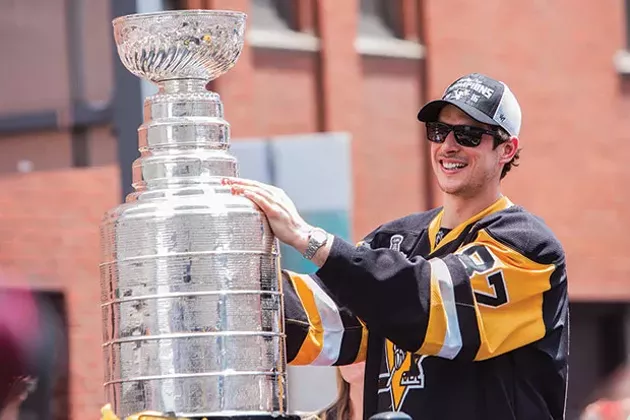 Know the Personnel
You can't fake being a team's No. 1 fan if the only names you know are Sidney Crosby, Evgeni Malkin and Marc-Andre Fleury (nicknamed The Kid, Geno and Flower, respectively). A few other guys to know are Nick Bonino, Jake Guentzel, Carl Hagelin, Chris Kunitz and Tom Kuhnhackl. I like to talk a lot about Kuhnhackl because people are so impressed that you can pronounce his name (coon-hack-el) that they won't notice that you're wearing a Steelers jersey. Also, remember that the coach's name is Mike Sullivan. Once for an entire evening I referred to him as Kevin Sullivan, a legendary NWA wrestler who had a Satanist gimmick for awhile.
Cheer Correctly
I can spout baseball jargon all day, but hockey is tough for me. I try to throw around a lot of "kids," "sons" and "babies." As in, "There you go, Crosby, have a day, kid," or "What now, Ovechkin? Sit down, son!" I learned the hard way not to go my own path. I once brought a loud room to complete silence when, at the start of a game, I yelled, "All right, boys, let's ice it up!" Regardless of how much sense it makes, apparently that's not a thing. Also, don't overreact to a hit that you think is too hard. These mean bastards knock the snot out of each other and there's never a penalty. If you say "OOOOOHHHHH!!!!" to a weak hit, you can lose all credibility.
Learn a Little History
It's important to know a few things about the sport in order to "prove" that you've been a diehard fan for years so people won't get pissed when you leave work early to go to the championship parade. To date, the Penguins have won four Stanley Cups, the most recent being last year (for god's sake, make sure you know that). The easiest way is to Google up things like, "Best Pittsburgh Penguins" plays, hits and moments. Find a couple, learn about them and tell those stories while insisting that you were there the night it happened. Be careful that you pick a moment, however, that actually happened in your lifetime, unlike the 25-year-olds who claim they saw the Immaculate Reception.
Stay Awake
This may seem like a no-brainer, but it can be difficult, especially on a Friday night after a long week of work. I once fell asleep during a Game 7 party and was awoken only by that horn-deal they blow for goals. In this event, upon waking, immediately let out a "whoot" or a "huzzah" followed by, "Go ahead, Crosby, have yourself a day, kid."