Writing classes in all genres are part of the business plan for
Amazing Books & Records
to bring a full-time bookstore to the South Side for the first time in years.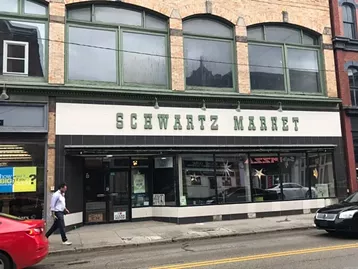 Amazing Books owner Eric Ackland has signed a lease for the
Schwartz Living Market
space on East Carson Street and plans to begin bookselling operations there by June 1. A coffeeshop and café are to follow, Ackland tells
CP
, followed by a roster of writing workshops, modeled on New York's
Gotham Writers Workshop
and Boston's
Grub Street
.
Ackland tells
CP
that he believes that the classes in his Steel Quill Writers Workshop, taught by professional writers, could very well become his business's largest source of revenue. The workshops would cover fiction, screenplays, copywriting, technical writing, blogging and more, he says.
Meanwhile, the new 4,600-square-foot space would allow Amazing Books to display more of its inventory of used books than is possible at either of its current locations, Downtown and in Squirrel Hill. "It's large and it's beautiful," he says of the new space. Ackland also envisions carrying a small selection of new books, as well as greeting cards. The other two locations will remain open for now, he says.
The building's owner, Elisa Beck, sounds similarly enthused. The building, roughly a triple-wide storefront, formerly housed Schwartz Market, a neighborhood grocery that opened in 1938 and
closed
in 2011. Beck has been working to turn the spacious two-story structure into a hub for ideas to create a greener society, and renovating it into a "living building," one that makes all its energy and processes its own stormwater and wastewater, among other qualities.
For a few years, the building housed a
marketplace
for vendors of healthy-living products, and more recently an artists' co-op. The plan for Amazing Books in the space is "just really exciting," she says, and in line with her vision. (Those interested to learn more can contact her at schwartzlivingmarket@gmail.com.)
Ackland's expansion comes at a time when, even in the era of e-books and online book-retailers, brick-and-mortar bookshops in Pittsburgh are
experiencing a rebirth
. And he says that his current stores are profitable (thanks in part to online sales, which Ackland says make up "close to a third" of Amazing's business).
However, the new store would face some challenges. The loss of bookshops on the South Side during the early 2000s probably wasn't a coincidence: Neither the rise of bar culture nor the changing local demographic necessarily bodes well for walk-up sales, for instance. An attempted third location in Oakland "bombed," says Ackland.
Another issue: Ackland, a devout Jew, closes his stores at sundown every Friday and all day every Saturday, the week's busiest shopping day. That scheduling is "our Achilles heel," he acknowledges.
"It is definitely hard, but we're really proud of it."
But Ackland says he thinks the Carson Street location, in a high-profile, high-foot-traffic neighborhood, can work. "It's a neighborhood that's supported bookstores before," he says, recalling Elljay's (since relocated to Dormont and renamed) and the original City Books, which ran part-time hours for years before
closing
in 2014. (Last year, City Books
reopened under new ownership
on the North Side.)
Ackland adds that the Schwartz location comes with off-street parking off Carson, a rare amenity in the neighborhood. And the building comes equipped with a kitchen, ready for the cafe and other potential food service.
Ackland says he is trying to raise $25,000 to fund the move and renovations to the new space. He plans to do that largely through a new membership drive. Amazing Books memberships start at $52 and come with discount benefits.