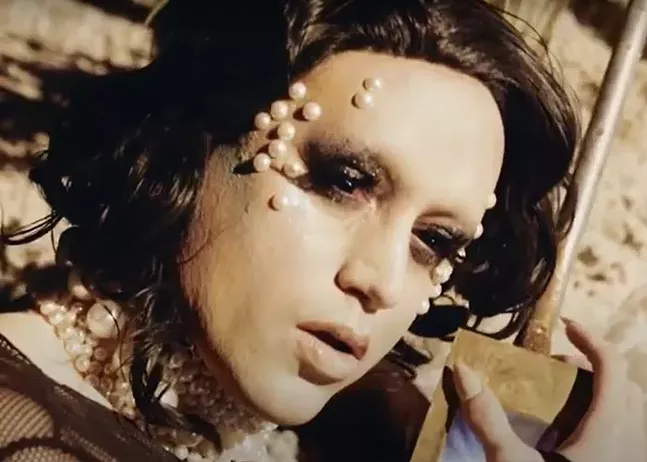 The Moon Baby may have crossed the state for a new life in Philly, but the Pittsburgh-bred drag performer and pop star
just can't seem to stay away
. Now local audiences can experience her both visually and aurally when she returns to debut new remixes during an all-night affair.
On Fri., Jan. 20, The Moon Baby, aka <!—StartFragment—>Barbara Perry-Hill<!—EndFragment—>, will join fellow music artists Lauren Yoon and Paul Fleetwood for a single release party during Bathhouse Betty.
The Moon Baby tells
Pittsburgh City Paper
that Bathhouse Betty started in 2017 when she won the title of Miss Club Pittsburgh, named in honor of the Strip District-based event space described as serving the city's queer community since 2001.
She explains that Bathhouse Betty happens on the "club floor of the bathhouse" where Hot Mass and Honcho "hold it down," referring to the all-night dance series that regularly <!————StartFragment————>take place <!————EndFragment————>at the 1139 Penn Avenue venue. With the event, she adds that she wanted "to bring live performance and traveling headliners in to see what would materialize."
In the past, The Moon Baby has emceed Bathhouse Betty events featuring <!————StartFragment————>Stacy Layne Matthews of
RuPaul's Drag Race
, alternative drag artist Christeene Vale, and others.
Besides highlighting local talent like drag performer <!—StartFragment—>Victoria L. Van-Cartier<!—EndFragment—>, the latest Bathhouse Betty will celebrate the release of two remixed singles off The Moon Baby's 2021 album <!————StartFragment————>
The One You Need
.
A City Paper review
described the album, produced by Pittsburgh-based artist Troxum, as "full of gorgeous synth-pop anthems."
The Moon Baby recruited Yoon, a New York City-based producer, DJ, and instrumentalist, and Fleetwood, a former Pittsburgh DJ and event promoted who now resides in Denver, Colo., <!————EndFragment————> to put their own spins on <!————StartFragment————>"Pretty Knife," a track
CP
lauded as "<!————StartFragment————>funky and high-energy."
You can hear the Yoon version, which The Moon Baby says is "<!—StartFragment—>swanky and smooth and really differentiates from the original,"
on SoundCloud.
The Moon Baby says the releases are part of an ongoing project that will produce two remixes of each track from
The One You Need
.
Those at the Bathhouse Betty event will see DJ sets by Fleetwood and Yoon, and a live set by The Moon Baby.
<!————StartFragment————>"It's exciting! I started throwing this party with my friend [Josh Bondi] and ever since moving to Philadelphia in 2018, any chance I get to be with my hometown family is cherished," she says.
---
Bathhouse Betty with Paul Fleetwood, Lauren Yoon,
<!—StartFragment—>
Victoria L. Van-Cartier
<!—EndFragment—>
, and The Moon Baby
.
11:59 p.m.-6 a.m. <!————StartFragment————>Club Pittsburgh<!————EndFragment————>. 1139 Penn Ave., Strip District. $15. 21 and over. beacons.ai/themoonbaby