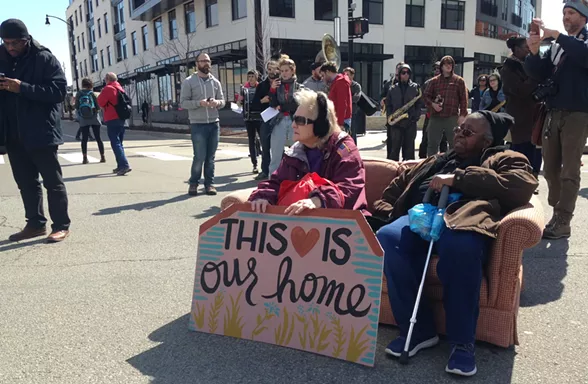 The completed Eastside and Bond apartment complex in East Liberty is perched directly above the MLK East Busway transit stop, and is a block from amenities like Target, Giant Eagle and a plethora of restaurants. In a sense, the apartment complex with 360 brand-new units is a perfect example of how city living can be extremely beneficial to residents of any income bracket: great public-transit access, close to grocery stores, and quality living conditions.
Unfortunately for Pittsburghers of lower- and middle-income means, living in Eastside and Bond isn't attainable; a one-bedroom apartment there starts a $1,900 and two-bedroom units start at $2,300. And a group of affordable-housing advocates are upset about it.
On March 9, more than 60 people filled the intersection at Centre and Penn avenue, in front of Eastside and Bond, to protest the lack of affordable housing at this complex and other new luxury apartment units that have been filling the area. In addition to the 360 units at Eastside and Bond, developer Walnut Capital has recently created 555 luxury units in the area.
The advocates placed furniture in the intersection to highlight how luxury apartments are making it harder for low-income residents to find affordable places to live in and around East Liberty. The group rallied for 35 minutes in the street. Some cars honked in anger, while other drivers gave thumbs ups. Pittsburgh Police officers eventually directed traffic around the rally, and let the rally-goers exit the street when they were finished.
Alethea Sims, of the Coalition of Organized Residents of East Liberty, says longtime East Liberty residents are
leaving the neighborhood en masse
, even when given a Section 8
subsidized housing voucher
.
"We can take a voucher and go any place," says Sims. "But why can't we use that voucher here? Why aren't there mixed-income units here?"
East Liberty Development Inc. statistics from 2015 show that East Liberty had 866 subsidized units, comprising about 32 percent of the rental units in the neighborhood. This is actually one of the higher percentages of affordable-units of any Pittsburgh neighborhood. However, these stats were compiled before the completion of the 360 Eastside and Bond luxury units. Additionally, the waitlist for subsidized housing in East Liberty is incredibly long and low-income residents have to wait between
two to five years to be placed
.
Additionally, a February TribLive article highlighted how local tax abatements have been going to developments for years, even on projects that
supply no affordable units
. Pittsburgh, Allegheny County and local school districts typically grant property-tax relief to developers as incentives for new construction projects. Housing advocates at the rally pointed out that East Side and Bond, owned by Mosites Construction and Development Company, and three nearby luxury apartment complexes owned by Walnut Capital, received a combination of more than $12 million in city and school-district tax cuts.
"We put millions of dollars of public money into these buildings, without any affordable units in return" said Helen Gerhardt, of housing-advocacy group Homes For All. "That is how you get displacement."
Even though many developers are granted local tax cuts, they are not required to build affordable units in return. Typically, developers only undertake mixed-income or affordable developments when they can secure large grants from state and/or federal governments. It's rare for developers to build affordable units without these grants. Currently, there are only about seven such developers in the region who pursue these grants, including Action Housing and Trek Development.
Walnut Capital or Mosites didn't return request for comment by press time.
Homes For All's Gerhardt called on developers to help East Liberty residents, instead of just focusing on profit-driven development. "These developers only care about profits," she said. "About $3.6 million of our money when to the [Eastside and Bond] development, and none of those units are affordable."