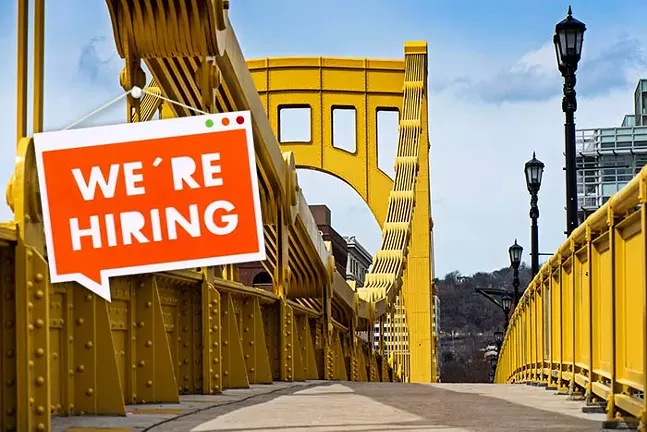 We searched the web to find some of Pittsburgh's best job openings this week. If your company is hiring, send info including a job title, description, and salary range to
jobs@pghcitypaper.com
.
---
Nonprofit

Trauma Support Specialist
. McKees Rocks nonprofit
Focus on Renewal
, whose mission is to "connect children, adults, and families with relationships, resources, and opportunities to develop and sustain a thriving community," is seeking a Trauma Support Specialist. Responsibilities include assessing consumers using mental health screening tools, developing a counseling plan to address identified mental health and behavioral conditions, track progress against goal plans, and more. Pays $21.64/hour.
Click here for more details
Bike Rebalancer
. Bike Share Pittsburgh is hiring a Bike Rebalancer for its station-based electric bike share program,
POGOH
. The position ensures riders have a clean and functional bike at every station. Responsibilities include redistributing bikes from station to station via cargo van or e-trike, visiting and servicing stations, performing simple bike checks, and more. Pays $16/hour.
Click here for more details
Aquatics Coordinator
. The
YMCA of Greater Pittsburgh
is seeking a full-time Aquatics Coordinator for its Bethel Park location. The position is responsible for making sure that operations in the aquatics department run smoothly and meet the need of the community. Applicants must have a current lifeguard certification.
Click here for more details
Arts + Entertainment

Darkroom Technician.
Pittsburgh-based union screenprinting shop
CommonWealth Press
has an opening for a Darkroom Technician. Responsibilities include working with the art department to ensure artistic visions carry through the print process, working with printers to create screens, coating and exposing screens, and more. Pay starts at $15-18/hour.
Click here for more details
Visitor Experience Associate
. North Side installation museum
The Mattress Factory
is seeking a part-time Visitor Experience Associate. The position will be responsible for actively engaging with visitors to answer questions and provide information on the installations, monitoring galleries and museum annex buildings, ensuring galleries are ready to receive visitors upon opening, and more. Pays $12/hour.
Click here for more details
Program Presenter
. The
Carnegie Science Center
is seeking a part-time Program Presenter for its Buhl Planetarium and Observatory. The position will be responsible for delivering science programs in the planetarium and observatory and across various locations throughout the Science Center. Applicants should have an affinity for science and excellent interpersonal skills.
Click here for more details
Food + Drink
Bartender
. Squirrel Hill's
Hidden Harbor
is hiring a bartender who has "exceptional hospitality instincts, regardless of their experience, and a passion for learning about rum and tropical cocktails." Relocation support is available.
Click here for more details


Gardener/Farmer
. East Liberty's
Spork
is seeking a seasonal Farmer/Gardener for the restaurant's private garden. The position will be responsible for continuing the work of the current season and preparing for next season's harvest. Experience is necessary. Pays $20/hour.
Click here for more details
Server
. Downtown's
Gaucho Parrilla Argentina
is hiring a full-time Server. Requirements include greeting guests, answering questions, taking orders and suggesting menu selections, verifying IDs for alcohol sales, polishing silverware and glassware, and more. Position pays $8-10/hour.
Click here for more details
Bussers and Food Runners
. Richard DeShantz Restaurant Group's newest restaurant,
Sally Ann's
, is seeking full-time Bussers and Food Runners for its Downtown location. Applicants should have a minimum of two years' experience in a high-volume restaurant environment and open availability, including events, weekends, and holidays.
Click here for more details
---
Looking for a new job and didn't find the perfect opening on this list? Check out
last week's job listings
, with new career opportunities from Casa San Jose, the Sewickley Public Library, University of Pittsburgh Press, and more.