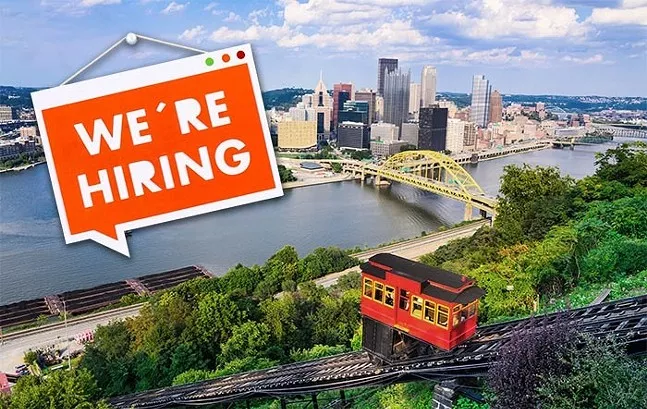 We searched the web to find some of Pittsburgh's best job openings this week. If your company is hiring, send info including a job title, description, and salary range to
jobs@pghcitypaper.com
.
---
Nonprofit

Arts + Entertainment

Art Studio Assistant
. Spring Hill community art studio
Little House, Big Art
is seeking a part-time Art Studio Assistant. Responsibilities include hosting and inspiring studio guests, answering questions, finding the right materials and tools for projects, helping with inventory, and more.
Pays $10-15/hour. Click here for more details
Gallery Manager, Visual Arts
. Downtown's
Pittsburgh Cultural Trust
is seeking a full-time Gallery Manager, Visual Arts. The position will be responsible for overseeing the operation of the organization's five primary art galleries, pop-up galleries, and public art portfolio, including managing exhibit preparation and maintenance, scheduling programs, training and maintaining staff, helping to identify guest curators, and more.
Salary starts at $40,000. Click here for more details
Event Director
. Civic leadership organization,
Allegheny Conference on Community Development
, is hiring a full-time Event Director to work on the successful planning and production of events. Responsibilities include event planning, meeting with stakeholders, coordinating with venues and vendors,
ensuring efficiency and effectiveness of events-related marketing and communication tools, and more.
Salary ranges from $60,000-75,000. Click here for more details
Sous Chef
. Bethel Park's
Spoonwood Brewery
is seeking a Sous Chef
to be second in command.
Responsibilities include assisting in the preparation and design of food menus, overseeing kitchen operations, managing and training staff, and more.
Salary starts at $46,000.
Click here for more details


Seasonal

Special Programs Coordinator
. Local food justice nonprofit
412 Food Rescue
has an opening for a seasonal Special Programs Coordinator to handle the daily coordination of the organization's UglyCSA program.
Responsibilities include managing community and corporate volunteers, providing customer service through email and phone, ensuring preparation of weekly supplies, creating weekly subscriber newsletter, and more. The position includes 20 hours a week for 14 weeks from July 6 through Oct. 12, with a potential for the position to become year-round. Click here for more details

Flower Farmers
. Allison Park's
Tiny Seed Farm
is seeking seasonal Flower Farmers. Responsibilities include planting and harvesting flowers and turning bundles into bouquets.
Click here for more details

Pool Manager
. The
Edgewood Country Club
is hiring a full-time Pool Manager for May-September. The position is responsible for pool safety, overseeing lifeguard staff, scheduling staff assignments, preparing facility and supervising swim meets, organizing major pool events, performing general maintenance, and more.
Pays $20-25/hour.
Click here for more details
---
Looking for a new job and didn't find the perfect opening on this list?
Check
o
u
t
last week's job listings
, with new career opportunities from the Girl Scouts of Western Pennsylvania,
Baked True North
, Pittsburgh Festival Opera,
and m
ore.