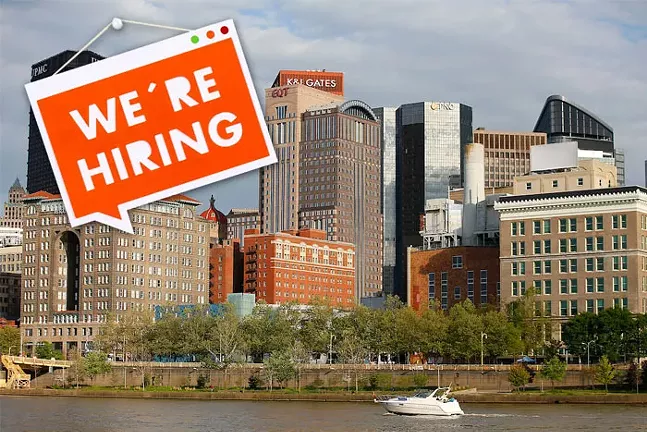 We searched the web to find some of Pittsburgh's best job openings this week. If your company is hiring, send info on your job opening for consideration to
jobs@pghcitypaper.com
.
---
Nonprofit

Director of Media Education
.
North Side community media and education center PCTV, with a mission to "empower, educate, and enhance the Greater Pittsburgh community," is seeking a full-time Director of Media Education.
The position will lead and implement all of the organization's media education efforts, including its fellowship program, studio technician training program, and training for adults and youth.
Responsibilities include developing curriculum, scheduling workshops, teaching media education classes, supporting marketing and grant writing, and more.
Salary range is $45,000-$55,000.
Click here for more details

Volunteer Supervisors
. Pittsburgh-based medical relief nonprofit
Global Links
, "sharing surplus rescued from the U.S. health care system to support health programs globally and locally," is hiring part-time Volunteer Supervisors for 12-24 hours a week. The position will be responsible for supervising volunteer activities, including orientation and education, instructing volunteers on processing medical materials, general maintenance of volunteer areas, and more. Pay is $15/hour.
Click here for more details
Business Partnerships Coordinator
. Local digital-first media nonprofit
PublicSource
has an opening for a Business Partnerships Coordinator to build an advertising program that will help support the company's sustainability and grow the reach of its journalism. Responsibilities include conducting presentations, developing advertising and sponsor packages, participating in strategic development and design, event planning, and more. Salary range is $40,000-50,000.
Click here for more details

Arts + Entertainment

Office Manager
.
Downtown cultural institution the Pittsburgh CLO, with a mission of celebrating musical theater, has an opening for an Office Manager
to oversee and support all administrative duties for the nonprofit organization. Responsibilities include managing account relationships with vendors, managing all office equipment and supplies, scheduling staff meetings and office events, serving as the primary receptionist, sorting and distributing mail, and more. Salary starts at $23/hour. Click here for more details
Tattoo Artist
. South Side tattoo shop
Ice 9 Studios
is seeking a Tattoo Artist for their own cliente and for walk-in appointments at their East Carson Street location. Applicants should have a "positive attitude" and a strong portfolio.
Click here for more details
Tourism Coordinator
. Local nonprofit the
Rivers of Steel Heritage Coorporation
, which works to celebrate the region's industrial history, is hiring a full-time Tourism Coordinator
to be "the face" of the Visitors' Center for the Rivers of Steel National Heritage Area in Homestead.
Responsibilities will include supporting group tours designed for both locals and visitors, including River of Steel's attractions and external tourism partners throughout the region. Click here for more details
Plant Caretakers
. Local greenhouse and garden center
Shadyside Nursery
is hiring two seasonal positions, one full-time and one part-time, both which will begin in late March. The positions will involve greenhouse production, retail, customer service, and nursery upkeep. Candidates must have some knowledge of plants and the local landscape, as well as a willingness to learn more. Pay starts at $16/hour.
Click here for more details
Food + Drink

Pizza Crew
. East End Brewing's pizza shop,
East End Chewing
, is seeking part-time help for evenings and weekends in Larimer. They're looking for "happy, reliable, team-oriented, pizza-minded" folks.
Click here for more details
Line Cooks
. Point Breeze "European-style bistro"
Point Brugges
is hiring Line Cooks. Night and weekend availability is a must, with the opportunity to contribute to daily lunch and dinner specials if interested. Salary starts at $16/hour.
Click here for more details


Bartender
. The Market Square location of popular local restaurant chain
Primanti Bros.
is seeking a part-time Bartender.
Responsibilities include preparing drinks, ringing up food, collecting payment, maintaining cleanliness of bar top, and more. Click here for more details
---
Didn't find the perfect opening on this list?
Ch
eck out
last week's job listings
, with positions from Literacy Pittsburgh, Pittsburgh Downtown Partnership,
CommonWealth Press,
and m
ore.