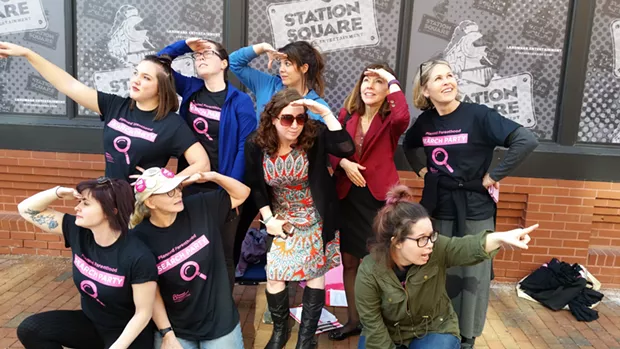 Where in the World is Carmen Sandiego was a 1990s children's game show which tasked kids with tracking down the eponymous criminal mastermind. The show and educational computer game series of the same name taught kids about geography.
Today, supporters of Planned Parenthood engaged in a similar search in Pennsylvania. But instead of pursuing Carmen, this search party was for a similarly villianized missing person, U.S. Sen. Pat Toomey (R-Pa.).
The local action was one of more than 300 events happening across the country during recess week, a time when legislators return to their districts. Planned Parenthood says that defunding their organization would block millions across the country and more than 90,000 Pennsylvanians from access to basic health care services such as cancer screenings, birth control and other exams.
"We are expecting a lot of the Planned Parenthood attacks to pick up in March," said Planned Parenthood organizer Liz Klie. "Recess is a time when representatives are supposed to hear from their constituents and we want Toomey to know that defunding Planned Parenthood will hurt his constituents."
In Pennsylvania, daylong actions were also held in Harrisburg, Allentown and Philadelphia. Patients and Planned Parenthood supporter entered Toomey's offices every 30 minutes throughout the day to request a meeting with Sen. Toomey. In Pittsburgh, Klie says staffers were sometimes hostile.
"We have been told to 'just give up; Sen. Toomey won the election; just get over it.' But we're not going to give up as long as health care is under attack," Klie said. "They're making decisions in Washington that affect us. This is supposed to a time for them to check in with their constituents."
Toomey's apparent unwillingness to meet with constituents isn't a new development. For months, hundreds of his constituents have been making weekly visits to the senator's office for
"Tuesdays with Toomey"
.
The group was there
this week
talking about the first amendment. They said that since Toomey wouldn't hold a town hall meeting to meet with those he representatives, they'd hold one of their own. (Toomey held a
town hall via telephone
last week after giving the public just 90 minutes' notice).
Outside Toomey's Station Square office, they set up a mock podium and cardboard cut out of the senator. There they issued questions about President Donald Trump's Muslim ban, freedom of the press, immigration and workers rights.
"We decided to show Pat Toomey how easy it is to hold a town hall," said Jennifer McDowell, co-chair of the local Tuesdays with Toomey. "Look at all these friendly patriotic people here who just want to be heard."
On hand to answer the questions meant for Toomey were a group of legal experts who explained that a number of the actions being carried out by the federal government were not constitutional.
"The [Muslim ban] is a clear example of something that violates the first amendment because it favor one religion and harms another and that is why it's unconstitutional," said Melissa Harkes.
The fate of the weekly "Tuesdays with Toomey" is currently unclear in light of information that Toomey's office could be relocating to a building Downtown.