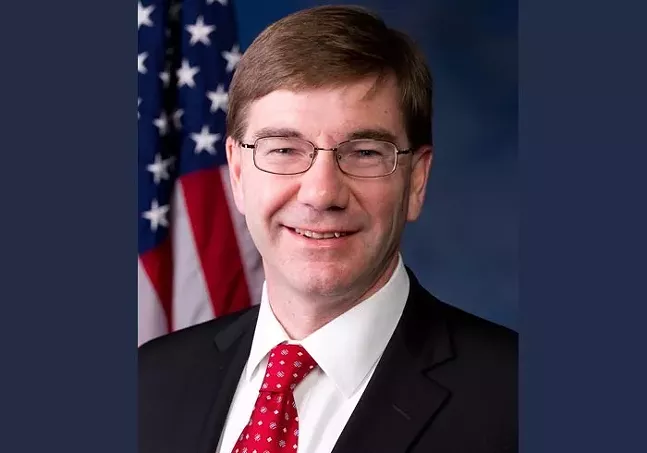 Even after
a high-profile Republican dropped out
, the race for the GOP primary for U.S. Senate in Pennsylvania continues to grow. This week, television host
Dr. Mehmet Oz officially announced a run
and hedge fund CEO
David McCormick
is preparing a run.
And now, Pittsburghers may see a more familiar face enter the race, as former U.S. Rep.
Keith Rothfus
(R-Sewickley) is reportedly eyeing a run as well. Rothfus told
NBC News
on Nov. 30 that he is considering starting a campaign, which would expand the Republican field to more than a half dozen. Rothfus said he has been making several calls and "getting positive feedback."
According to
NBC News
, Rothfus said if he were to officially jump in, he would focus his campaign on bolstering Pennsylvania's energy industry, advocating for more aggressive foreign policy with China, and limiting government spending.
Rothfus, a lawyer with a history in the finance industry, has long criticized government spending and repeatedly called out increasing the federal debt, even though in 2017 he
voted for a federal tax cut bill that added to the federal debt
.
With the recent exit of Army veteran and Fox News contributor
Sean Parnell
, Rothfus' potential entrance would make him
one of the only candidates
, and the biggest name, currently living in Western Pennsylvania on the Republican side. Both U.S. Rep. Conor Lamb (D-Mt. Lebanon) and Pennsylvania Lt. Gov. John Fetterman (D-Braddock) have declared runs on the Democratic side. If Rothfus were to enter, it appears he would also be the only Republican candidate with prior experience as an elected official and the only one to previously win a federal election.
The suburban Pittsburgh lawmaker's biggest legacy in Congress was
writing a bill
signed into law by former President Donald Trump that eliminated a rule that allowed customers to join class-action lawsuits against big banks and the ilk, and instead forces customers to negotiate with financial institutions and their powerful legal teams, one-on-one in arbitration. The
Atlantic Monthly wrote in 2017
that the nullification of the rule means that people who suffered financial harm or identity theft as a result of large companies' transgressions "may not have the right to take them to court."
Rothfus first won election in 2012, after Pennsylvania's Congressional maps were redrawn following the U.S. Census; those maps would later be
thrown out by the Pennsylvania Supreme Court
for partisan gerrymandering which overly benefited Republicans. Rothfus then lost his seat in 2018 to Lamb, after the district was redrawn to be more fair.
Incumbent U.S. Senator
Pat Toomey
(R-Lehigh) announced he would retire last year. The current GOP field for Pennsylvania's seat includes Oz, business owner
Jeff Bartos
(R-Montgomery), political commentator Kathy Barnette (R-Montgomery), former Montgomery County Commission candidate Sean Gale (R-Montgomery), former U.S. Ambassador to Denmark Carla Sands (R-Cumberland), businessman Everett Stern (R-Philadelphia), and others.