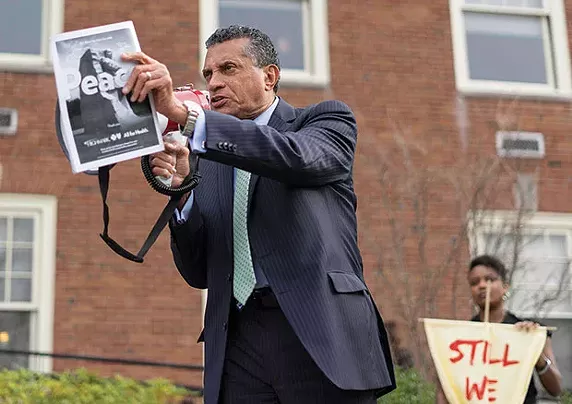 In preparation for this year's Summit Against Racism, organizers created 500 information packets for attendees, even though only about 350 people were expected.
But by 11 a.m. on Sat., Jan. 21, all 500 packets had been distributed and attendees were still filing in the door. "We ran out of program books," said summit co-coordinator Mary C. Parker. "And there are still more people coming. The march is still coming."
And indeed, after about 2,000 marchers from the Our Feminism Must Be Intersectional rally arrived at the summit, at about 1:30 p.m., City Paper witnessed dozens more people register to attend workshops.
Tim Stevens, of the Black Political Empowerment Project, said the increased attendance this year shows that a large group of people still care deeply about tackling race relations and social-justice issues. Stevens helped create the Summit Against Racism 19 years ago in response to the death of motorist Jonny Gammage at the hands of police and the fact that, at the time, there were no sitting black Pittsburgh city councilors.
Stevens rejects the idea, pushed by conservatives and Trump supporters, that the 2016 election was a decisive victory against progressive ideals. Stevens said Trump was a great marketer and that the Democrats were out-marketed in 2016, but he says millions of people still believe in championing a progressive agenda. (Hillary Clinton won the popular vote by 2.9 million votes.)
"I'm concerned the Trump election states more than it really was," says Stevens. "Obviously Democrats have more of an uphill battle … but a lot of the principles pushed by Barack Obama, people still support a lot of those things."
For example, Trump won Michigan, Wisconsin and Pennsylvania by about 78,000 combined votes. But over the weekend, more than 189,000 marchers participated in Women's Marches in those three states, according to numbers compiled from news reports and social media by the University of Connecticut and the University of Denver.
Summit co-coordinator Parker said many attendees told her they feel more energized this year than in years past. She said many attendees were more open to having "direct and real" conversations about race.
"It feels like [the summit] is a sense of what is actually happening in the country," said Parker. "We are going to have this conversation, and anyone can have it."
The 2017 summit's theme of Polarization to Cooperation was aimed at building off the momentum gained by the recent surge in activism. "Hopefully, someone will leave motivated and leave inspired to actually do something, whether it is writing a letter to a political leader or even initiating a new organization," said Stevens.
Joylette Portlock, of environmental communication nonprofit Communtopia, held a workshop with political organizer Lydia Morin on how to get involved in political issues and organize a campaign for public office. "A lot of people want to be engaged, and feel the world should be more inclusive," said Portlock. "In the wake of the 2016 election, a lot of people are feeling a responsibility to protect our society and democracy."
And some of those in the workshop were champing at the bit to do just that. Morin said several people indicated to her their desire to run for office. One attendee, who requested anonymity because her plans weren't finalized, even told CP she is planning to take on Pennsylvania House Speaker Mike Turzai (R-McCandless) in 2018, with a campaign focused on public transportation, education funding and tackling mental-health issues.