Fri., Dec. 2 - Art
She was expecting quirky. Instead, Jane Bernstein got blown away. Last year, while visiting Croatia, the Carnegie Mellon University English professor stopped at Zagreb's Museum of Broken Relationships, a showcase of objects commemorating just that. From a child's ride-in pushcar and a pair of red stiletto heels to a plastic Virgin Mary, "I was really surprised at the range of stories and objects and the range of emotional resonance" the exhibit elicited, she says. The relationships were romantic, familial, business and more. "More than the stories, it was the object that captured my attention, in a lot of ways," she says. "It's about the power of stuff."
Bernstein decided Pittsburgh needed its own MOBR. This week, thanks to 10 students in a class of hers; five grad students from CMU's Entertainment Technology Center; and the support of folks like English Department head Andreea Ritivoi, we will. The show, at the Mine Factory gallery, is among 40-some temporary, satellite MOBRs created internationally since the original was founded, in 2006. (Another permanent MOBR is in Hollywood, Calif.). Pittsburgh's is the first organized by students; Bernstein's undergraduates spent weeks reaching out to gather stories and objects from the local community, including refugees and people with mental illness: geode, Kennywood magnet, glass box full of corks … gall bladder. About 60 objects and their stories will be exhibited, including 15 from the Zagreb collection as contributed by MOBR's founders — filmmaker Olinka Vištica and sculptor Dražen Grubišić, who started the museum to mark their own romantic breakup, but who, ironically, remain together professionally via the museum.
Vištica and Grubišić will speak at 4:30 p.m. Thu., Dec. 1, at CMU's Baker Hall. B
oth founders will attend the Dec. 1 soft opening, and Grubišić will attend the Dec. 2 opening reception.


— Bill O'Driscoll
MUSEUM OF BROKEN RELATIONSHIPS Soft opening: 5-8 p.m. Fri., Dec. 2; opening reception: 5-8 p.m. Sat., Dec. 3. Exhibit continues through Dec. 29. 201 N. Braddock Ave., Point Breeze. Free. www.facebook.com ("Museum of Broken Relationships Pittsburgh")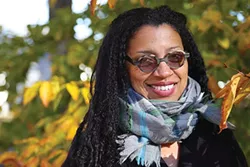 Thu., Dec. 1 – Words
"Last summer, two discrete young snakes left their skin / on my small porch, two mornings in a row. Being / postmodern now, I pretended as if I did not see / them, nor understand what I knew to be circling / inside me." Robin Coste Lewis' precise, insinuating verse earned her the National Book Award for 2015's Voyage of the Sable Venus. Tonight, the California-based poet is joined at Frick Fine Arts Auditorium by internationally exhibited artist Lorna Simpson for a reading and discussion, part of the Why Does Black Art Matter Now? program of Pitt's Center for African American Poetry and Poetics. BO 7 p.m. 650 Schenley Plaza, Oakland. Free. www.caapp.pitt.edu
Thu., Dec. 1 – Stage
Midnight Radio's Holiday Spectacular returns, with its wry take on 1940s-style radio. The family-friendly season-ender for Bricolage Productions' Midnight Radio series features Pittsburgh-themed spoofs of classic holiday stories and favorite features like Fake Breaking News, from a cast including Juliana Avolio, Brett Goodnack, Wali Jamal, Amy Landis and Jason McCune. The Spectacular's 12 performances boast a rotating lineup of musical talent including tonight's guest, country chanteuse Molly Alphabet. And don't miss the pre-show Happy Half-hour. BO 8 p.m. Continues through Dec. 17. 937 Liberty Ave., Downtown. $25-35. 412-471-0999 or www.bricolagepgh.org

Thu., Dec. 1 – Words
In poet, writer and professor Harriet Levin Millan's novel How Fast Can You Run (Harvard Square Editions), real-life South Sudanese refugee Michael Majok Kuch's journey to locate his mother after his village was burned manifests in intimate, personal detail. Tonight, Millan, who's based in Philadelphia, reads excerpts from her book, and Kuch joins her to discuss the refugee experience, at City of Asylum's Alphabet City. The moderator is Pitt professor Taylor Seybolt. Ian Flanagan 8 p.m. 40 W. North Ave., North Side. Free. 412-323-0278 or www.cityofasylum.org

Thu., Dec. 1 – Stage
It's a family Christmas story, but not that kind. PICT Classic Theatre stages The Lion in Winter, James Goldman's evergreen 1966 drama about Yuletide machinations in 1183 amongst the scheming clan of King Henry II. Talk about dysfunctional: Henry jailed his wife, Eleanor of Aquitaine, for 10 years for fomenting her sons to rebel against old dad. PICT's Alan Stanford stars, with Cary Ann Spear as Eleanor and a cast including Tony Bingham and Karen Baum. John Shepard directs; the first show at the Union Project is tonight. BO 8 p.m. Continues through Dec. 17. 801 N. Negley Ave., Highland Park. $15-50. 412-561-6000 or www.picttheatre.org

Fri., Dec. 2 – Stage
Adapted from the first entry of Rick Riordan's popular Greek-mythology-inspired YA series Percy Jackson and the Olympians, the musical The Lightning Thief comes to the August Wilson Center for four family-friendly performances starting this morning. Percy, the son of Poseidon, is accused of stealing Zeus' master lightning bolt, and his quest to locate it, and the true thief, ensues. Presented by EQT Bridge Theater Series, Lightning Thief is performed by Theatreworks USA. IF 10:15 a.m. and 7 p.m. Also 2 and 7 p.m. Sat., Dec. 3. 980 Liberty Ave., Downtown. $10.50. 412-456-6666 or www.trustast.org

Fri., Dec. 2 – Stage
In Lungs, a young couple considers having a child, but global warming: The woman calculates she'd be giving birth to "an Eiffel Tower" of carbon emissions. How it all plays out is the subject of British playwright Duncan MacMillan's intermissionless 2011 two-hander. The drama's Pittsburgh premiere, directed by Spencer Whale for Off The Wall Productions, stars Sarah Silk and Alex Silverblatt. The first performance is tonight. BO 8 p.m. Continues through Dec. 17. Carnegie Stages, 25 W. Main St., Carnegie. $5-40. 724-873-3576 or www.insideoffthewall.com

Fri., Dec. 2 – Dance
"[A] journey of disintegration and redemption" is how choreographer Alexandra Damiani describes her new work about the artistic tensions between baroque music and ballet on one hand, and freedom and self-expression on the other. Damiani, former director of New York's pioneering Cedar Lake Contemporary Ballet, is one of four choreographers setting new work on Point Park University's Conservatory Dance Company for Ballet Off-Center. The program, with eight performances this week and next at the Pittsburgh Playhouse, also features work by Darrell Grand Moultrie — who choreographed for Beyoncé's Mrs. Carter Show World Tour — and Point Park dance faculty Jason McDole and Daniel Karasik. Look for a review in next week's City Paper. BO 8 p.m. Continues through Dec. 11. 222 Craft Ave., Oakland. $10-24. 412-392-8000 or www.pittsburghplayhouse.com
Sat., Dec. 3 – Shopping
If you liked Handmade Arcade last year, you're bound to again: The 13th annual incarnation of the city's oldest and largest craft fair pairs its 100-plus returning craft-based artists, designers and makers with some 40 new vendors. The artwork, clothing, jewelry, housewares, bath and body products and much more — most ranging from $1 to $200 — are augmented at the David L. Lawrence Convention Center by hands-on activities for all ages (postcard-making; a bird-themed mural project); live puppet performances; and local DJs and live music. BO 11 a.m.-7 p.m. 1000 Fort Duquesne Blvd., Downtown. Free. (Early Birdie passes: $15). www.handmadearcade.com

Sat., Dec. 3 – Comedy
Australian-born comedian Jim Jefferies visits for two shows tonight as part of The Unusual Punishment Tour. The Los Angeles-based comic has been busy: His new Netflix standup special, Freedumb, his fifth in seven years, is out now. Jefferies also gave up his podcast to create, write, produce and star in two seasons of the FX series Legit. Tonight's early show at Carnegie of Homestead Musical Hall is sold out, but at press time, tickets for the 10:30 p.m. performance remained. IF 7:30 and 10:30 p.m. 510 East 10th Ave., Munhall. $29.62-49.50. www.druskyentertainment.com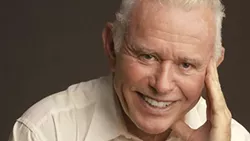 Sat., Dec. 3 – Music
It's a rare Pittsburgh visit for a noted composer, and with good cause. Pitt's Music on the Edge and The Andy Warhol Museum present the David Del Tredici 80th Birthday Concert, fêting the father of contemporary music's neo-romantic movement. Del Tredici is internationally known for setting literature and poetry to music, from his famous works inspired by Lewis Carroll's Alice books to contemporary verse with a gay sensibility. At The Warhol, violinist Roger Zahab and tenor Robert Frankenberry join Music on the Edge co-director Eric Moe for a career-spanning sampling of Del Tredici's chamber work, including "Virtuoso Alice," songs from "Gay Life" and "My Favorite Penis Poems." Del Tredici will introduce the works. BO 8 p.m. 117 Sandusky St., North Side. $10-20. 412-624-7529 or www.music.pitt.edu

Sun., Dec. 4 – Fair
Pittsburgh indie book-sellers, unite! Many of them do at today's Fourth Annual Holiday Book Sale, at the Stephen Foster Community Center, in Lawrenceville. Organized by Karen Lillis, of Karen's Book Row/Small Press Pittsburgh, the fair features selections from vendors including Amazing Books, Mystery Lovers Bookshop, White Whale, Copacetic Comics and more. Parking is free. BO Noon-5 p.m. 286 Main St., Lawrenceville. www.facebook.com ("Pittsburgh annual holiday book")

Mon., Dec. 5 – Talk
Pulitzer-winner Elizabeth Strout is known for deconstructing delicate relationships. Her latest highly acclaimed work, My Name Is Lucy Barton, depicts a mother's hospital visit to her recovering daughter after years of silence. Strout won the Pulitzer for 2008's Olive Kitteridge, which was adapted into an Emmy-winning HBO mini-series starring Frances McDormand and Bill Murray. Strout speaks tonight at Carnegie Music Hall courtesy of Pittsburgh Arts & Lectures. The event is sold out, with a wait list. IF 7:30 p.m. 4400 Forbes Ave., Oakland. $15-35. 412-622-8866 or www.pittsburghlectures.org

Wed., Dec. 7 – Activism
Feeling scared, depressed and powerless? Join the club. But join a movement, too. Each year, Amnesty International holds a worldwide Write-a-thon and Human Rights Festival, with participants penning letters to governments worldwide seeking justice for political prisoners, and on other causes. Amnesty International Group 39 holds its 30th annual event tonight, at Calvary Episcopal Church. All materials and info are provided. BO 6-9 p.m. 315 Shady Ave., Shadyside. www.amnestypgh.org