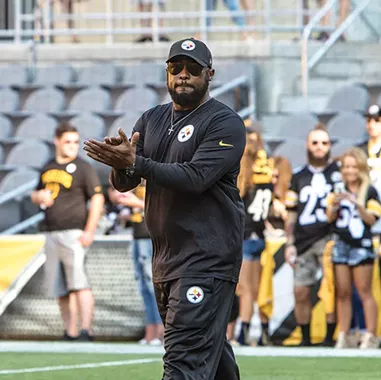 A holiday that celebrates gluttony, sloth and football is a holiday that's all right by me. There's no pressure to buy anything, no costumes to put on, and nobody gets any fingers blown off in a homemade-fireworks display. Thanksgiving hasn't had a war declared on it, and yes, you are allowed to say "Happy Thanksgiving." A day to eat and sit on the couch is a normal day for me. But for everyone else, they're guaranteed a huge meal, football games and someone to tell them: "I heard there is something in turkey that makes you tired," like it's breaking news every year.
The bonus this Thanksgiving, however, is that the Steelers are playing.
Unfortunately, the most exciting aspect of this game looks to be the Steelers' uniforms. Say goodbye to the beleaguered "bumblebee" uniforms and say hello to the "color rush." Yes, the NFL needs more money from merchandise, but these uniforms do look pretty cool. As far as the game goes, the Steelers and the Indianapolis Colts are both enduring disappointing seasons. For the Steelers, Thanksgiving games have not been kind. If you remember the last time the Steelers won on Turkey Day, you are in the minority, because it was in 1950. Pittsburgh defeated the Chicago Cardinals 28-17 and that remains the sole highlight in the club's Thanksgiving history.
It would be 33 years until the Steelers received an invitation to again play on this holiday. In 1983, they took on the Detroit Lions. The Lions play every single Thanksgiving because of a silly tradition. Everyone in the country is forced to watch a famously inept team play just because they played in the first Turkey Bowl. Detroit has won one playoff game since 1991, but still the Browns of the NFC get the national spotlight every single year. In 1983, Steelers Cliff Stoudt and Mark Malone combined to complete 11 passes for 99 yards, five interceptions and zero touchdowns. The only celebration was a Gary Anderson field goal that prevented a shutout in a 45-3 drubbing.
Eight years later, the Steelers lost again, this time to the hated Dallas Cowboys. Anderson continued his Thanksgiving excellence with another field goal. Then the unforgettable Warren Williams scampered three yards for the first Steelers Thanksgiving touchdown in 41 years. It wasn't enough, as Emmitt Smith ran one in and Michael Irvin hauled in a 66-yard touchdown from Steve Beuerlein. The Cowboys emerged victorious, 20-10. Yes, the Cowboys have to play every year on Thanksgiving, too. But I never understood why the NFL doesn't just make the Lions and Cowboys play each other once in awhile, so other teams get a chance.
Then, in 1998, came a game that would live in infamy. Going into the game, the Steelers had a Thanksgiving record of 1-4: the 1950 win, plus the aforementioned losses combined with two losses to Philadelphia, in 1939 and 1940. In 1998, Kordell Stewart's 24-yard touchdown pass to Will Blackwell opened up a 13-3 Steelers lead over Detroit. In the fourth quarter, Homestead's own Charlie Batch, then a Lion, hit Herman Moore on a 21-yard strike to tie it. Kicker Jason Hanson put Detroit up 16-13. Then Steelers kicker Norm Johnson sent it into overtime with a game-tying field goal with just four seconds left. Then one of the most famous events in Steelers history occurred — the coin flip. Jerome Bettis called "tails" as the coin was fluttering through the stale dome air. Referee Phil Luckett interpreted that call as "heads-tails" and gave the ball to Detroit. The Lions took the ball, kicked a field goal and started a controversy that lives to this day. Back in those days, there was no instant replay — just Luckett's word versus Bettis'. It did, however, revolutionize the exciting coin-toss. Now, players call it before it's flipped and not while it's in the air.
Finally, in 2013, the Steelers got another shot in the Thanksgiving spotlight, this time against the Baltimore Ravens. It would be another controversial one for the Black and Gold. Rookie LeVeon Bell's 43-yard romp cut the Ravens' lead to 13-7. Then came a huge defensive play for the Steelers, except it was executed by Coach Mike Tomlin. Tomlin stepped onto the field as the Ravens' Jacoby Jones appeared to be running back a kick for a touchdown. Tomlin slowed Jones up just enough to allow Cortez Allen to catch him. Tomlin's defense held the Ravens to a field goal and 16-7 advantage. It wasn't enough, as the Steelers went on to lose again 22-20 in yet another close game between the rivals.
The Steelers look to exorcise the ghosts of Thanksgivings Past as they tangle with the equally underachieving Colts. Everyone will hold their stomachs and proclaim, "I can't believe how much I ate." Some of us will leave our families to go wait in line for six hours, so we can buy a giant television for 15 bucks, and the rest of us will eat and watch football for 11 or 12 hours, which is nice. Take that, every other holiday.