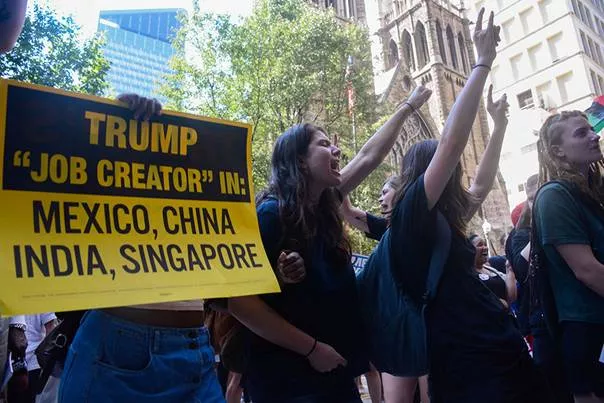 In the few days since Donald Trump was elected president, protests have erupted in cities around the country, including Pittsburgh. On the night of the election, college students rallied against the Republican president-elect in Oakland, and the following evening more Pittsburghers rallied in
East Liberty
.
Whether you're interested in marching or putting this divisive election behind you, here's a list of a few events coming up over the next few days.
United States of Trump? The fight back begins!
Saturday, Nov. 19, 1 p.m. to 3 p.m., Wilkins School Community Center, 7604 Charleston Ave.
At this gathering, activists plan to organize to mobilize people for the mass protest planned in Washington, D.C., on inauguration day.
According to the event page: "Join us as we aim towards building a stronger and more unified approach to confronting the bigotry and oppression Donald Trump has threatened against our communities.
From terrorizing immigrant communities, destroying women's health-care services, increasing the war against the Muslim community and so much more we need to start building now to BEAT BACK the attacks of the next president."
Trump Is Not My President - Peaceful Protest of Trump's Presidency

Sunday, Nov. 13, 1 p.m. to 7 p.m., Point State Park Fountain
This is a peaceful protest for people against the election of Donald Trump. It is also open to activists again the Trans-Pacific Partnership and the North Dakota Access Pipeline. According to the event page, anyone who doesn't like Trump is welcome.
Deutschtown City Steps Mosaic Mural
Tuesday, Nov. 15, 11:00 a.m., at the intersection of Intin and Concord streets
National civic crowdfunding platform In Our Backyards (ioby) is opening a new office and full-time staff in the North Side. The nonprofit helps local leaders improve their communities with volunteer-led, crowd-funded projects like green spaces and community festivals.
According to a release: "Local social justice advocates and community leaders will mark this milestone with a community gathering at a previous project site, the Deutschtown City Steps, where community leaders erected a colorful mosaic mural in 2015 — as they recommit to public service."
Peaceful March on Downtown Pittsburgh

Wednesday, Nov. 16 at 9 pm. to 12 a.m., Cathedral of Learning, 4200 Fifth Ave.
This march from Oakland to Downtown is a peaceful protest against division on the basis of gender, skin color, religion, sexual orientation or ethnicity.
According to the event page: "We are NOT an anti-Trump march. It is more productive to bring attention to rights that we feel should be respected moving into the next presidency. We are PRO diversity, PRO environment, PRO LGBT+, PRO religious tolerance ... the list goes on. Spreading hate will never solve problems and will only polarize us further, but coming together to advocate for things we care about will always be respected."