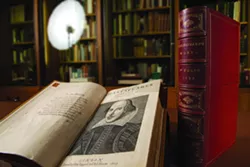 In honor of the 400th anniversary of the most famous playwright's death, Carnegie Mellon University is exhibiting its rare copy of the First Folio — the original compilation of William Shakespeare's works and one of the most valuable published books in the world.

The university got its hands on a copy through the bequest of local art collector and patron Charles J. Rosenbloom, in 1974. The Folio will be available for viewing by the public at the Posner Center Monday through Friday, from 1 p.m. to 7 p.m., through Nov. 30.
In 1623, the First Folio was made possible by publishers and actors who had collected 36 of Shakespeare's plays and printed them together. Only about 750 copies were printed. Three additional editions of the folio were made over time due to their popularity.
During the exhibition, CMU will also host social and educational events. On Nov. 4, there's "Teaching Shakespeare at Carnegie Mellon," a conversation between professor Peggy Knapp, a member of the school's English Department, and professor Michael Witmore, the former Carnegie Mellon faculty member who now directs the
Folger Shakespeare Library
.
Nov. 5 brings a calligraphy workshop on Shakespeare's "secretary hand" handwriting style.
All events are at the
Posner Center
, located on CMU's campus, in Oakland. <!—————EndFragment—————>