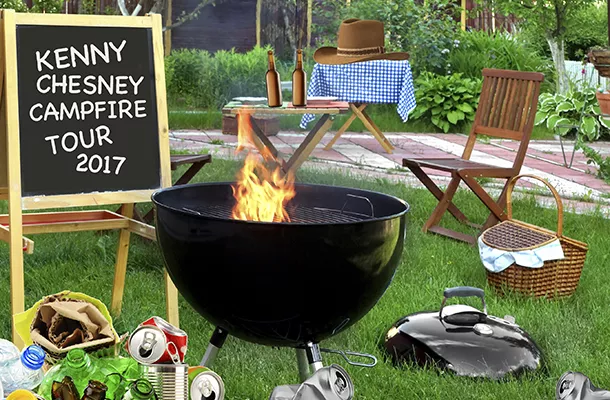 On Saturday, country-performer Kenny Chesney country-performed at Heinz Field for his annual summer Pittsburgh appearance. Like his concerts in previous years, much was made in the aftermath of the gratuitous heaps of trash left behind, and the number of fights, hospitalizations and arrests associated with the event. His return in summer 2017 is a safe bet, so here are some suggestions for improving this iconic holiday while minimizing its adverse effects on the region. Let's turn this thing around!
Cardboard
: Build a fake Heinz Field out of cardboard, a la Rock Ridge in
Blazing Saddles
, and host the concert there. They'd have no idea! We'd probably have to cover the real Heinz Field in a tarp or something.
Sleepover!
: Make the theme of next year's show "pajama party!" (could double up those exclamation points if needed). Tell the fans to bring their pajamas, s'more ingredients, tents and sleeping bags, and stipulate that all attendees MUST have a fun campout in the parking lot after the show. If they have to sleep there, they'll probably keep it tidy. How can you focus on Brad's spooky ghost story when there's 25 pounds of broken glass littering your campsite? Of course we'd need another cleanup solution for the post-campfire arrests and hospitalizations, but that's one of those "tomorrow-problems."
Product TBD
: This one still needs some kinks worked out, but I've been brainstorming some kind of cheap mechanism that turns trash into clean energy with 100% efficiency.
Trashketball!
:
Everybody knows Kenneth-heads love sports, so we could turn trash removal into a series of games. You could throw, kick and heave (like shot put) all trash into goals, hoops, and end-zones, just like in real sports. So fun! Is that Steph Curry nailing a three-pointer from half-court? Nope, that's just Jeff, doing his part to keep Pittsburgh clean.
Post-game
: Change the tailgates to AFTER the show. If they're like me, they'll be pooped after a long show and probably just wanna hit the hay.
Bouncy Concrete
: Make the parking lots out of some sort of super-bouncy material, so when concert-goers litter, that shit bounces right back into their hands and they get a second chance to properly dispose of it. Think again, Gary!
Tears
: Like "Keep America Beautiful" but without the cultural appropriation. The idea's pretty simple: we go down to the parking lots mid-tailgate, and just cry all over the place. Just try to enjoy a round of cornhole with your pals when there's hundreds of weeping adults sulking through your party. So sad!
The Old Switcheroo
: Replace Kenny Chesney with another performer, and have them perform at a different venue in a different city.