Here's what's going down in Pittsburgh:



1. Environmental advocates
and a local chef
hosted a symbolic picnic
, demonstrating what foods would be left to eat if the honeybees who pollinate our produce completely disappeared. According to USDA figures, honeybees pollinate $15 billion worth of crops each year, and their colonies are dying at an annual average of 30 percent.
——————————-
2. Ball on the Bridge
took over the Andy Warhol Bridge last weekend. The event, which had 28 competition categories, highlighted
ball culture
and the need for improved health-care services for Pittsburgh's LGBT community.
See our slideshow of the night
.
——————————-
3. The Allegheny County Health Department
held a hearing this week on whether to add the Human Papillomavirus (HPV) vaccine to its mandatory schedule for boys and girls ages 11 and 12 (in addition to the required tetanus and meningitis vaccines), which is now the Centers for Disease Control's official recommendation. HPV can cause certain cancers, including cervical and throat, among others. The majority of speakers — including pediatricians, gynecologists, researchers and oncologists — spoke in favor of the mandate. Dr. Umamaheswar Duvvuri, a head- and neck-cancer surgeon at UPMC and the local VA hospital, told the crowd, " I unfortunately have to see these patients on the back end of this, when they've already had [cancer caused by HPV]. An ounce of prevention is worth of a pound of cure."
——————————-
4. Affordable-housing advocates
are
aiming to collect 15,000 signatures to put a referendum to city voters
, asking for a 1 percent realty-transfer tax increase to create and fund the Housing Opportunity Fund. The fund is a recommendation of the Affordable Housing Task Force. Advocates say the goal is to raise at least $10 million per year, which would help rehabilitate 270 homes for renters, create 234 new affordable homes, and provide rental assistance to 180 families each year.
——————————-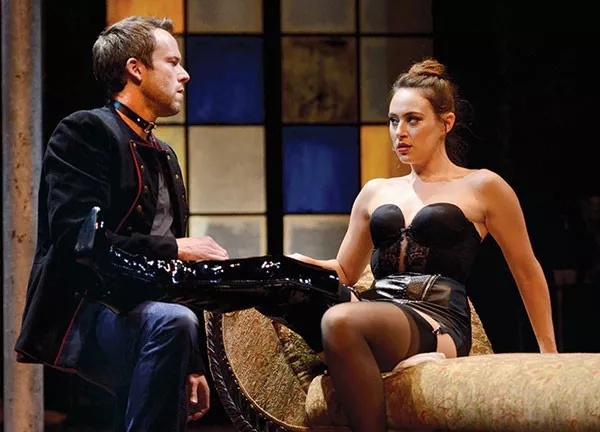 5. "Venus in Fur"
is in its final weekend at Pittsburgh Public Theater. Theater writer Ted Hoover wrote
a rave review
of the "sly, dark comedy" for
City Paper
, and arts editor Bill O'Driscoll seconds Hoover,
writing this week
that "The production is driven by terrific performances ... And then, in its final minutes, the play kicks imperceptibly but decisively into another gear entirely."
——————————-
On our podcast:
This week on the
City Paper Podcast
,
host Alex Gordon sits down with local artist David Bernabo
, whom you might recognize from his many appearances in local art, music and dance. Today, David discusses his new(ish) album
The Inn
and his novel approach to writing and recording. Featuring the album version of "Material," plus acoustic re-renderings of "Winter God Light" and "Table In The Circle."
——————————-


The food scene: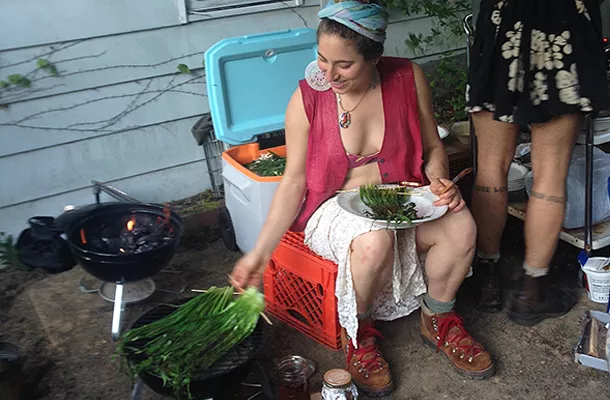 On our Sound Bite podcast, food writer Celine Roberts
visits Chillegal
, a pop-up kitchen tucked away in a hillside garden in Pittsburgh.
——————————-
On our music blog:


Contributing music writer Meg Fair comments on the
inclusive atmosphere that acts Modern Baseball and Joyce Manor create
to combat "dude-dominated spaces [that] can feel unsafe and are unfortunately rife with harassment" for women and others across the gender spectrum who attend pop-punk and emo shows.
——————————-
From the pages of our print edition:


Staff writer Ryan Deto
writes about Martin Esquivel-Hernandez
, who after receiving a driving citation from Mount Lebanon police was picked up by federal Immigration and Customs Enforcement officers on May 2. Esquivel-Hernandez, an undocumented immigrant from Mexico, has been called a community staple and advocate by family, friends and local business-owners. Now, after being moved around for weeks to various detention facilities, he has decided to fight his own deportation.
In his
"
Pittsburgh Left" column
about Esquivel-Hernandez's case,
City Paper
editor Charlie Deitch writes, "What an oversimplification of a situation based on broken and backward immigration law. They say he's here illegally. They say he's not one of us because he's from Mexico. They couldn't be more wrong. Martin Esquivel-Hernandez might not be a documented resident of the United States, but he's a well-documented resident of this city and that has to count for something."
——————————-
This week in City Paper history: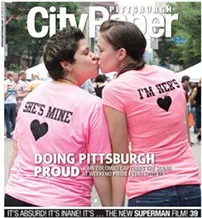 This cover, from our June 19, 2013, issue, is historic because it documents Pittsburgh's final PrideFest held without marriage equality. Here's hoping this year's cover was the last PrideFest without discrimination protections for the LGBT community.
Read more
about this week in
City Paper
history.