Squonk Opera is a familiar sight at the Dollar Bank Three Rivers Arts Festival. In 2012, for instance, Pittsburgh's resident performance-art rockers debuted their GO Roadshow there. In 2014 came Pneumatica.
But Cycle Sonic, the nationally touring group's latest surrealist musical spectacle, set to premiere at the 57th annual fest, is really something else. In its quarter-century history, all the troupe's shows have been stagebound (even if those stages have included a local junkyard). Pneumatica's centerpiece was the immobile, 40-foot-tall inflatable "Lady Pneumatica," and even the GO Roadshow stage — a flatbed truck — stayed put while the band played.
For a change of pace, Squonk co-founder and horn-player Steve O'Hearn envisioned a show featuring four giant double-decker tricycles that four of the band's five members — including drummer Kevin Kornicki with his full kit — would ride around like parade floats (pedaled by Squonk tech crew). "It's almost like a tractor ballet like you see at rodeos," says Squonk co-founder, chief composer and keyboardist Jackie Dempsey. "It gives us a lot of things to do that we never did before."
The bikes (built at Pittsburgh's Maestro Frameworks) will bear Kornicki, Dempsey, guitarist David Wallace and bassist Nathan Wilson around Gateway Center-area streets and sidewalks, while O'Hearn ambulates. The 30-minute show also includes larger-than-life puppets; a pair of 20-foot-long pedaling legs; mechanized extra arms for musicians; and a musical sequence for horns and bike bells.
Cycle Sonic receives six performances June 11 and 12; like the rest of the fest, admission is free. But if Squonk's shows will help cap this year's festival, there's plenty leading up to them.
Other big draws in Pittsburgh Cultural Trust's Point State Park-centered program include the mainstage music acts, from Michael Franti on Fri., June 3, to Ruby Amanfu on June 12, with Beth Orton, Guster, the Pittsburgh Symphony Orchestra and more in between. Other standbys include the big artists' market, food booths and food trucks, and hands-on art-making for kids. According to Sarah Aziz, the Trust's program manager for special events, new features include the integration into the fest of the day-long, innovation-themed CREATE Festival (June 9); sensory-friendly "breakout areas" for people on the autism spectrum; and the fest's first-ever feeding room for parents and kids, with a changing station, quiet space for breast-feeding and more.
Also for the first time, Pittsburgh Playwrights' Theatre Co.'s signature Theatre Festival in Black and White (June 4-11) is part of the festival. (The showcase of one-acts matches black playwrights with white directors, and vice versa.) So is Bloomfield-based Bunker Projects' third annual Performance Art Festival (June 10 and 11), which moves Downtown with 16 hours of cutting-edge programming by 22 artists from the local to the international, at SPACE Gallery. The Three Rivers Arts Festival also includes dance, poetry and film. A ticketed ($35) opening-night party on a docked Gateway Clipper is a fest fundraiser.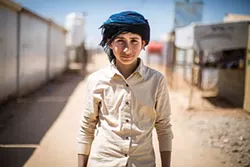 And, of course, there's visual art, too. Public art will include three large-scale installations by local artists. Carrie Mincemoyer's "The Dandelions" comprises one dozen 10-foot-tall street-sign-style sidewalk sculptures made to look like dandelions. Mincemoyer says that the sculptures were commissioned by New York City's Department of Transportation to install outside an Upper West Side school, where they premiered in 2014. She says "Dandelions" is meant to improve the image of a "pioneer species," medically and nutritionally useful, that most people consider a pest.
On the Gateway Lawn, look for "Multiverse Wall," a large-scale two-sided abstract painting that artist Jesse Best calls a "virtual cosmic experience," with a dark-hued side and a light-toned side. "I'm interested to see, even based on color, what side people are attracted to and what kind of universe they would choose to live in," says Best.
The old Liberty Avenue tourist-bureau kiosk will feature Inside the Zaatari Refugee Camp 04.01.16-4.21.16, comprising 18 large-scale photos made by Maranie Staab in a Jordanian camp for Syrian war refugees. The three-square-mile camp, which opened in 2012, was built for 60,000 people but is now home to some 86,000, says Staab. "These people have been displaced in the most aggressive and brutal way," she says, but "they all have a hope for a better future."
Nearby, a special project: a site-specific artwork-in-progress being created by youths in the Industrial Arts Cooperative's Mobile Sculpture Project. Expect welding.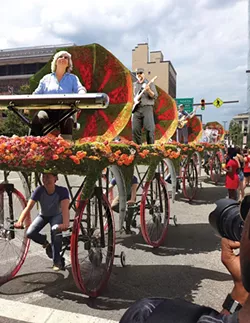 Finally, a few blocks up Liberty, at the Trust Arts Education Center, there's the annual Juried Visual Art Exhibition. This year, jurors Casey Droege, Betty Douglas and Aaron Henderson sifted through nearly 400 submissions to select 58 works by 51 artists from the region working in a variety of media. And feel free to choose your favorite work for the exhibit's People's Choice award, which comes with a $500 prize.