Hayes first leapt to national attention by winning a
National Book Award
for his 2010 collection
Lighthead
. In 2014, he followed up with a
McArthur Fellowship "genius grant
." And 2015 saw him a finalist for the both the National Book Award and the National Book Critics Circle Award for his most recent collection,
How to Be Drawn
.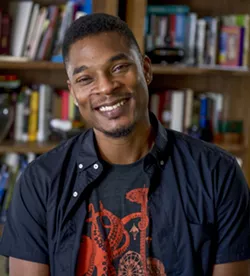 The University of Pittsburgh professor's streak continues this year with both an American Academy of Arts and Letters award in literature and, most recently, election into the venerable American Academy of Arts and Sciences.
The AAAL ceremony is tonight in New York City. Hayes can't make it, but (along with the $10,000 award) his name will be in some prestigious company: the other lit winners include Ta-Nehisi Coates (author of
Between the World and Me
), novelist Joshua Ferris (
Then We Came to The End
), and playwrights Stephen Adly Guirgis and Lynn Nottage.
In his
election to the AAAS
, Hayes is joined by fellow Pitt professor James F. Woodward, who teaches in the Department of History and Philsophy of Science. And their company, among some 175 inductees this year, includes such luminaries as poet Yusef Komunyakaa, artist Glenn Ligon and jazz musician Wayne Shorter.
Hayes, reached yesterday by phone, notes that over its 236 years, the AAAS has also welcomed Ben Franklin, Charles Darwin, Albert Einstein, Winston Churchill, Martin Luther King, Jr., John F. Kennedy and Nelson Mandela.
Hayes' only dilemma, he said, was how to draft his requested note of acceptance to the group.
"How do you relay your gratitude for something with such a rich history?" he said. He told
CP
that some of his thoughts about gratitude were captured in an essay he just wrote for ESPN spinoff theundefeated.com, recounting
a phone call he got in college
— when he was deciding whether to pursue poetry or basketball — from none other than Maya Angelou.
Hayes said he views the inclusion in something like the AAAS as honoring a body of work. When I suggested that membership sounds like it would involve wingback chairs and snifters of brandy, Hayes laughed. The scene is actually relatively informal. Election doesn't include a cash prize, but it does place him among prestigious peers — as if being asked, he says, "Here you want to come hang out with us?' … The reward is to be in the village, to be associated with them."
Indeed, he says that if he is able to attend the AAAS ceremony, in Cambridge, Mass., in October, he would "go as a fan" of the other members.
Moreover, he jokes, writing poetry is just as tough with such an honor as without.
"I'm waiting for the prize that makes me say, 'OK, now it's gonna be easy,'" he quips. "But it's not out there."
Here's a long-form
profile of Hayes
I wrote back in 2006.