Democratic voters in at least three Pennsylvania counties will confront some unusual processes when casting their vote for the Democratic candidates for U.S. Senate tomorrow. Electronic voting machines in Washington, Lancaster and Columbia (in Central Pa.) counties will not have U.S. Senate candidate and Findlay Township small-business owner Joe Vodvarka listed on the the screens.
In Washington County, democratic voters will complete all other primary choices via the electronic machines, but will cast their vote for U.S. Senate via a paper ballot, according to the Washington County elections office. In Columbia County, the
three other Senate candidates
, Braddock Mayor John Fetterman, Gov. Tom Wolf's former chief of staff Katie McGinty, and retired Navy admiral and former U.S. Rep. Joe Sestak, will all be on the electronic machines, but voters will have to write-in Vodvarka's name if they wish to vote for him.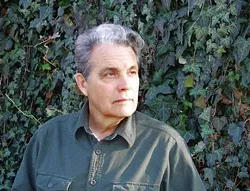 These weird procedures were the result of each elections department not having enough time to place Vodvarka's name on the ballot, according to election department representatives, after the Pennsylvania Supreme court reversed the Commonwealth court decision that took Vodvarka's name off the ballot. Vodvarka's petitions were challenged by Sestak in late February and the Commonwealth rules to remove his name from the ballot on March 30. Then the state Supreme Court reversed that decisions on April 19.
Washington County director of elections Larry Spahr, said that his office "waited until the last day possible" before updating the county's electronic voting machines, but the reversal came too late to include Vodvarka. He says that it takes around three weeks to test the voting machines and so they must be locked down in advance to prepare for election day. (Vodvarka was put back on the ballot on April 19).
Spahr says that posters will be up at polling places to inform voters of the quirk, and the office has informed rovers and all the judges in the county.A
story was also published
in the
Observer-Reporter
, Washington County's biggest newspaper, on April 20.
Columbia County director of elections Matthew Repasky also says the county was not given adequate time to update their machines to add Vodvarka to the ballot. "That late in the game, the week before the election, it is impossible to [update information] on the terminals," he says.
Repasky says Democratic voters in the county will conduct the U.S. Senate vote on the electronic machines and their will a posting on each machine reminding voters that if they wish to vote for Vodvarka, they will have to write-in his name. However, there is no posting on the county's election website about the Vodvarka situation and Repasky says the county has "not gone above and beyond" to remind voters of this quirk. The local paper, The
Press-Enterprise
, has not yet covered the story.
Randall Wenger, chief clerk of Lancaster County board of elections, says ballots will not include Vodvarka and that polling places will provide posters reminding voters to write-in Vodvarka if they wish to vote for him. Fetterman, McGinty, and Sestak will all be on the ballot in Lancaster County. "We waited to the last possible moment to try to have as accurate ballot as possible," says Wenger. "A week out is just not enough time to update our machines. Wegner says Lancaster County uses Texas-based Hart InterCivic voting machines.
Vodvarka says it was not fair that he only had seven days to campaign. His son Jesse Vodvarka, who is running his campaign says he "kind of feels" that this quirk could effect his father's chances. Jesse is also concerned about stories he has heard of some counties putting stickers up that Vodvarka's vote will not count. "If those stories hold true, then that is a problem," says Jesse Vodvarka. Vodvarka will appear on all ballots in Allegheny County, according to the county's election board.
Joe Vodvarka says he hopes that future candidates will not have to go through the process of being takenoff the ballot and then placed back on.
"I am setting a precedent, that any poor bugger running for office won't have to go through what I went through," says Vodvarka.
As of the end of 2014, there were about 190,000 registered Democrats in Washington, Lancaster and Columbia counties combined, which represents just over 4.6 percent of the registered democrats statewide. (In all three counties combined, there were also about 3,900 registered Democrats added in 2016.) While the number is small, the U.S. Senate race has turned into a very competitive one, and could come down to a small handful of votes.
The latest poll from Franklin and Marshall College shows a close race between Sestak (33 percent) and McGinty (27 percent) with Fetterman in third at 8 percent.
Update, 2:20 p.m.
: Franklin and Marshall College professor and pollster G. Terry Madonna tells
CP
that "election officials are between the proverbial rock and a hard place trying to deal with the court order putting Vodvarka on the ballot. I don't think it's likely to matter much in the final vote. I'm Not sure how it will work in each voting place, That could matter depending on whether voters do the second vote or what order they get the ballots."