With Pennsylvania's primary election less than a week away (check out our
Election Issue
for more), TV viewers, bus riders, and any other general consumers of media are sure to be inundated with political ads attempting to sway the swath of Pa. voters who are still undecided. And with political ads come the questions about campaign finance, which leads to the topic of Citizens United, the U.S. Supreme Court case affecting political-campaign funding.
So,
City Paper
reached out to the three Democratic candidates for U.S. Senate (Braddock Mayor John Fetterman, former Pa. environmental secretary Katie McGinty, and retired Navy Admiral and former U.S. Rep. Joe Sestak) for their thoughts on the controversial campaign ruling.
Fetterman derides the amount of money that is flowing into political campaigns across the country and believes that Citizens United is negatively affecting races. "Citizens United is the single greatest threat to the democracy of our country," says Fetterman. "I don't want to tell my son, when he can vote, that it takes $4 billion to run for president."
The Mon-Valley mayor has raised a fraction of funds compared to McGinty and Sestak, but says his social media following outpaces his rivals (this is partially true as Fetterman's Facebook page has 20,000 more likes than both McGinty and Sestak, but his 11,500 Twitter followers are second to Sestak's 12,000).
Fetterman also rejects the idea that large amounts of money should be filtered into campaigns. He thinks a more "ideal" campaign is being run by presidential candidate and Vermont Senator Bernie Sanders. Sanders consistently says at rallies and debates that his campaign is a true example of grassroots support and that the average donor gives about $27 to his campaign.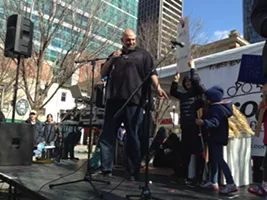 However, according to the 2015 contributor data (contribution reports for up to April 2016 have been released, however itemized lists of contributors will not be ready before the April 26 primary), it is Sestak who comes closest to the Sanders-like campaign support. The former U.S. Rep's average donation is about $250, compared to Fetterman's $500. Fetterman applauds Sestak for his grassroots fundraising, but also notes that Sestak has been campaigning basically since he lost to Republican incumbent Senator Pat Toomey in 2010.
Fetterman also derides the money flowing from the Democratic Senatorial Campaign Committee to support Katie McGinty. The committee is spending more than $1 million in TV ads this month in attempt to boost McGinty ahead of front-runner Sestak, according to the Washington Post. That money could have been used for any Democratic candidate during the general election race against Toomey, who has a warchest of more than $9 million.
The Braddock mayor goes even farther and questions why millions are being spent on TV ads, when there are hard hit communities like Braddock that would benefit immensely from extra funds. "In a nation that has so much lack and things that are needed," says Fetterman, "people are spending billions of dollars to call each other names on TV."
McGinty also says she would work to overturn Citizens United, if she were elected Senator. "I think it is some of the worst jurisprudence ever written," says McGinty. "I 100 percent oppose the decision. It has contorted our democracy with a whole bunch dark money."
She calls out Toomey for consistently being opposed to efforts to overturn the decision and says Toomey's refusal to consider President Barack Obama's Supreme Court nomination could be related to that. "Let's get a full Supreme Court and overturn Citizens United," she says.
McGinty also says there are policies that can be implemented now that will help remove dark money out of elections. She says banning foreign individuals and foreign governments from contributing would be a start and that there should be stricter limits on the size of donations. She said something around $1000 would be preferred. (However, McGinty received the most individual contributions of more than $1000 compared to her primary opponents.)
Sestak is also against the Citizens United ruling. While serving in congress, he introduced the first piece of legislation designed to limit the effects of the ruling by requiring corporate shareholders to vote on large expenditures that are being spent on campaign ads.
"I thoroughly disagreed with the Supreme Court's Citizens United decision because it gives the same status to corporations as to individual citizens in society by removing decades-old precedents that protected the electoral process from the influence of money," said Sestak in a 2010 press release when he introduced his legislation.
And while all three candidates are opposed to Citizens United, there are still some questionable donations that have been funneled into McGinty and Sestak's campaigns.
McGinty has repeatedly denied that she has received money from the
fracking industry
. (Something that Fetterman has said is not true.) But
CP
found that a board member from EQT gave $1500 and a government relations director from Talisman Energy gave $2000. Both companies participate in fracking.
And environmental-related issues abound throughout McGinty's contributor list. The Bologna family, who own coal mines and have proposed a coal waste plant in Washington County (which McGinty may have
fast tracked
when she was Pa. environmental secretary), gave her $8,100. Robindale Energy purchased a coal waste plant in 2015 and its president, Scott Kroh, gave $2,700 to McGinty.
McGinty says waste coal plants are "much cleaner than traditional power plants" and the energy created is very efficient. "We ave to get rid of waste coal," says McGinty. "It has destroyed streams, and it is a public health initiative. Kids getting killed four wheeling on the piles and the dust from the waste coal is harmful."
(However,
CP
reported in 2009 that in the process of burning waste coal, unhealthy minerals like arsenic and selenium can be released into the air along with a slew of other
environmental problems
.)
McGinty campaign representatives say that receiving contributions from individuals is not the same as receiving financial support from the corporation itself. She also touts her endorsements from environmental groups like the League of Conservation Voters. "These organizations are standing with me because they know I am standing with them."
Sestak's contributor list is mostly filled with donations of less than $200, however he did receive $5,400 from Lawrence Malitzky and his wife. Malitzky works for SMRC management, who are listed on a New York City tenant advocacy group's list of predatory landlords. Sestak has advocated support of increasing funds and implementing better policies to address the country's
affordable housing issues
. Sestak did not return requests for comments on his donations.