On Dec. 16, 2015, a teenage boy was thrown to the ground and cuffed by Port Authority Police during an incident outside of Wood Street T Station, Downtown.
City Paper
happened to be on the scene and
took video of the arrest
shown above.
The 16-year-old boy, Mohamed Abdalla, spoke to
CP
on the record with his parents present the day after the arrest. He was charged with disorderly conduct. On March 11, those charges were dropped, according to Abdalla's lawyer.
After capturing Abdalla's arrest,
CP
's video shows a Pittsburgh Police officer yelling at the reporter. This video went viral and led to
investigations of the Wood Street ruckus
by the Citizens Police Review Board and the Pittsburgh Police Bureau's internal investigation office.
The ruckus that led to Abdalla's arrest (and the arrests of four other teenage boys, all who are refugees from East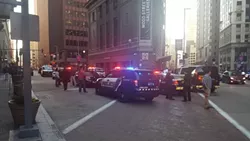 Africa) was allegedly started when one of the teenagers pressed an emergency-off button on an escalator inside Wood Street T Station. Port Authority officers confronted that boy, who allegedly resisted arrest, and then cuffed him and placed in a squad car parked on Wood Street. (Port Authority Police have recently been under fire by community groups for their conduct at Wood Street and in the
shooting death of Bruce Kelley Jr.
in Wilkinsburg, in January.)
Abdalla told
CP
that he was friends with the first boy arrested and he was present when that boy was confronted by officers. Abdalla exited the T station and watched from a crosswalk on Wood Street as the officers placed the boy in the car. A
plainclothes
Port Authority officer then looked at Abdalla and called out, "Do you want trouble?" and told him to back away. Abdalla was at that time 20 to 30 feet from the vehicle and a group of officers.
Abdalla didn't move; three Port Authority officers then dashed at him, tackled him to the ground and threatened to use Tasers. (Though one Taser was held in the suspect's back, it was not discharged.) The officers handcuffed Abdalla and placed him in a squad car.
Carly Rice, a law student at Duquesne Law School, recently took up Abdalla's case and told
CP
that the arresting officer didn't show up to Abdalla's hearing. Consequently,
the charges against him were dropped
.

Members of Abdalla's family and community in Northview Heights believed the boys were unfairly targeted by the police officers. Of the incident, a family member in December asked: "Why did the police only pick these gentlemen when they are all from Africa? When something happened like this, shouldn't more people be arrested? Were they waiting for these kids?"
Sam Hens-Greco, attorney for three other teenagers arrested on the scene, says that none of the charges have been dropped against his clients. Haji Muzhimu, the 19-year-old adult arrested, is facing felony riot charges, as well as misdemeanors for resisting arrest and disorderly conduct, among other charges. This is Muzhimu's first offense on record. The two other minors, who
CP
covered
here
, have been charged with misdemeanors for criminal trespass.