Hold on to your steering wheels everyone — the ride-hailing company Uber is expanding into Hazelwood to further test its driverless-car technology.
At a Feb. 23 meeting in front of more than 100 concerned citizens at the firefighter's union hall in Hazelwood, the San Francisco-based company detailed some of its plans to lease and develop parts of the Almono site, the former LTV coke works site, which sits along the Monongahela River in Hazelwood.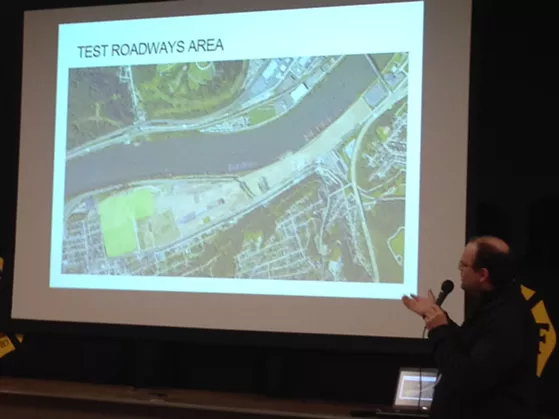 Uber will become the first tenant of the Almono site and will focus its development at the southern edge near Tecumseh Street. The Regional Industrial Development Corporation manages Almono and president Don Smith said Uber committing to the site is a "very special occasion."
"The vision of Almono has been to create a world-class sustainable development that extends the commercial impact of the region's major research centers," said Smith in a
statement on Uber's website
. "The partnership announced today is the first major step in realizing the vision."
This 42-acre, Tecumseh section of the development will include "complete streets" infrastructure (roads, sidewalks, bike lanes) and will be used for testing self-driving cars for 3 to 5 years. After that, Uber is planning to vacate the space, and housing and parks are planned to go up in its place. Smith says the Uber development will create access to the site by next year, which can help facilitate other companies coming into Almono.
Uber will also rehab the railroad roundhouse on the site and has agreed to a 10-year lease at the building where Carnegie Mellon University has tested driverless cars in the past. Uber's Jeff Fullerton said at the meeting that eventually the renovated roundhouse building could also have a community use.
To construct all of these facilities, Dan Beaven, of Uber, said that the company will employ local workers and local companies, but no specifics were provided on how many would be hired. In terms of permanent jobs, Beaven says that the expansion into Hazelwood could possibly create dozens. Beaven also offered no specifics of how much money Uber is planning to invest , but Smith of RIDC says that millions will go into the roundhouse development.
The project was generally well received by the crowd, but one longtime Hazelwood resident was skeptical of how Uber would help the neighborhood, especially in providing permanent good-paying jobs. Homer Craig, a 76-year-old resident, said at the meeting he was skeptical of Uber because self-driving cars means less jobs for drivers.
"Don't be mad at me because I don't trust you," he said to the Uber representatives, and he asked them to demonstrate the benefits the community will receive from their plans.
He then asked how much training Uber will do to help Hazelwood residents participate in and work at the proposed facility. He wanted to know if locals could become technicians at the company, which is now valued at $68 billion.
Beaven responded to Craig, saying that Uber has many opportunities to hire drivers and that "Uber needs drivers now."
However,
City Paper
has reported that Uber
drivers in Pittsburgh are starting to organize and protest unfair wages
and labor practices. (The company also refuses to call its drivers employees, instead electing to use the term "partners.")
Pittsburgh City Councilor Corey O'Connor, who represents Hazelwood, said the neighborhood can benefit from Uber coming in because it is a well-known company, whose presence can provide a positive ripple effect and bring in other businesses. O'Connor also said that Uber moving in can help provide more leverage to develop the Second Avenue corridor in the neighborhood and revitalize it as Hazelwood's main street.
RIDC President Smith said, "This will be the epicenter of an entire new industry of self-driving cars. This will bring more companies and more jobs."
Beaven had no comment on whether the Almono announcement had anything to do with Pittsburgh's plans to create an autonomous vehicle shuttle line from Hazelwood to Oakland, which you can read about
here
.