Tonight is your second chance to catch the
three major Pennsylvania Democratic U.S. Senate candidates
square off. Braddock Mayor John Fetterman, former Pennsylvania Secretary of Environmental Protection Katie McGinty and retired Navy admiral and former U.S. Congressman Joe Sestak will debate their polices and platforms in front of a live audience in Harrisburg tonight at 6 p.m.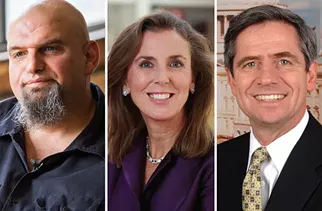 The debate is part of the 2016 Keystone Progress Summit, a weekend long summit of progressive politicians and thinkers from across the state.
Ritchie Tabachnick, the chair of the board of directors of Keystone Progress, says on the summit's website, "This debate will be the most insightful and interesting debate of the year. Our questions will not be the questions you have heard at other events."
You are probably thinking a few things: why does the Democratic party insist on holding debates during the most inopportune times for viewing (during happy hour on a Friday, really?!) and how can Pittsburghers watch a debate that is taking place in Harrisburg?
Well PCN-TV, "Pennsylvania's Cable Network," has you covered. The debate will be shown on the channel, which has been called Pennsylvania's version of C-SPAN, in its entirety starting at 6 p.m and again at 8:30 p.m.
A live stream of the Senate debate can be seen,
here
. And if you want to watch on the ol' boob tube, Comcast subscribers in the city of Pittsburgh can watch PCN-TV on channel 48 and channel 100 for most of those living in the suburbs (check here for channel listings in your area).
Allegheny County small businessman Joseph Vodvarka is also on the ballot for the Democratic nomination for incumbent Republican Pat Toomey's U.S. Senate seat. He told
City Paper
that he asked to be included in the debate, but he says Keystone Progress denied his request.
Also scheduled for live stream and on TV tomorrow at 4:15 p.m., is a debate of the Democratic candidates for PA Attorney General: Northampton County District Attorney John Morganelli, Montgomery County Commissioner Josh Shapiro, and Allegheny County District Attorney Stephen Zappala. This debate is also taking place in Harrisburg. For a link to the live stream of the PA Attorney General debate, click
here
.
PCN-TV also normally posts videos of past events on their website, so check
pcntv.com
to watch the debate at a later date. And check out
CP's
print and online edition next week for an in-depth look at the Senate candidates' views on fracking.