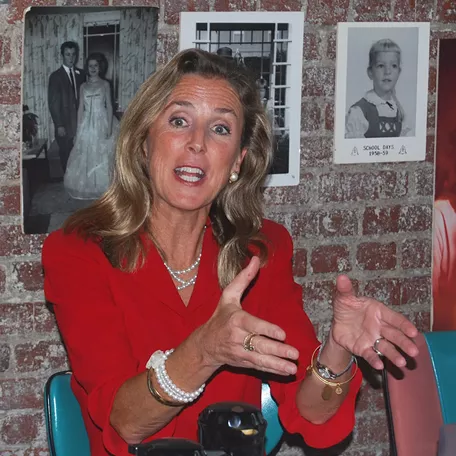 At an intimate sit down with elected officials, private citizens and community organizers, Democratic U.S. Senate candidate Katie McGinty spoke about the growth and excitement happening in Pittsburgh but also emphasized what she called the "shadow side."
McGinty pointed out that Pittsburgh, and most of Pennsylvania and the country, has seen some post-recession growth, but there are still many Americans that are working harder and longer hours and are not getting ahead.
"I am running for Senate to ensure that everybody gets a chance," said McGinty to the dozen participating in the discussion at Pamela's P&G Diner in the Strip District. "If you are willing to work hard, you should be able to get ahead."
This idea of upward mobility was the central theme of the discussion and participants asked McGinty, who served as Governor Tom Wolf's chief of staff before announcing her candidacy, specific questions about workforce training and student debt.
Newly elected Allegheny County Councilor DeWitt Walton spoke about current organizations in the area that are providing training to help minority residents start careers in trade fields, like construction and manufacturing. Walton says this training is critical to serve those workers who have a high school diploma but not a college degree.
McGinty, who previously ran for
Pennsylvania governor
, agreed that more needs to be done to train the workers Walton is speaking of and said that a solution could be to make sure manufacturing jobs are not "sent overseas." Those jobs should "put our own kids back to work," she said. She also spoke about fair wages at the discussion, something she has previously
advocated for in Pittsburgh
.
"We have some of the best research in the whole world," says McGinty. "What we now need to do is, instead of giving companies tax breaks to send their businesses overseas, we need to bring that money back and give low-interest loans and grants that provide the resources for young entrepreneurs to be able to set up businesses here."
Another issue discussed at Pamela's was the large amount of student debt that young people are accruing before they enter the workforce. Nicole King, a single mother from the South Hills, works as a law clerk and a bartender, and is currently pursuing her law degree. She says her current student-debt is around $175,000.
"I am doing everything I am supposed to be doing," says King. "I am working hard, raising a child and going to school. What is being done to help me with my student loans?"
McGinty says she sympathizes with King and says that one of the problems is public colleges and universities are only receiving 20-30 percent of their funding from the government. "All the money is coming from [student's] tuition."
McGinty says that the government should allow students to refinance their loans at lower interest rates. (For example, according to stats from the federal government and Wells Fargo bank, interest rates on undergraduate student loans are higher, with postgraduate loans being significantly higher, than home-purchasing loans and than mortgage loans.)
McGinty believes that success starts with education but thinks the country can do more to help people like King.
"It is about making sure that our kids have the best education so that they can succeed and shine," says McGinty. "It is about making sure that we are easing that burden of college debt, so young people
can get out there and build their lives."
McGinty is currently squaring off against fellow Democrats former congressman and retired Navy Admiral
Joe Sestak
and Braddock Mayor
John Fetterman
. The Democratic primary winner will go up against incumbent Republican Sen. Pat Toomey.