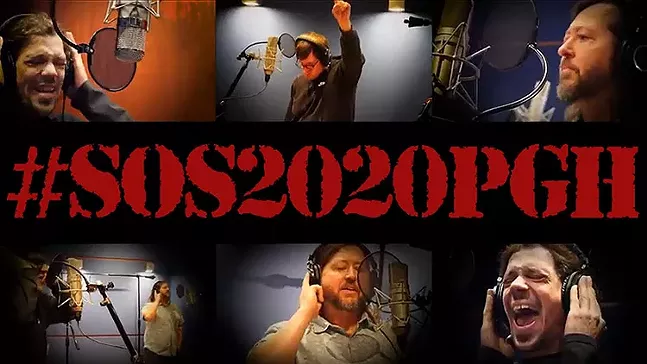 Since the onset of the coronavirus pandemic, the Pittsburgh music community has been shouting SOS — Save Our Stages. Musicians and venues alike rallied to bring awareness to the struggling live entertainment industry and to push the Save Our Stages Act, which if passed, would give venues across the U.S. funds to help them stay afloat while their doors remained shuttered. The call for help has come in multiple forms, from T-shirt fundraisers to coffee blends, to BBQ dinners, and most recently, a song.

"SOS 2020" is set to drop Fri., Jan. 8, and features over 60 Pittsburgh musicians and 27 bands. The song was recorded to raise awareness and money, and incite action to benefit Pittsburgh's music venues.

"'SOS 2020' is intended to share the sense of frustration and concern I have for all Pittsburgh music venues, performers, promoters, and support staff directly affected by this pandemic," says Eric Rodger, lead guitarist of Royal Honey, who wrote the song and spearheaded the project. "I wanted to do something that put into action a way to help people now."


While the Save Our Stages Act was passed Mon., Dec. 21 as part of the COVID-relief omnibus bill, it could be weeks, even months before the funding begins to disperse. And the effects of a local shuddered live venue industry have already begun — nearly ten Pittsburgh venues closed in 2020, and 90% of venue owners suggested they "run the risk of significant financial hardship or closure in the coming months," according to a press release.


"We know there are many needs in the city right now for relief, we just want to ensure that the talented musicians and hardworking venue owners and their staffs are taken care of — now and in the future," says Rodger. "We're family."
Recorded at The Vault Recording Studio, "SOS 2020" features an eclectic mix of both novice and veteran Pittsburgh musicians, such as members of Rusted Root,
Murder for Girls
, Chip & The Charge Ups,
The Cheats
, and more. See the full list of collaborators below.
TRACK MUSICIANS
Drums: Eric Rodger
Bass: Mike Ekis
Organ: Hermie Granati
Guitars: Dave Buzard, David Granati, Dave Musick, Eric Rodger, Jim Dofka, Keith Nelson, Vinnie Q

VOCALISTS | BANDS
13 SAINTS / WE CAME FROM SPACE
Dave Buzard - lead guitar

A COMMON CROWN
Jen Craven - vocals
Steve Craven - backing vocals
Kyle Matovcik - backing vocals
Jay Snider - backing vocals
Matt Ferrante - backing vocals

BLACK RIDGE
Paul Guerrini - vocals
Paul Cha - backing vocals
Tony Lassick - backing vocals

BORSTAL BOYS
Mark Ponsonby - vocals
Rocky Lamonde - producer
Vinny Q - guitar
Joe Pelesky - backing vocals

BUCKCHERRY
Keith Nelson (songwriter, producer of Buckcherry) - lead guitar

CHIP & THE CHARGE UPS
Chip Dominick - vocals
Maleena Dominick - vocals

DEUCE
J.J. Mason - vocals
Eric Rodger - backing vocals

DOFKA
Jim Dofka - lead guitar

DOMENIC FUSCA
Domenic Fusca - vocals

DYING BREED
Chris Allen - vocals
Collin Farren - backing vocals
Jesse Farren - backing vocals

HELIOS
Tim Aymar - vocals
Jack Buckholt - backing vocals
Eric Rymers - backing vocals
Jeff Loy - backing vocals

HOMICIDE BLACK / HALF WHEEL
Sean Nestor - vocals
Jazz Byers - backing vocals

JOHNNY AND THE RAZORBLADES
John Stoecker - vocals

MIDDLE FINGER
Justin Palencsar - vocals
Charlie Hughes - backing vocals
Kyle Stubbs - backing vocals

MURDER FOR GIRLS
Tammy Wallace - vocals
Michele Dunlap - vocals
Jonathan Bagamery - backing vocals

ORANGE MAMMOTH / EGOMYTH
Darren Hammel - backing vocals

RED STRINGS
Sean Estep - backing vocals

ROYAL HONEY
Bobby Collins - vocals
Angelo Amantea - backing vocals
Dave Musick - lead guitar and backing vocals
Eric Rodger - drums, guitar, and backing vocals

RUSTED ROOT
Liz Berlin - vocals
Patrick Norman – vocals

SKELL
Mike Ekis – bass

STONE COLD KILLER
Nate Offutt - vocals
Curtis Botzer - backing vocals
Dave Keber - backing vocals

THE CHEATS
Todd Porter - vocals
Kyle Stubbs - backing vocals

THE FILTHY LOWDOWN
Abe Balestra – vocals

THE GRANATI BROTHERS
David Granati - guitar
Hermie Granati – organ

THE LEGENDARY HUCKLEBUCKS
Ted Boyko - vocals

THE REDLINES
Brian Seese - vocals
Jason Lizzi - backing vocals
Tony Vinski - backing vocals

THE REGAL SWEET
Ryan Moore - backing vocals
Lee Hintenlang - backing vocals