In 2005,
Andy Kehoe
had his first art exhibition in his hometown. Kehoe was a recent graduate of New York's Parsons School of Design, and the venue was
ModernFormations Gallery
, a four-year-old storefront on a blighted, largely vacant stretch of Penn Avenue, in Garfield.
The exhibition, which Kehoe shared with his twin brother, Ben, "was the first big show I had," recalls Kehoe.
By the time Kehoe showed in ModernFormations'
10th-anniversary show
, in 2011, things were a lot different for him. The year following the 2005 exhibit, Kehoe had placed three paintings in a group show in Brooklyn. An exhibit at Jonathan LeVine Gallery, in Chelsea, followed in 2008.
"My whole career as an exhibiting artist really took off from there," writes Kehoe today, via email. "I think I was pretty much able to make a living off my work a couple years later."
While Modern Formations in 2005 didn't get nearly the foot traffic a gallery in, say, Shadyside might have, Kehoe says that making his dozen paintings for that first show — wryly dreamlike scenes of imaginary forest-dwelling beings, done in a distinctive graphic style — was a turning point. "It really did kinda push me to think what I wanted to do with my work," he says. That more mature work led, eventually, to Chelsea — and the $5,000 price tags his paintings command today.
"ModernFormations was there at the beginning when I really started to figure things out," he adds. "It'll always have a special place in my heart for giving me one of my first real opportunities to showcase my work."
While Kehoe is unusually successful for a Pittsburgh-based painter, his story exemplifies what's notable about ModernFormations, which after 14 years will close in November after one last show. As the oldest surviving gallery on what's now known as the Penn Avenue Arts Corridor, ModernFormations has been an anchor of the local scene and a launching pad for emerging Pittsburgh talent.
Gallery owner Jennifer Quinio tells
CP
she is selling the building. "I love the place, but I just can't afford it any more," she says. "I'm also ready to move on," adds Quinio, who plans to focus on her career in senior health and fitness.
"The space is gonna be greatly missed by all types of people," says Ron Copeland, an artist who's exhibited frequently at the space, and who is co-curating, with Quinio, the final show, which will feature some of the gallery's favorite artists from over the years.
Quinio, who grew up in Natrona Heights, studied art and art history at the University of Pittsburgh. She and a partner opened ModernFormations in June 2001. Its name played on an inside joke with some friends who called each other "mo fo," and one of whom suggested naming the gallery that.
At that time, the only other regular visual-art venue on that stretch of Penn was Garfield Artworks, a long-running gallery and music space that closed earlier this year. Unblurred, the monthly Penn Avenue Arts Initiative gallery crawl that now draws hundreds on a Friday night, was a couple years old, but then included only a handful of venues, compared to 20 or more in recent years.
The ModernFormations storefront had once been a state liquor store, says Rick Swartz, executive director of the Bloomfield-Garfield Corp., a community-development group. Quinio "was kind of a pioneer," says Swartz. "When she came to the street, it was hardly the fashion of the day. She really took a major risk."
ModernFormations quickly became known for Quinio's eye and openness to local artists. In 2007, she gave a solo show to Dave Bernabo, now a mainstay of the local arts scene but then primarily known as a musician. "It's rare I was given a chance to do visual art," says Bernabo. "When Jen let me show a couple things …. that grew the work."
ModernFormations "had the reputation for being the best gallery at that time," he adds. "People were able to take me a bit more seriously because they saw I had a show at ModernFormations."
Bernabo went on to show his visual art and videos at such venues as the Pittsburgh Biennial, Carnegie Mellon's Miller Gallery, and the Pittsburgh Cultural Trust's 707 Penn gallery.
Similarly, says Copeland, in 2010 he was new to town and doing full-room installations that involved used furniture and found posters. "I was having a little bit of trouble convincing people to let me do that kind of art work," he says. "Jen was one of the first people to let me do what turned out to be my style for the next couple of years." He went on to show several more times at the gallery, including the current solo show,
New and Recent Works by Ron Copeland
(some of whose works he says he made while Quinio let him use ModernFormations' basement as his studio "for next to nothing" after he lost his own studio space).
Quinio also was among the first in town to show work by such locally well-known artists as Gabe Felice, Masha Vereschenko, Caroline Wenning, Jesse Best and Seth Clark. Earlier this year, Clark was named Pittsburgh Center for the Arts' Emerging Artist of the Year.
ModernFormations "definitely found a lot of really great talent in Pittsburgh," Kehoe says. "Jen was always so great. … She always made you feel like you were appreciated."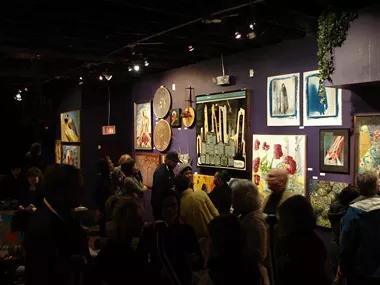 The gallery was also known for its annual Spring Salon, which would tile the walls with works by 100 or more local artists; visitors voted for their favorite, with the winner earning a solo show later in the year.
Meanwhile, the larger Penn Avenue scene as it's known today was taking shape. In 1995, the Bloomfield-Garfield Corp. and Friendship Development Associates had launched the Penn Avenue Arts Initiative, an attempt to revive Penn; efforts to acquire properties and sell or rent them at below-market rates followed, says Swartz.
ModernFormations opened in June 2001, and the Pittsburgh Glass Center later that year, followed by such cultural landmarks as the now-defunct Quiet Storm restaurant. Galleries like Most Wanted Fine Art, which opened in 2007, and the Irma Freeman Center for Imagination, which opened in 2008, followed. Today, in addition to a few long-standing restaurants, Penn between Matilda and Negley avenues has a couple of architect's offices, and the area is still going strong, with new and pop-up galleries seeming to materialize every month or two.
Quinio, a quiet presence in ModernFormations' distinctively purple-walled main gallery space, has been a key part of Penn Avenue's renaissance. Not just a gallery, ModernFormations variously hosted rock concerts, stage productions (including, in 2004, the second-ever show by now-established
barebones productions
) and literary readings.
"She was a great neighbor to have around. Always full of enthusiasm," says Most Wanted's Jason Sauer. He says he often worked with Quinio on projects including neighborhood clean-ups and public-safety efforts.
"I think she was an awesome person, very generous," says Sheila Ali, of the Freeman Center. "She added a lot of character to the street. We'll miss her."
Quinio has never made a living off of the gallery, working day jobs ranging from gallery attendant at The Andy Warhol Museum to gigs at the Carnegie Science Center and Pittsburgh Zoo. More recently, she's taught zumba and other exercise classes, and worked as a personal trainer. She says she took only a 25 percent commission on art sales (40 percent is standard). In recent years, she says, that income plus event rentals generated enough cash to break even on the building. (Quinio formerly lived upstairs of the gallery, but several years ago moved to neighboring Bloomfield.)
Quinio says she likes where Penn Avenue is headed: "I'm really happy with the development on the street." But like other venue-operators, she says that an extended road-reconstruction project really hurt rentals and traffic to the space in general. While two-way traffic was restored to Penn late last year, construction continues and "People are still thinking it's still such a mess," says Quinio.
Quinio has a sales agreement for the building; she says the buyer plans to turn the space into a Chinese restaurant.
Quinio says she'll remain in Bloomfield and shift her focus from helping young artists to aiding seniors and other people who want to get healthy. Some of her classes, in fact, will be held at the Freeman Center, right across the street from ModernFormations.
The gallery's final show,
The Last Exhibition: A Retrospective of ModernFormations
, will open at Unblurred on Nov. 6. It will feature work by about 30 local artists, including Bernabo, Best, Clark, Copeland, Felice, Ben and Andy Kehoe, Christian Breitkruetz, Jeremy Beightol, Susan Constance, David Grim and Ben Oddi.