The first time I saw Frank Turner live was in Cleveland in October 2013. At a bar before the show, my boyfriend and I met a guy named Manny who was in town on business from Texas. Earlier that day he'd managed to snag a ticket off of Craigslist. Manny told us that wherever he was flying for work, if Frank Turner was playing, he made sure to see him. We asked what to expect at the show. Manny got real serious, looked us in the eyes and said, "You just have to experience it." Then he went back to chomping on his Texas-sized cigar.
We saw Turner live a second time at Ommegang Brewery in Cooperstown, NY in May 2014, a misty outdoor show. After opening for Modest Mouse he strolled over to the merch tent. Realizing the tall, hoodie-wearing figure drinking a Bud Light was Turner, we promptly marched over and started a line. As Turner signed a tee shirt he asked where we were from. We said Pittsburgh. He looked up, raised his Sharpie, and announced in a delightful English accent: "Mr. Smalls."
Why yes, Mr. Smalls. On September 19, Frank Turner and the Sleeping Souls smashed into their U.S. tour with their fourth appearance at the Millvale haunt in as many years. (At one point during the show Turner joked, "It's like the 900th time I've played Mr. Smalls" before adding, "It's really fucking lovely to be back here again.")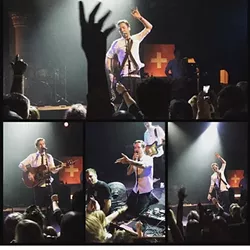 If you've never been to a Frank Turner show, I'll be more liberal than Manny from Texas. First, be prepared to see fans of all ages: a 12-year-old-girl with her parents; skinny, sweaty punks with their arms around each other's shoulders, jumping and spilling pounders of PBR; my boyfriend's parents; an older gentleman from Buffalo wearing a sleeveless tee shirt and carrying a skull-topped cane. Second, you must sing along; if you don't know the words, you'll pick up quickly. Third, be prepared to be best friends with everyone: the crowd is the nicest group of heavily tattooed people you will ever meet in one space, and if you can't see the stage, they will kindly move for you.
After two British openers—an American flag-draped Beans on Toast and a raucous accordion-cello-guitar-drum-fest set from Skinny Lister—the crowd was warmed up to the point of irrational impatience, heightened by the pungent brew of restless anticipation and booze. Finally, all arms flew in the air as Frank Turner and The Sleeping Souls took to the red-lit stage with Turner half-singing, half-shouting, "I got me a shovel / And I'm digging a ditch," the opening lines to "Get Better," the first single from their most recent studio album,
Positive Songs for Negative People
. The album's cover art, a red and blue battery, floated behind the band, upstage left, in front of more than 650 jubilant bodies squished into a sold-out, converted Catholic Church on a drizzling Saturday night.
"This is the
Positive Songs for Negative People
tour," Turner announced. "We're starting at Mr. Smalls, and you guys bought all of the tickets! Well done!" The crowd swelled in a unanimous cheer. "We're gonna play some new songs this evening!" Cheer. "We're also gonna play some old songs!" Cheer. "And we're gonna play some mid-period songs as well." Cheer. "Let's hear it for the mid-period!" Turner threw his right fist into the air, and the crowd did the same, cheering.
Turner: "You guys would cheer at fucking anything."
Cheer.
Turner immediately launched into "Out of Breath," (a new song), doing a fantastic back-pedal onstage, a move punctuated by side-to-side shuffles to greet his band mates, face to face, as if engaging in a shouting match. In "Reasons Not To Be An Idiot" (an old song) Turner improvised the line "I bet she sits at home and listens to The Smiths," replacing the seminal '80s rock band with local favorite of the '90s, 2000s, and today, The Clarks.
Cheer.
Something else you need to know about a Frank Turner show: audience participation is required beyond cheering and singing. During "Photosynthesis" (an old song) you will be instructed to sit down on the floor and jump up when the finale kicks in (a German audience invention circa 2010), so dress accordingly.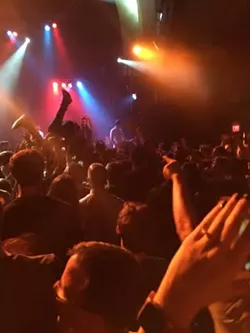 After nearly two boisterous hours, Turner and his band disappeared from the stage. A few minutes passed. Then, piano drifted out from a darkened stage and Turner emerged in a spotlight, arms thrown dramatically to the heavens. He pulled out his inner Freddie Mercury and seduced us into "Four Simple Words" (a mid-period song), and as it crescendoed into its "I want to dance" chorus, fans of all ages, up past bed times and with long drives home, jumped higher and somehow sang even louder than they had all night, squeezing every final moment out of the show.
And then Turner dove right into the crowd, legs and cords flying in the air, still singing as a flurry of arms reached up to carry him above the joyful chaos of the crowd.
Then, he was gone.
All told, Manny from Texas was right. You really do just have to experience a Frank Turner show. If possible, multiple times. Which is why I'll be looking for Manny in Portland.