East Liberty residents, businesses owners and activists gathered in Bakery Square this morning to protest a conference hosted in Pittsburgh by the Federal Reserve Bank of Cleveland, which is championing the neighborhood as a model of equitable development.
The goal of the
conference
, titled "Policy Summit on Housing, Human Capital, and Inequality," is to highlight "the latest research and field initiatives on topics related to equitable development." It will feature the voices of heavy-hitters in politics (including Mayor Bill Peduto, whose office did not immediately comment), academia, and the development community.
But some are raising concerns that the conference is treating East Liberty as the paradigmatic example of urban redevelopment and ignoring its history of displacement and larger
affordable housing problems
.
The conference includes a panel called "Reversing Decline: How East Liberty Became One of Pittsburgh's—and the Nation's—Most Up-and-Coming Neighborhoods" and supports the idea that "economic revitalization strategies transformed this neighborhood" and "benefited existing residents while attracting new development."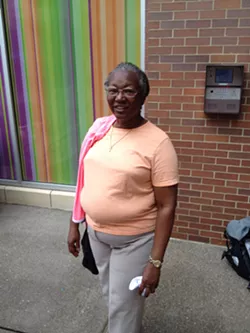 That narrative doesn't jive with Alethea Sims, an East Liberty resident who was displaced from the
East Mall high-rise
which was razed about a decade ago. "I can't shake the feeling that a lot of this is deliberate," says Sims, who adds that she was "
fortunate" to stay in the neighborhood
while many other tenants were not.
"When you're building housing [low-income people] can't afford, that's not a model," she says.
Sims was joined by roughly two dozen others who walked around Bakery Square, where summit members toured this morning.
Helen Gerhardt, who sits on the housing committee of the city's Commission on Human Relations and organized the protest, provided statistics from the Coalition of Organized Residents of East Liberty that show that over the last 15 years in East Liberty, 764 "deep subsidy" units were lost and replaced "mostly with shallow subsidy, for-sale and market rental units."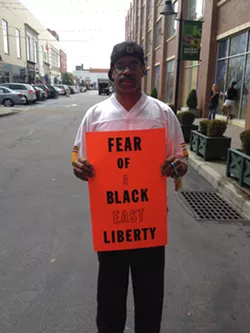 "We want development strategies that are truly equitable," says Gerhardt, who emphasizes that she doesn't speak for the commission. "We want to call
out
the institutions [and] developers who are making a profit ... we are calling
in
all of the people concerned about these issues."
Throughout the day, Gerhardt says, they will engage with members of the policy summit to share residents' stories about how development has affected them. There will be a second rally this afternoon at 5:30 p.m. in Mellon Square Park followed by a screening of
East of Liberty
, which captures "the most recent damages of East Liberty resident and small business displacement." The film, by Chris Ivey, will start at 7:30 p.m., in the human services building, One Smithfield Ave., Downtown.
Update: After this story was published, city Housing Manager Kyle Chintalapalli responded to a
City Paper
inquiry through a spokesperson:
While we have made progress on affordable housing developments in Uptown and East Liberty, and the development momentum in our city has drawn national and international attention, we have much work to do to realign our approach to development in priority communities. Our administration is working to eliminate the long backlog of housing vouchers and to convert vacant and abandoned homes to livable neighborhoods. We are also collaborating with neighborhood partners before, during, and after development occurs. We look forward to having a robust, productive community discussion on these issues in the coming months through the work of the Affordable Housing Task Force in close consultation with the Building Inclusive Communities Work Group through the Housing Alliance of Pennsylvania.