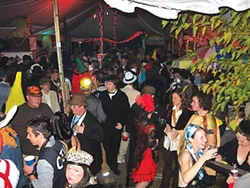 In 2011, the five original members of the Alice Cooper Group were inducted into the Rock and Roll Hall of Fame. During the performance, bass player Dennis Dunaway looked like the happiest man in the world.
"I really was having the absolute time of my life," Dennis said in a recent interview. "After years of feeling like I had been erased from my own history, that night validated my contribution."
Dunaway recounts his history in a new autobiography, Snakes, Guillotines, and Electric Chairs (Thomas Dunne Books, 2015). Dennis, along with high school friends Vincent Furnier, Michael Bruce, Neal Smith and Glen Buxton, formed the band that would become Alice Cooper in their home town of Phoenix, Ariz. Frontman Furnier quickly became identified as Alice and went on to a lifelong solo career. But the career of the original band spans 10 years and seven albums, during which time it went from being billed as "The Worst Band in L.A." to becoming one of the most successful, highest-grossing and most controversial rock acts in history.
Dunaway is the co-writer of some of the band's biggest hits, including "I'm Eighteen" and "School's Out." His wife Cindy, sister of drummer Neal Smith, is responsible for convincing the band to wear the outrageous outfits and makeup, making her one of a handful of people who can claim to have invented glam rock.
While Dunaway has been involved in a number of projects since then, these days he plays in Blue Coupe with Joe and Albert Bouchard, founding members of Blue Oyster Cult. In 2012, they toured in support of Alice. Their live show features original material as well as versions of classic rock hits from both bands.
On Fri., June 19, Blue Coupe will be performing, and Dennis will sign copies of his book, at a house party at 426 S. Evaline St., in Bloomfield. The house there, known by everyone simply as The Evaline, has its own history.
The first Halloween party at The Evaline took place in 1992, less than a month after owner Dereck Walton purchased it. That party was a pretty typical gathering of friends, me among them, with 30 people and a keg of beer. The party became a yearly tradition and by the early-2000s had taken on a life of its own, far exceeding any expectations.
The reasons for this were many. Each year had a theme, with decorations and amusements designed around it. The residents of the Evaline and a dedicated group of friends spent weeks transforming the house into another world. A giant circus tent would be erected over the backyard in case of inclement weather and to expand the parameters of the party. Live bands would perform in the living room and DJs would keep the dance party alive until dawn.
One year was the Heaven and Hell party, the two regions comprising the upstairs and the basement. There were parties based on Orwell's 1984, a World War II VE Day celebration, and others. One year, we built Coney Island, complete with game booths lining a boardwalk. We built a working rollercoaster in the backyard.
It was a good party. So much so that in 2008, Spin magazine covered it as one of the "Best Parties in America." At its height, between 700 and 800 people would attend over the course of the evening.
I was there at the beginning. Every year this reunion of old friends looked forward to getting together and preparing for the event. The last Evaline Halloween party took place in 2012, the 20th anniversary of the original.
Dereck Walton and I first met at a different Halloween party, in the fall of 1990. One thing we have always shared is a love of Alice Cooper, particularly the early albums. We had both discovered the band as young teens, in the 1970s, and carried that fandom into our adult lives.
We both participate in a Facebook group dedicated to the original band. Dennis Dunaway posted there that he had written an autobiography and was seeking a publisher. Dereck connected Dennis with his girlfriend, Sharyn Rosenblum, a publishing executive in New York. (She worked with Chris Kyle, of American Sniper fame.) Though her company passed on the book, her connections helped Dunaway procure a publication deal.
As a result, the Evaline Party has been reborn. Evaline's "Bizarre Costume Cabal & Freak Scene" will be a full-blown Halloween party in June. A copy of Dunaway's book is included in the ticket price. Also appearing are Tish and Snooki, of Manic Panic, as backup singers, as well as a special guest appearance by another member of the original Alice Cooper Group, guitarist Michael Bruce.
The rollercoaster is up and running.
Wayne Wise is a freelance writer and novelist living in Lawrenceville.