During her tenure as director of Carnegie Mellon's Miller Gallery,
Astria Suparak
was known for her nationally touring conceptual exhibits and natural-history-style explorations of contemporary culture, from
Steelers fandom
to
riot grrrls
. By contrast, the exhibit she's juried for this year's
Dollar Bank Three Rivers Arts Festival
is a strong show heavy on contemporary painting, drawing, printmaking, sculpture and photography.
Of course, the media on display at the
Juried Visual Art Exhibition
aren't any real surprise; one doubts that the festival's call for artists produced many submissions of multi-room installation works. Still, this exhibit is notable because it's the fest's first juried show in years to solicit submissions from outside the Pittsburgh area — and because the work is both diverse and often excellent.
"The expanded call resulted in 500 entries from 39 states and from as far [away] as Tehran," according to a release from the Pittsburgh Cultural Trust, which runs the festival. But among the 41 works by 31 artists (whose identities went undisclosed during the jurying process), some of the best stuff hails from our neck of the woods.
Indeed, work to catch before the show closes this Sunday are the three paintings by Robert Sholties, of Glenshaw. "After the Flood," "Chaos in Paradise" and "Out of Balance," all paintings in acrylic on canvas, are done in Sholties' signature colorful but deadpan-surreal style, with compellingly odd assortments of characters allegorically populating inappropriate landscapes.
"Chaos" depicts, among other figures, a gorilla holding dumbbells side-by-side with a musclehead dude wielding a truck tire; a globe deployed as a gumball machine; and two jumpsuited workers from a firm called "Nuhell" phlegmatically disposing of a sackful of swans. The modern-day-Bosch-like cast and props in "Out of Balance" include an electric-chair toilet, a baseball slugger swinging a missile, and two people fighting over a giant domino, the characters a telling mix of affluent-seeming First World types and folks who look as though they might inhabit the developing world. Pretty much everyone seems utterly divorced from his or her environment, whether hilltop or grotto. It's funny, trenchant stuff, and "Out of Balance" deservingly won the exhibit's Juror's Award.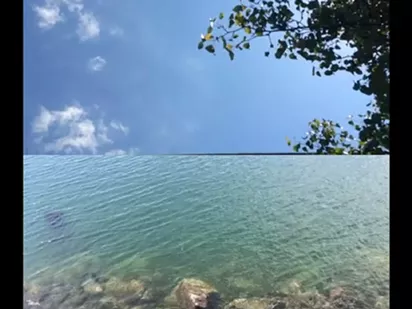 Another local product won the Best in Show award: Pittsburgh-based Ivette Spradlin and Athena Frances Harden 22-minute video "You Are Gone, I Am Here." Each artist shot half of the horizontally split frame, and each offers a mix of dramatic shots of nature (especially the sky), urban landscapes, and humans doing farmwork. The video is a "representation of connection," say the artists in a statement. It's dialogueless, and nonnarrative, and it's fascinating. (You can actually watch it
here
as well as at the gallery.)
Other exhibit highlights: Anna Kell's wall-mounted "Johnson City Bouquet" is the reclaimed covering of a full-sized and apparently well-used mattress, cleverly painted and otherwise amended to emphasize both its grossness and its domesticity. Saberah Malik's silk "rocks" are clever, as is Steve Gurysh's "Plateau": a floor-mounted array of gray yoga blocks contoured like a relief map (an incarnation perhaps suggested by the blocks' brand name, "Gaiam").
Keunho Peter Park's "Cocoon Bench," a large-scale (and functional-looking) wood carving, is stunning, as are Lawrence Cwik's two nearly monochromatic photos from Canada's Nunavut region, where the icy landscape dwarfs the human inhabitants.
The show's paintings also include Quoctrung Nguyen's vibrantly colored and wildly patterned "behind the stage," an abstract work in acrylic on silk. And Julian Stropes' "Megamachine v 2.1.0" is a series of black-and-white prints, abstracts and semi-abstracts with knotty, challenging texts like "The fate of people is determined by personalities NOT majorities."
Other video work includes Rachel Rampleman's "Bodybuilder Portrait (Tazzie Colomb)." It's a compulsively watchable 12-minute documentary in split screen, with Colomb on one side giving a seated hotel-room interview about the pleasures and aggravations of her profession, while on the other she's captured silently posing in her spangly stage bikini.
The Juried Visual Art Exhibition is held on the fourth floor of the Trust Arts Education Center through Sunday, from noon- 8 p.m. daily. Admission is free.
The
Trust Arts Education Center
is located at 805-807 Liberty Ave., about a 10-minute walk from the heart of the festival, in Point State Park.