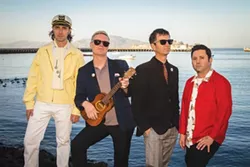 The last time Spike Slawson returned to his hometown, he played for a crowd of thousands. Unfortunately, they didn't respond enthusiastically.
Slawson blew into town with Me First and the Gimme Gimmes, a San Francisco band that specializes in punked-up, irreverent covers of all genres, including classic rock. In 2006, the Pittsburgh Pirates organization thought that the band would be a great act to follow a Bucs game at PNC Park on Fireworks Night. To call it a bad pairing would be an understatement. Pittsburghers love "Stairway to Heaven," and the slightest bit of irreverence toward it can turn 35,000 people against you.
Not that Slawson was unaware. He spent his early years in Pittsburgh. (Full disclosure: We went to the same high school.) "Led Zeppelin is like King James and ZoSo is like the Bible," he explains on the phone from the road. "Taking the piss out of that song, [the audience] wasn't feeling that. And then there was dead silence after that one, which was really weird because there were a lot of people out there.
"That disapproval took me back to being in public elementary school in Pittsburgh and playing Little League before my parents knew that I needed glasses: I was really bad at it. In hindsight I'm kind of glad that's what happened. Approval from those people would've been a lot worse."
Time has done nothing to dim Slawson's irreverence. Take his current band, Uke-Hunt, which in name alone has an air of bawdiness to it. The moniker "was a catalyst for me," he says. "That was the reason to do the entire project, and the fact that I had a bit of experience and a modest skill set on the [ukulele] from having played it on an R. Kelly song in my other band."
Once he settled on a name, Slawson found some empathetic friends to back him up. To get the act together, they busked in San Francisco's Fisherman's Wharf, which would strengthen any musician's resolve. "Public space in San Francisco poses a real challenge. There are some unhinged people out there," he admits.
It worked. Slawson tackles some of the classics, though this time, the selections are "more attenuated to my particular musical taste, which is, like, outsider pop and some '60s punk," he says. The band's self-titled debut covers a wide range, from the Kinks' "Animal Farm" to Skeeter Davis' "End of the World" and the often-covered country classic "Green, Green Grass of Home."
While his experiences in Pittsburgh weren't always the brightest, a summer at Chatham's Art and Music children's camp had long-lasting effects. That was where he met a kid named Manny Theiner, now the inexhaustible supporter of underground music. It was Theiner who gave Sean Slawson, not yet a punk, his nickname. "We were pretty marginal figures there," Slawson says. "He had the idea one day that we should call each other dog names. When I look back on it now, it's pretty ingenious."